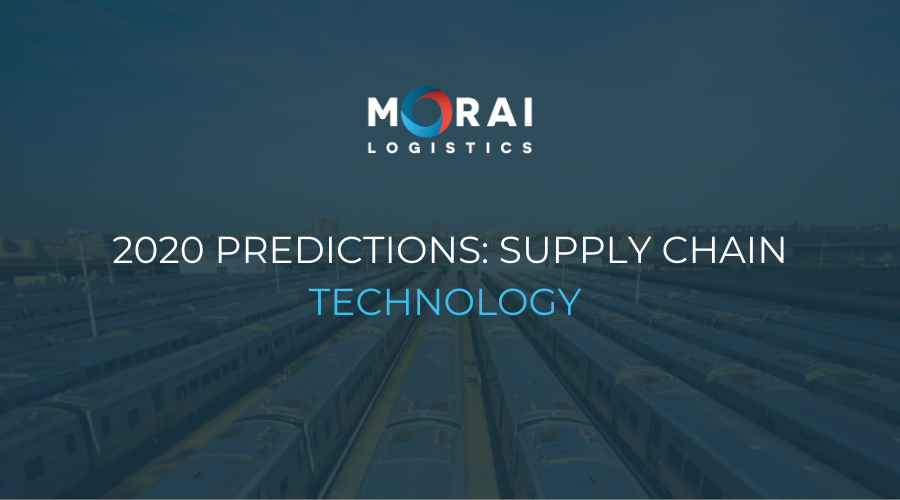 As 2020 fast approaches, it's worthwhile looking ahead to where supply chains are set to go in the coming year, particularly with respect to the technology that bolsters them.
Companies successfully adopting the latest and greatest technology has really become central to supply chains performing well. As such, the past year has seen companies move towards digital transformation. This is because digitization is the main mechanism through which companies can integrate the technologies they need.
As a 2020 predictions report from IDC states,
Digital transformation is now the overriding priority for most manufacturers and retailers, with the adoption of digital technologies aimed to improving efficiency and effectiveness in the shorter term while providing the opportunity to either disrupt their market segment or be resilient to others that may try.
Having said that, most companies are now in some state of digital transformation. Thus, the question then becomes what technology will they look to to best optimize their supply chains? Rather than something wholly new, it's likely that the next year will simply see supply chains embrace more of the same, just to different degrees.
This article by Morai Logistics highlights technological developments set to take place in the coming year.
Artificial Intelligence and Machine Learning Will Become Even More Prominent
With more and more data being gathered by supply chains, it's becoming increasingly important to utilize that data precisely. This is where AI and machine learning algorithms will come into play. By having sufficient data, machine learning can distinguish the quality data from the junk. In turn, it can use that quality data for a number supply chain functions. Key among those functions being forecasting and planning. But they are just two amongst many.
A Finance Online post further explains the importance of AI and machine learning,
Artificial intelligence (AI) will also play an essential role in making supply chains more efficient. The technology can be used to automate procedures using algorithms based on data from previous processes. Automation makes supply chains more efficient by eliminating human errors. AI also can identify patterns in the supply chain, and companies can leverage this technology to predict purchasing demands and manage inventory. This takes the guesswork out of planning and procurement, eliminating the need for planners to do the same calculations over and over.
Blockchain Adoption and Belief Will Come Gradually
Blockchain technology has gained a great deal of attention in recent years. In the past year though, some of that attention has turned sour. A great deal of skepticism has arisen regarding a variety of its limitations. At the same time, the technology has finally made some strides.
TradeLens, in particular, has elevated itself into being the largest blockchain platform available for shippers. Nevertheless, it will take some time before blockchain is trusted and adopted en masse. Until then, as will be the case in 2020, the technology will experience slow and steady progress.
Robots Will Work With (Rather Than Replace) Human Workers
Robots are an emerging presence in supply chains. As a result of this, many workers in the space have grown concerned about the likelihood of robots replacing them. While some degree of displacement seems inevitable, much of the worry is overblown. 2020 will see humans working alongside robots in supply chains. And, in many ways, this will liberate human workers.
A recent Supply Chain Digital article expands on this,
Machine learning algorithms will handle boring, repetitive tasks like data hygiene and number crunching that planners with domain experience will use to make decisions. In our customer base, technology automation hasn't replaced humans but elevated the roles of chronically overstrained planners, allowing them to focus on work that creates the most value.