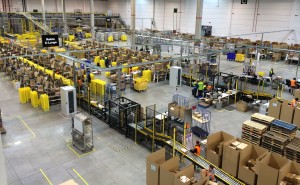 Amazon Inc. is in the news again. This time, the online retailing giant got press attention for having
petitioned the Federal Aviation Administration (FAA)
for an exemption from rules prohibiting the use of drones for commercial purposes. This move, along with its recent
job posting
calling for experienced pilots to fly its drones, indicates that Amazon is serious about moving
Prime Air
, an ambitious thirty minute delivery program involving unmanned aerial vehicles, from concept into reality.
Although the experimental delivery program may still be a few years away, it is this sort of unorthodox business strategy that has led the company into having a hand in 20 percent of all e-commerce in North America. Other programs that Amazon has implemented over the past several years has also caused stirs in B2B markets, cloud technology, and those in 3PLs in general.
1 – Shifting from to B2C to B2B
Amazon has been selling millions of items annually to thousands of households for several years. However, since 2012, it has been targeting the lucrative wholesale and distribution market through AmazonSupply which itself grew out of years of experience operating Smallparts.com since it was acquired in 2005.
Whereas common items on Amazon's main site include books, CDs, and Blu rays, many of AmazonSupply's items are those that would otherwise only be obtained through specialist distributors such as centrifuges, micrometers and air cylinders. And unlike many other businesses that specialize in industrial B2B transaction, Amazon focuses its marketing through digital media assets such as videos, post downloadable, CAD drawings and user reviews.
Although AmazonSupply's main competitor, the Chicago-based industrial supplies giant W.W Grainger, holds an estimated 6% of the entire B2B market according to a Forbes article. Despite this, AmazonSupply's future is bright. It already has Grainger's online inventory beat by almost twice the amount indicating that it may in fact be the major player in the B2B market rather than its current status as only a major player.
2 – The future is in the cloud
The computer infrastructure that Amazon has built for Amazon Web Services (AWS) is considerable. With it, the company has been able make itself felt in the e-commerce business world by dominating the cloud computing industry and "hosting customers from NASA to Pfizer PFE +0.89% and ringing up an estimated $3.2 billion in revenue last year" writes Claire O'Conner of Forbes.
With its control of the cloud computing industry, "Amazon might leverage its investment in cloud technology to become a clearinghouse for a steadily increasing share of e-commerce business" wrote Dr. Robert C.Lieb and Kristin J. Lieb in the Quarter 3 2014 report. As more and more 3PLs move into the digital world, that means that Amazon will continue to be a looming presence as it moves from customer to competitor.
3 – Customer or competitor?
There's been some discussion as to whether Amazon is in the process of making a committed move into the 3PL market. The company already offers a range of services and benefits to its two millions vendors such as cheaper transporting services, order management, inventory control, delivery and billing–all of which put it into competition with other 3PLs.
Referring back to Lieb & Lieb study, they found "with the continued expansion of the company's warehousing, distribution services, order fulfillment, and transportation services, Amazon might become a formidable competitor by offering shippers a broad range of services that 3PLs already provide".
That's it for us this week! If you liked this blog post, why not subscribe to our blog? If you're interested in what we do as a 3rd party logistics provider, don't hesitate to check out our services (as expressed above, we are very pro finding you the lowest total cost!). We're also in the twittersphere, so give us a follow to get the latest logistics and supply chain news!