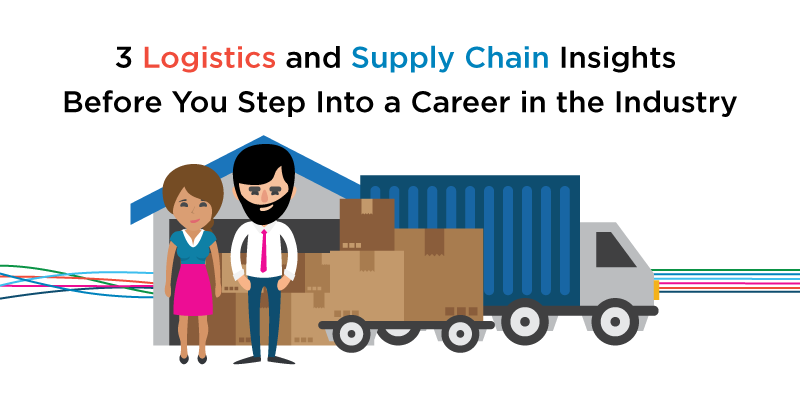 With many career options, interest in logistics and supply chains is growing as more people want to know where their purchases came from. But did you know how large and varied the entire logistics and supply chain industry is? When thinking about career options, there's a whole world or responsibilities awaiting this industry.
Technology such as RFIDs, barcodes and the internet have allowed for products to tell their rich histories to consumers. It's not surprising then that more people are becoming interested in how things get from A to B. That interest may even grow to become an active step towards a career in the logistics and supply chain field.
However, the industry is much more encompassing than most people realize. It can even seem overwhelming if you haven't done your research. To get a better understanding of the field, we've compiled a list of three things to know before you make the jump.
1.

It's a Bigger and More Varied Industry Than You Think

The logistics and supply chain industry is big, very big. In the U.S alone in fact, over 55 million tons of freight was moved daily in 2013. The freight was valued at $50 billion. Both numbers have since grown. As of 2015, U.S business logistics costs alone sat at $1.48 trillion.

These numbers aren't surprising. Although the industry goes mostly unnoticed by most people, it's responsible for every step of a product's journey from the manufacturer to the customer's hands. The process isn't simple, it involves a lot of moving parts and planning. Various stages of delivery and transportation are involved to ensure they reach the right location at the right time.

With companies becoming bigger, more international in reach and scope, the demand and complexity of supply chains grows as well.
2.

Logistics is Not the Same as Supply Chains

There's a distinction between supply chain and logistics, although the two terms are sometimes used interchangeably.

Quora contributor Anastasia Kelm, outlines the differences clearly in this discussion thread.
Logistics — That part of supply chain management that plans, implements, and controls the efficient, effective forward and reverse flow and storage of goods, services, and related information between the point of origin and the point of consumption in order to meet customers' requirements.

Supply Chain — The planning and management of all activities involved in sourcing and procurement, conversion, and all logistics management activities. Importantly, it also includes coordination and collaboration with channel partners, which can be suppliers, intermediaries, third-party service providers, and customers.
3.

There's Plenty of Opportunity to Grow the Career That You Want

According to a Fortune.com article, the logistics industry will need to fill 1.4 million jobs by next year. That estimate is conservative when you remember the explosive growth of e-commerce in recent years.

The truth is, even if you don't have a relevant degree (or a degree at all), there's still plenty of opportunities for you. Logistics is a vast industry and functional supply chains are a building block of any successful business. Not everyone looking to start a career in this field needs to be an operational manager or a truck driver either. There's many jobs in warehousing, material handling, packaging, and management software. That's to say nothing of support functions like HR, marketing and communications.

To learn more, check relevant job statistics on sites like Glassdoor and see what enrollment would be like at your local post-secondary school. Regardless of the avenue you plan on taking, do your research and determine for yourself if this dynamic field is right for you.

That's it for us this week! If you liked this blog post, why not subscribe to our blog? If you're interested in what we do as a 3rd party logistics provider, don't hesitate to check out our services (as expressed above, we are very pro finding you the lowest total cost!). We're also in the twittersphere, so give us a follow to get the latest logistics and supply chain news.