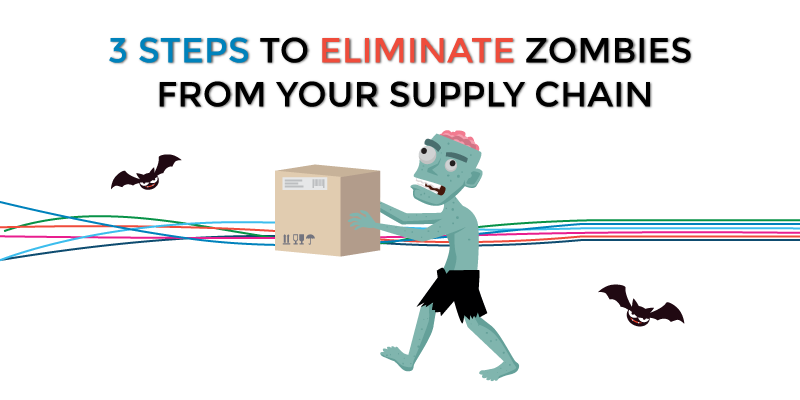 Zombies are undead creatures, popular in many modern books, movies, television, and as Halloween costumes. They are the monsters that just won't stay down. No matter what happens to one, it will eventually get up and continue its hungry lurching. Unlike more classic monsters, zombies cannot be waited out or ignored. Every passing hour increases the size of the horde as more people fall and become zombies themselves.
We have our own zombies in the world of logistics. Logistical zombies are issues that just never seem to go away. Like the classic zombie, these zombies can be very hard to put down. Just when you think it's been taken care of, it rises again. These zombies generally start small. The problem is that like its movie and film counterpart, it will escalate and multiply if ignored, becoming a much bigger problem later on.
The go-to recommendation is to take action. This may just waste resources. Without a strong understanding of the core issue its likely time and effort will be wasted on a symptom and not the true cause. What's needed is a root cause analysis.
Here are the 3 steps necessary for an effective root cause analysis:
Build Your Root Cause Analysis Diagram
To start, you'll need a root cause analysis team. With a dedicated and varied team, a better root cause diagram is more likely because of the different perspectives.
Choose which root cause analysis diagram to use. Two popular diagrams are the fishbone or Ishakawa diagram, and the 5 Whys. Both diagrams have their advantages and disadvantages.
It's important that everyone on the team understands that participation will not result in disciplinary action or peer ridicule. Management must stand by this agreement.
Walkthrough the Story and Verify Observations
Once the diagram is complete, the team needs to run through the diagram from every angle. Conditions and sub-causes need to be checked against verifiable evidence. Unsupported items need to be removed.
The aim is to have a list of actions (5 Whys) or diagram with items within verifiable contexts. A clear and cohesive story needs to come from the team's diagram that leads to the primary event.
Depending on the resources available to your team, financial or technical constrains may restrict how far they are able to go.
When this happens, TechRepublic advises "… there are two possible solutions. First, the team can identify another point at which they can improve or implement a control. The goal is to arrive at the desired probability of occurrence with a combination of changes instead of a single root cause remediation."
Consider Implementation and Create Action Plans
With the root causes analysis diagram complete, now it's time for a formal action plan. List the tasks necessary to reduce the likelihood of the issue or increase your organization's ability to detect the issue.
For each task, the plan should list the resources assigned and expected completion date. Don't forget to assign someone to own and manage the plan!
Film and TV zombies may rise again, but by using root cause analysis your company/team will be able to put down logistical zombies permanently!
That's it for us this week! If you liked this blog post, why not subscribe to our blog? If you're interested in what we do as a 3rd party logistics provider, don't hesitate to check out our services (as expressed above, we are very pro finding you the lowest total cost!). We're also in the twittersphere, so give us a follow to get the latest logistics and supply chain news.