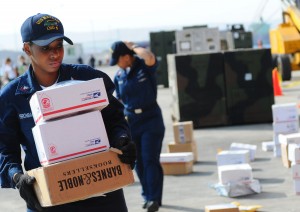 The findings of the 24th annual 'State of Logistics' report by Penske Logistics was released by the Council of Supply Chain Management Professionals (CSCMP) this week during their Annual Global Conference. While we've been a majority of articles suggesting that the outlook for the future of the logistics and supply chain industry is 'slow growth.' This is based on reports from the previous years' showing relatively slow growth since the recession of 2007-2009.
This week, we've decided to focus on a more positive outlook from the results of the report by looking at a couple of strategies for companies to manage their companies to a more successful outcome in the coming years.
1 – Continue Planning to do More with Less
Rosalyn Wilson, the author of the 'State of Logistics' report states in her presentation this past Tuesday that since the great depression that the strategy has been to "do more with less." In a continuation of previous years' results, it seems that the 'new normal' in the logistics and supply chain GDP growth rate is between 2.5-4%.
She warns that these are due to higher unemployment levels and slower job creation and consumers are also more risk-averse. But this is not necessarily the case for all companies. The rise in e-commerce has changed the way inventory is distributed and managed. Also, new technologies are underway that can severely cut costs with regards to supply chain aspects like tracking and tracing (e.g. see RFID).
It seems that the solution is to keep companies light and to keep risk low for bigger companies. This is reflected in some good news for those in the 3rd party logistics sector. The report showed that third-party logistics has risen in revenues by 5.9% in 2012 as companies start to realize the value of outsourcing their logistics.
2 – Maintain Sustainability Strategies
In the realm of cost-cutting strategies, there is a great deal of promise in continuing to explore sustainability strategies in order to keep costs low throughout the supply chain. As discussed in a previous blog post, sustainability strategies have the primary motivation of being better for the environment. Strategies like relying on solar and wind power, as well as other green warehouse strategies (e.g. 'smarter' warehouses that control lighting and temperature, etc.) as a move to create a 'net-zero' warehouse have the added benefit of cutting costs in the long-term.
If this report is right to suggest that the logistics industry growth is going to be a sluggish one, this works out to be a great investment strategy for the long term as companies prepare have needed to rely on creating new sites. This was to accommodate for the fully absorbed warehousing capacity of 2012, which created a 7.6% increase in warehousing costs. Building better warehouses from the start seems to be the direction to head in for new construction projects.
3 – Focus on Education and Staff Retention
There is also a worrying report that there are several holes that will need to be filled in the ensuing years for the logistics industry. The results from the report show a growing need for companies to rely on part-time workers as opposed to adding new full-time staff. But as a long-term strategy, this might not be the smartest plan. Staff retention is something that the industry needs at this moment as a growing proportion of staff are looking to be on their way to retirement.
Furthermore, there is a need for people to fill certain positions along the supply chain that have been well-known for a while. For example, truck drivers have been shown to have the fewest potential workers trained to fill them. The results from the report have continued to reflect this, showing that 17% of the current driver population is less than 35 years of age while the staggering majority is on their way to retirement.
Companies are going to need to introduce the idea of logistics to the masses earlier on, there is still a lack of awareness of the logistics industry as a whole and it seems that in order to fill these positions, education is the way to go. There is some promise though, as new trends in higher education have seen the gap in lack of programs dedicated to the logistics and supply chain industry and have already piloted degree programs out in both the undergraduate and masters level. There are also initiatives to reach the high-school population as well!
A slow growth is not necessarily bad news, growth is still growth. US logistics costs rose to $1.33 trillion which is a 3.4% increase from last year. People will always need logistics services as global demand in getting products where they need to be continues to rise. The outlook for these companies should be a positive one and the spirit should be to rise to the challenges, hopefully to come out on top!
If you liked this blog post, why not subscribe to our blog? If you're interested in what we do as a 3rd party logistics provider, don't hesitate to check out our services. We're also in the twittersphere, so give us a follow to get the latest logistics and supply chain news! We'll catch you next week!