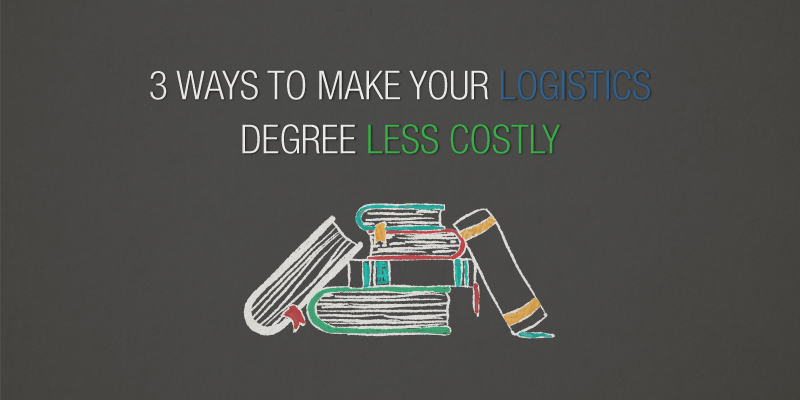 As the summer ends and fall begins, many young people are returning to school. Along the way, stress will also makes an unwelcome return. Stress over doubts about their chosen career path, and stress about the financial cost of their schooling are the most common.
Although we can't speak about the majority of career options available and their viability, we can say that those with a passion for dynamic environments and problem solving will have an easier time handling this stress. According to ThinkAdvisor, the starting salary for a fresh graduate of a Supply Chain Management program can expect on average a salary of $52,800. This will then on average, rise to a salary of around $83,700 by mid-career.
Given that logistics plays such a crucial role in our ever globalized world, a degree in the field of logistics is not something that will lose value anytime soon.
That leaves the stress of the financial cost of a logistics degree which is why we've put together this post–to help mitigate the cost through scholarships and other financial aid you may not be aware of.
1. L.L. Waters Scholarship Program
Final due date for submission: September 14th
This scholarship, named after Dr. L. L. Water, is aimed at preparing persons of high potential for careers in transportation, logistics, and physical distribution.
Eligibility (from the website):
Undergraduate students in their junior or senior year at a fully accredited four-year U.S. college or university, who are enrolled in a degree program in which Transportation/logistics is their area of concentration are eligible. Students enrolled in, or accepted to, a fully accredited college or university in the pursuit of graduate studies in transportation/logistics/physical distribution as their concentration of study, are also eligible. Recipients are selected without regard to race, color, religion, sex, or national origin. Awards will be on a competitive basis, based upon scholastic performance and potential, and evidence of the degree of commitment to the pursuit of a professional career in transportation/logistics
2. MHEFI Scholarship
Final due date for submission: February 1, 2016
The Material Handling Education Foundation, Inc. is an independent charitable organization that seeks to give students and educators the opportunity to the study of material handling, logistics and the supply chain, by providing financial aid.
Eligibility (from their website):
Those interested in receiving one of 50 scholarships ranging from $1,500 to $9,000, are to fill out this application. In order for the application to be considered for scholarships all documentation must be received including:
Three letters of recommendation
Official transcripts from the Registrars Office
Online application
3. Amazon Student Scholarship
Final due date for submission: November 20th, 2015
This scholarship is different than the two mentioned previously. For one, it isn't just for those with career aspirations in the logistics field. It does however, offer 50 scholarships yearly of $5000 towards your tuition. It is the added incentive of receiving this scholarship that it gets a mention. Along with the money toward tuition, you'll also receive a further $500 in the form of an Amazon gift card towards school books.
Books can be expensive, so every little bit helps!
Eligibility (from their website):
Amazon Student members who are full-time undergraduate students at an accredited, not-for-profit U.S college or university as of the fall of 2016, or who intend to be full-time undergraduate students in the fall of 2016 are eligible to apply.
Other excellent scholarship opportunities for those following a path in supply chain and operations management can be found here.
That's it for us this week! If you liked this blog post, why not subscribe to our blog? If you're interested in what we do as a 3rd party logistics provider, don't hesitate to check out our services (as expressed above, we are very pro finding you the lowest total cost!). We're also in the twittersphere, so give us a follow to get the latest logistics and supply chain news!