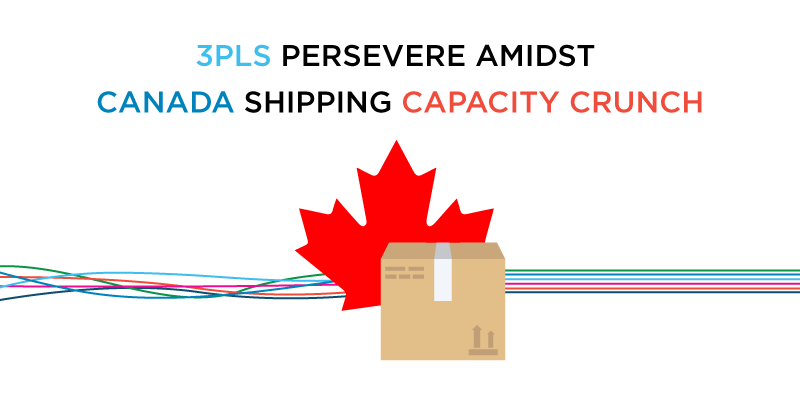 The Canadian transportation industry is currently facing a capacity crunch, causing small businesses to question what their mitigation strategy should be.
In late January, the Wall Street Journal spoke about the 'nationwide truck shortage' causing turbulence for shippers. They identified that the only two options available to offset current inconveniences were shipper's willingness to postpone deliveries or pay higher rates. Causes trail back to the aftermath of severe weather seasons and the new regulations on electronic logging in 2017, and lingering increases in gas prices.
Third Party Logistics (3PL) providers have maintained a reputation of providing optimized solutions for those small business owners vulnerable to shipping capacity crunches. Their network connections, competitive volume rates and ongoing integration of information technology, are few of the many reasons to outsource logistics.
As a capacity crunch challenges Canadian markets, 3PL providers continue to leverage technology to fulfill the needs of their customers. Research proposes that concrete data provided by predictive analytics could help offset the stressors faced by shippers and 3PLs.
Overview of Shipping Capacity Crunch
As the demand for immediacy increases and ecommerce markets continue to emerge, a capacity crunch can put pressure on both SME's and large corporations.
On February 8th, 2018, Forbes discussed four trends facing the transportation industry this year. A capacity crunch and an increase in freight rates were at the top, with a lack of drivers and the 2017 electronic logging devices mandate (ELD) as primary causes.
The ELD mandate and the implementation of electronic stability control technology are two initiatives that aim to improve road safety. These processes achieve the following:
Help driver maintain control
Prevent rollovers
Improve navigation
In addition, ELDs are also being installed into trucks to monitor driving time across the shipment lifecycle. This is a positive move to ensure the health and safety measures for drivers and the roads, while also limiting the paper administration associated with logging. Forbes reports that,
By law, drivers are only allowed to drive for 11 hours with a mandatory, continuous rest period of 10 hours, daily.
However, compared to larger corporations with the infrastructure to implement large scale devices, smaller companies are finding this to be costly. Thus, in conjunction with capacity crunches, an increase in freight rates has also said to impact the industry.
Freight Rates
With ecommerce enabling consumers to make immediate buying decisions, the trucking industry is seeing a different pattern in demand. Although this time of the year is low-tide for truck deliveries, research describes an alarmingly high 'desperation of brokers to move freight'. In fact, freight rates in 2017 remained the highest they had ever been.
Research has also attributed the increase in rates to the ELD mandate, which could cause more problems for smaller companies. While it may cause an inconvenience for divers, it has also meant higher rates for companies looking to ship. A decrease in drivers means an increase in prices, and these projected rates will only get higher.
Forbes also adds that spot rates – or the spot quotes – are the highest, following contract rates. With immediacy following in line with more on-the-spot deliveries, 3PLs may be a wise strategy.
Mitigation Strategy for Small Businesses
As technology platforms continue to advance the processes of the supply chain industry, 3PLs utility in combating the above issues show promise. With the recent implementation of the ELD, a 3PL will have the resources to provide a reliable fleet. In addition, 3PLs also have a large network that go beyond local borders, which can help cut costs. Linkage to competitive volume rates would also help mitigate risks associated with capacity crunches and increased freight rates.
If you liked this blog post, why not subscribe to our blog? If you're interested in what we do as a 3rd party logistics provider, don't hesitate to check out our services (as expressed above, we are very pro finding you the lowest total cost!). We're also in the twittersphere, so give us a follow to get the latest logistics and supply chain news.