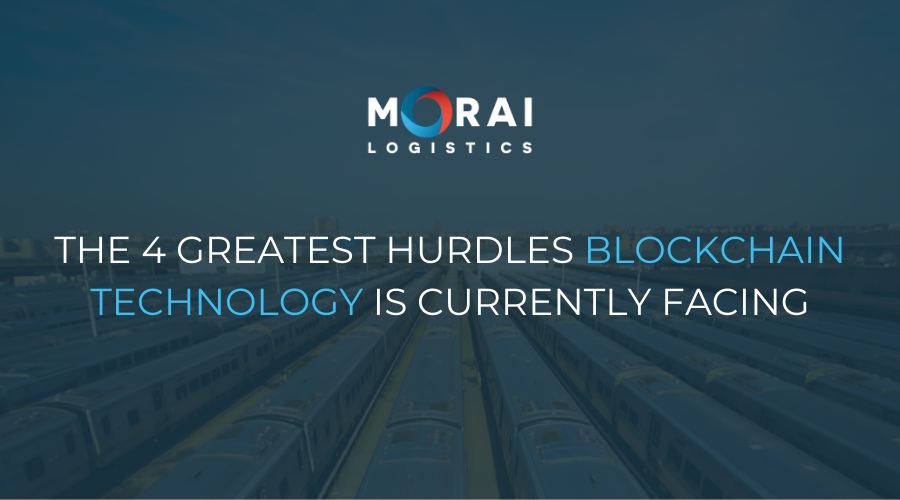 Blockchain technology continues to garner a lot of attention, but here are the 4 biggest obstacles it's currently facing.
As supply chains continue to transform with the advent of a variety of technologies, their adoption of blockchain remains uncertain. Unlike technologies like artificial intelligence, automation, and IoT, blockchain has yet to prove itself as viable. It has displayed a great deal of promise and, in theory, could prove incredibly beneficial to a variety of industries, including supply chains. As of yet, however, there are a number of areas in which it needs to win over the masses.
CIO Dive elaborated on this earlier this year,
In its 2019 Hype Cycle for Blockchain Technologies, Gartner found most blockchain technologies remain stuck in an "experimentation mode." The analyst firm said most applications are yet to live up to their hype, and that interest in them has waned as applications failed to deliver on their expected outcomes.
This article by Morai Logistics explains the four most significant barriers blockchain technology faces today.
Explaining it's Value
Blockchain, in large part due to its complexity and nascency, is hard to explain. As a consequence of this, it can be incredibly difficult for decision-makers at companies to be convinced of its value. It can be reduced to a pithy line such as: blockchain is an immutable, transparent, and decentralized data base.
However, this hardly gets across the intricacies of the technology. Any elaboration on such a barebones explanation inevitably involves neologisms specific to the technology. This makes it even harder to understand than it already would be. Moreover, this is only made worse because even some that do understand the technology remain skeptical of its benefits. Thus, the burden for blockchain companies to prove the technology's value remains incredibly high.
Lack of Maturity
In turn, just as blockchain suffers from its complexity, it also suffers from its recency. The technology has only been around for about a decade and only really taken off in the last few years. As a result of being such new technology, there are valid concerns over its maturity. Essentially, it's yet to prove itself. It has been experimented with, yet there are very few instances of it being successful on a broad scale.
The previously CIO Dive article touched on this as well,
The immaturity of blockchain technology has been delaying its application in enterprise settings, as the majority of applications have either stalled at the experimentation space or will be in need of replacement in the near future.
Concerns About Reliability
Additionally, as blockchain technology isn't proven, it's hard to assuage fears about its reliability on some fronts. For example, how will it scale? So far, it's proven not to be able to handle a large number of transactions, marking a considerable liability for large companies. Not only that, but there are additional concerns about how slow its transactions are due to the verification required of them.
Difficulty of Collaboration
Finally, in order for blockchain technology to work, it requires all actors involved to be on board. In the case of a supply chain, this means getting all the disparate parties involved to buy into the technology. Furthermore, this issue gets only more complicated as all parties also have to agree upon the best platform and development project for the technology. Without one outright blockchain leader in the field, this can be incredibly testing.
A recent Supply Chain Dive post explains the best way forward for blockchain collaboration,
Instead of having competing blockchain projects under development at different companies, success stories include the formation of standalone companies or consortiums in order to better articulate a strategy around a specific technology.