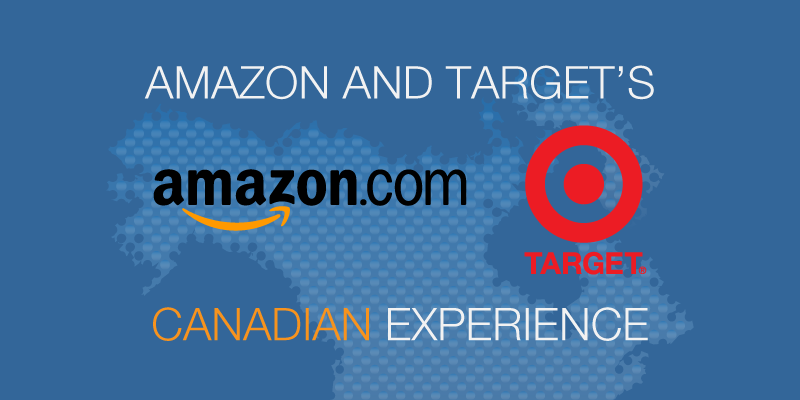 Target, the U.S retailing giant has recently been getting a lot of attention from the Canadian press. Unfortunately for Target, the discussion has been how in this year alone, it had a $941 million loss in the Canadian market due to the baffling mismanagement and miscalculations it made it its first foray into a foreign market.
While Target had peers that failed in foreign markets for similar reasons it could've learned from, the biggest lessons it should've studied were those of Amazon's which managed to not only capture 7 % of all e-commerce in Canada, but also has the potential to account for 1% of total retail sales in the country. Although the business models of the two companies are different, the obstacles, opportunities, and logistical limitations are not.
Planning vs. Buying
Amazon did a lot of preliminary work before opening its first Canadian distribution center in 2010.
It had eight years of goodwill and visibility in the Canadian e-commerce market through amazon.ca
It worked closely with the Canadian government to override certain Canadian foreign-ownership rules that would've been barriers to its expansion
For its part of the partnership with the Canadian government, Amazon gave a $20 million investment commitment into Canada, $1.5 million of which went to cultural events and awards
It ran a number of interviews and press releases addressing a number of concerns and criticisms from its critics while also communicating its intentions of gradually branching product categories
Target's approach was considerably different. Instead of a slow province-by-province rollout, it tried to achieve "critical mass" from the onset by sinking $1.8 billion into buying out Zeller locations (which didn't include renovation costs) and opened 124 stores across Canada in 2013.
Logistical Adaptability
Both companies faced logistical complications when they entered the Canadian market because of the country's vastly differing regional tastes, strict trade and wage laws, and geographical vastness. As a result, the initial offering of both Amazon and Target for Canadians was paltry, and priced higher than their respective American counterparts.
Amazon's approach to offset this problem was to offer a modest selection while maintaining the convenience it's known for. It focused mainly on books and smaller items and overtime, introduced 14 new merchandise categories that would receive a lot of Canadian press attention. Through this, Amazon.ca was able to build for itself a loyal customer base. This approach also drew attention away from the inflated prices, which is a common technique amongst the successful American-based companies doing business in Canada.
Target hadn't really planned outside of creating a Canadian specific brand (which failed to launch on time), and sticking rigidly to the management, sale, and promotional models that it had in the U.S., even when it clearly wasn't working.
Differences in Canadian packaging laws, protectionist tariffs on some foods and exclusive wholesale arrangements also meant that the Canadian stores couldn't be serviced from the company's American distribution network. Many of the 124 Target stores had whole sections that were empty of products, while other items were overstocked and congested the supply lines further.
The empty stores led to customers instead focusing on price, which is an area a U.S based company can't compete in for the reasons mentioned earlier.
Lessons Learned
When comparing Amazon's success in Canada with Target's failure, there are several lessons that can be learned
Do your homework –Amazon did a lot of preliminary work before it entered into the Canadian market whereas Target simply assumed the business climate would be similar enough to its home base.
Be flexible—Amazon success international is largely due to its ability to adapt to changing tastes and trends. Target's failure in Canada is in large part due to its insistence on rigidity.
Patience—Target sought to control a portion of the Canadian retail market at the onset. It failed to remember that entering a foreign market is a patience game, and as a result it lost billions.
That's it for us this week! If you liked this blog post, why not subscribe to our blog? If you're interested in what we do as a 3rd party logistics provider, don't hesitate to check out our services (as expressed above, we are very pro finding you the lowest total cost!). We're also in the twittersphere, so give us a follow to get the latest logistics and supply chain news!