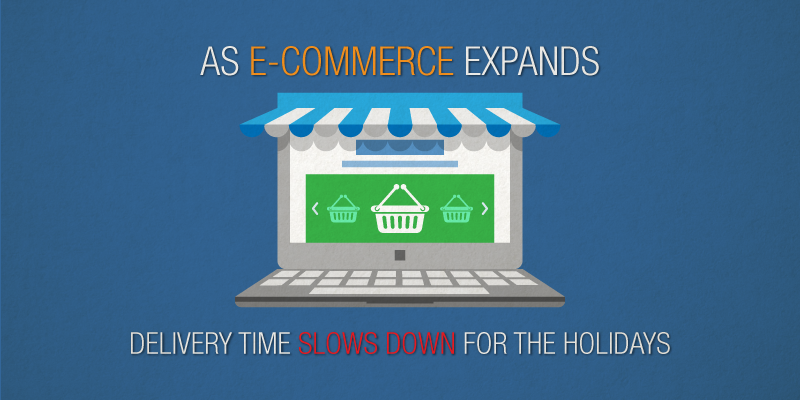 Kurt Salmon, a global management consulting firm, recently put out a study of online orders from 62 different retailers. The study analyzed online orders that were shipped to consumers, as well as those picked up in-store to measure shipping speed, accuracy and cost.
The most interesting find in the study, is that on average, order-to-delivery time for the 62 major retailers was slower by 20% than last year's average:
In fact, only 40% of buy online, pick up in store (BOPUS) transactions were error free this year, compared to 91% of delivered orders in the study and 98% of delivered orders during the rest of the year. This huge service gap—especially in such a customer-facing area—exposes retailers and can leave customers out in the cold
On the positive side, the amount of retailers surveyed from last year is now at 90%, up 15%. Retailers offering free shipping on anything in their catalogue rather than select items has also increased. This number has grown by 50%.
"Improved execution enabled 80% of retailers to complete orders within two weeks of Cyber Monday, up from 66% in 2014, with 9% fewer cancelled orders. Overall delivery time has increased 21% from 2014", writes the study.
An article on CNBC.com also describes how although there is a gap, the deadline for deliveries has gained an additional day.
According to a study by customer analytics firm StellaService, Dec. 21 is the most common deadline put in place by retailers promising standard or free shipping by Dec. 25. That's one additional day compared to last year, when the most common cutoff date was Dec. 20.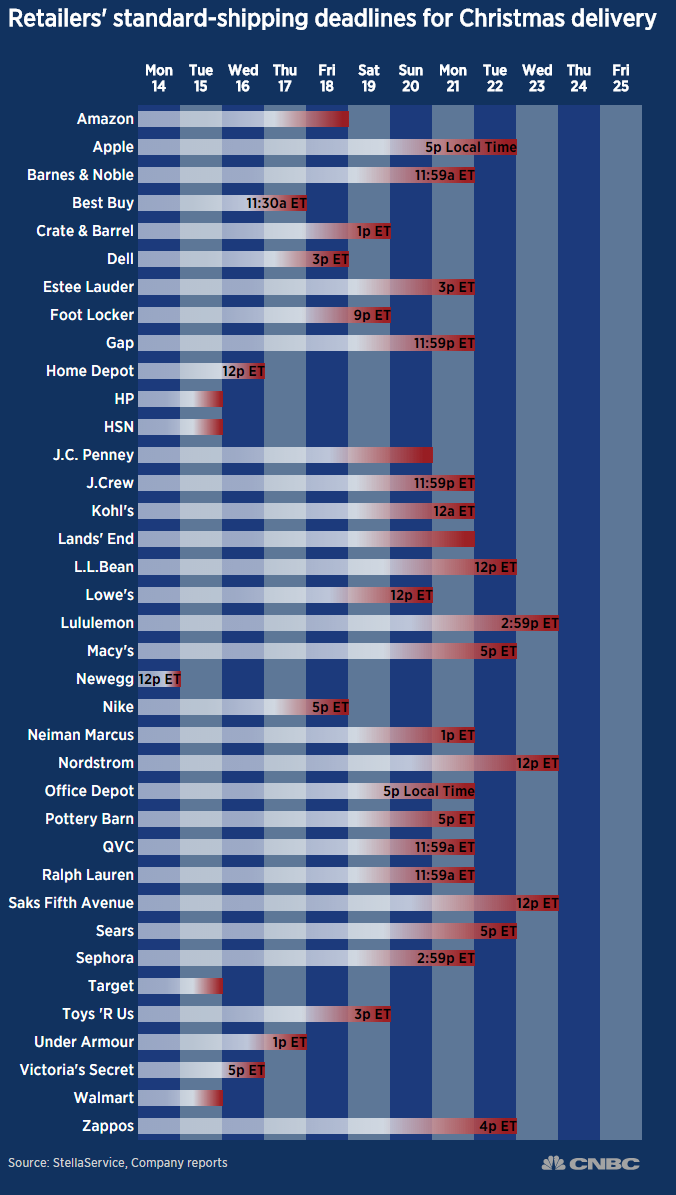 Source: CNBC
It'll be important for e-commerce companies to improve their order-to-delivery times not only to meet current customer demand, but also future customer demand. Looking at data from this past Black Friday and Cyber Monday, it looks like Cyber Monday has already eclipsed the former as the shopping holiday.
According to this article from LogisticsManagement.com, the sales breakdown for the two holidays was as follows:
Sales expectation for Cyber Monday were expected at $3 billion, a first for the holiday
This is a 12% annual increase and a 50% increase from 2012, according to Adobe
According to an analysis by ShipMatrix, 91 percent of orders delivered by UPS' ground service during Cyber Week were on time, compared to 97 percent during that time frame last year.
Black Friday sales dropped from $11.6 billion in 2014 to $10.4 billion in 2015, according to data from ShopperTrak
Online sales between Thanksgiving and Sunday were up 17 percent to $8.03 billion, according to Adobe
That's it for us this week! If you liked this blog post, why not subscribe to our blog? If you're interested in what we do as a 3rd party logistics provider, don't hesitate to check out our services (as expressed above, we are very pro finding you the lowest total cost!). We're also in the twittersphere, so give us a follow to get the latest logistics and supply chain news!