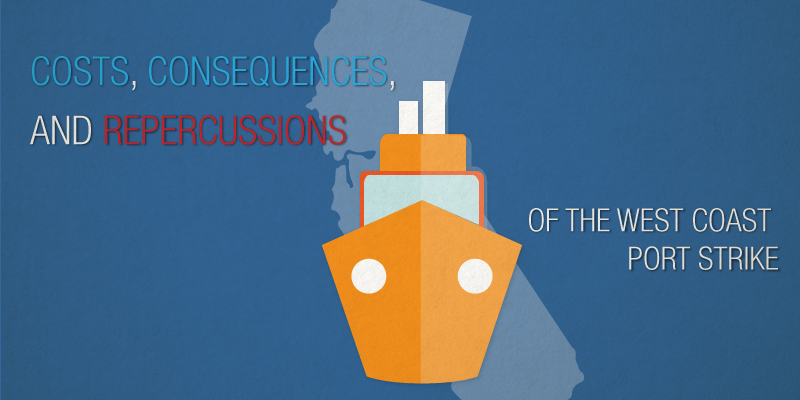 With the worst of the West Coast dockworkers strike effectively ended last month, now is a good time to take a step back and assess the costs, consequences, and repercussions to all of the stakeholders that were affected in the nine month strike.
Optimism from Mayor
Political stakeholders have been the most optimistic about the future of the West Coast port and its ability to meet the massive backlog that has accrued over the protracted labour dispute.
" Business should return to normal at U.S. West Coast ports in about three months, and long-term damage from a nine-month labor dispute should be limited, said Long Beach, Calif., Mayor Robert Garcia in an interview with the Wall Street Journal.
Later in the article, he admits that some business may have been permanently lost to East Coast ports, but remained confident that they would regain the vast majority of the business.
Zepol report
A report put out by Zepol concerning the impact of the West Coast port strike puts forth a less optimistic view than Mayor Robert Garcia. Some of the highlights of the report are as follows:
Total U.S. container imports are down over 5 percent this year, compared to January and February of 2014.
The ports of Los Angeles and Long Beach, which make up a combined 40 percent of U.S. container imports, declined by 19 and 20 percent so far in 2015.
East Coast ports have increased container imports by 8 percent this year.
Total U.S. imports by TEUs (twenty-foot containers) dropped from 2.93 million in January through February of 2014 to 2.78 million in 2015.
Combined, the ports of Los Angeles and Long Beach have declined by over 230,000 TEUs compared to the first two months of 2014.
The port of New York/Newark grew by over 34,000 TEUs. The port of Savannah increased 20 percent with an increase of over 40,000 TEUs and Houston rose 29 percent, by nearly 31,000 TEUs.
Canadian fallout
Although Canada wasn't as heavily affected by the strike as its southern neighbour, however retailers north of the border still felt the impact of the situation, in particular, Ontario's automotive plants.
An article on OurWindsor.ca discussed the potential and actual impact of the west coast strike at the time. Instances of Honda Honda Canada Manufacturing plants sometimes running at 60 % capacity, congestion at B.C. ports, shipping containers running five to 10 days late, and a trickle-down cost to consumers from additional costs incurred from said congestion were all issues that this article brought up.
As previously mentioned in this article, the worst of the strike seems to be over. However, there's still a chance that even with the most optimistic of predictions and outcomes, more complication will arise. Especially when the five-year deal still must be approved by the 13,000-member International Longshore and Warehouse Union's rank-and-file.
That's it for us this week! If you liked this blog post, why not subscribe to our blog? If you're interested in what we do as a 3rd party logistics provider, don't hesitate to check out our services (as expressed above, we are very pro finding you the lowest total cost!). We're also in the twittersphere, so give us a follow to get the latest logistics and supply chain news!