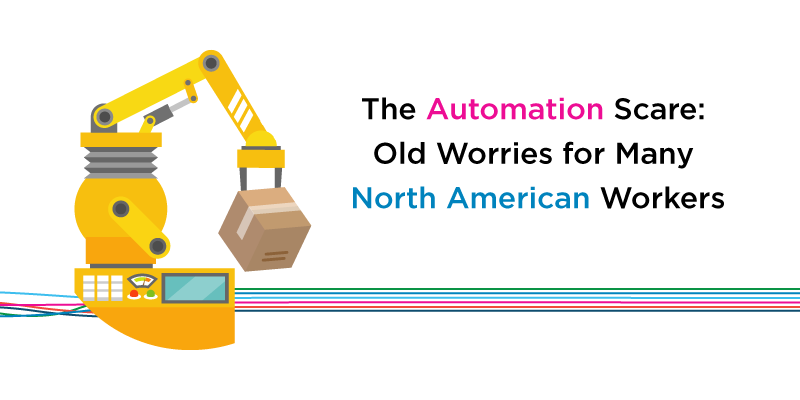 Will Robots be Friend or Foe to Today's Workers? Many publications condemn how automation will affect workers, but recent studies show it to be a benefit.
Twenty years ago, the big scare for many workers was that their job would move overseas. There were several stories during the 1990s and early 2000s of companies moving their operations to places like India and China. A combination of new IT technology and data technology allowed businesses to seek further efficiencies in labour costs abroad. While these actions were beneficial for those businesses, it cost many workers their jobs.
Offshoring still greatly affects industries such as manufacturing and bookkeeping. But, the rising wages in formerly off-shoring havens (China and India) has started to curb the trend. Growing political pressure and security concerns are also leading to a rise in re-shoring and near-shoring.
The scare of waking up one day and discovering your employer has moved overseas is no longer as acute for many North American workers. However, that doesn't mean their employment is secured thanks to automation.
How Will the 'Robot Apocalypse' Affect Workers?
Automation has only been in warehouses for a few years and is still in the prototype phase for several industries, like shipping & transportation. However, that hasn't stopped some publications from calling it a 'robot apocalypse' for workers.
For example:
These publications are not wrong or misleading. Many industries will have to change fundamentally. This also means several jobs will either change drastically or be eliminated.
Automation Can Mean a New Beginning for Many Workers
Automation isn't a losing zero-sum game for North American workers. For example, those on the warehouse floor have a new friend. Robots are being designed to work with staff, not replace them. These 'collaborative robots' are being developed to help people work more productively, efficiently and most importantly, safely.
In the retail world, an industry greatly affected by automation, new opportunities are appearing for workers thanks to e-commerce.
For example, Wall Street Journal writer Greg Ip writes in his article:
The brick-and-mortar retail swoon has been accompanied by a less headline-grabbing e-commerce boom that has created more jobs in the U.S. than traditional stores have cut. Those jobs, in turn, pay better, because its workers are so much more productive […] Throughout history, automation commonly creates more, and better-paying, jobs than it destroys. The reason: Companies don't use automation simply to produce the same thing more cheaply. Instead, they find ways to offer entirely new, improved products. As customers flock to these new offerings, companies have to hire more people
The fear of losing one's job because of outside factors is an old one for many people. Whether it be because of downsizing, outsourcing or automation, it can negatively impact a person's life all the same. The total net gain or loss of automation is impossible to predict at this early stage, but the opportunities the technology presents for worker and consumer alike are exciting.
If you liked this blog post, why not subscribe to our blog? If you're interested in what we do as a 3rd party logistics provider, don't hesitate to check out our services (as expressed above, we are very pro finding you the lowest total cost!). We're also in the twittersphere, so give us a follow to get the latest logistics and supply chain news.