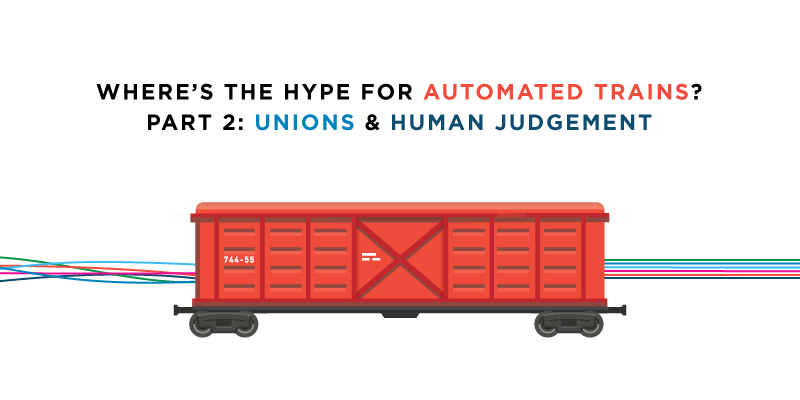 In this final part, we look into the role unions and the need for human judgement play in keeping trains from being universally automated.
In last week's blog post, we asked why there's little media excitement around automated trains. We'll be answering that question today, but first, a quick recap.
In the previous post, we mentioned that the technology to automate trains systems and networks has existed for decades. The technology even allows for different levels of automation which is already in use to varying degrees around the world.
It's curious then that there isn't the same zeal to make fully automated trains the standard rather than the exception around the world. As mentioned before, many companies are pushing hard for robot cars, trucks and ships, so why are trains different?
There are two answers to this question—strong unions and the need for human judgement.
No One Wants to Lose Their Job
In an online article by Wired.com, writer Damon Lavrinc asks Dr David Clarke, director of the University of Tennessee Center for Transportation Research Center, what's holding automated trains back. Clark replies that train operators make it hard politically:
Organized labor doesn't like the idea of losing the jobs of its members to driverless trains.There has been push back with the allegation of safety issues. Politically, that makes it hard to implement.
Reddit user dunnkw, who says he's a BNSF Railway Locomotive Engineer for the last 10 years, echoes this issue in a Reddit thread on the same topic.
The first answer to your question is that the Brotherhood of Locomotive Engineers and Trainmen (Engineers Union) is the oldest in the country at 152 years and we have fought tooth and nail to keep our jobs.
This sentiment from the union goes beyond simple preservation, however. The strongest case in favour of making train automation universal has to do with safety concerns. Basically, no current AI can keep your typical commercial train safe.
The Human Touch
There's a reason why existing automated trains are confined to isolated areas and why they don't intersect with major lines. These systems generally have little to no obstacle detection. It's why they're closed off. Open lines need people at the controls to make the necessary snap-decisions when it comes to unforeseeable circumstances. Even then, it takes years of specialized training to recognize various problems that can occur and the best solutions.
This is an issue recognized by the public. Fear of automated cars and ships is a problem affecting other driverless technology as well.
Some companies are trying to fix these issues. For example, tech conglomerate giant Siemens issued a press release detailing ways to improve driverless train technology. A robust safety outline is included in the release.
Some policy highlights are:
The trains are equipped with surveillance cameras throughout. The video images are transmitted to the control centre by means of a radio LAN. This enables incidents to be registered directly by the control center and countermeasures to be initiated.
If a fire should break out in the car, the installed smoke detector and temperature sensors become active. They detect hazards as they arise. The sensors trigger an alarm in the control centre and the train is stopped automatically at the next station, where personnel can investigate the cause of the fire alarm.
A public-address system in the passenger area serves for the announcement of operational and traffic information. Besides advising passengers in an emergency, it is used to supply passengers with general information.
There's a long road ahead before robots can transport us across land, sea and air without issues. Although trains are further advanced and seemingly a more obvious choice than other transportation systems, an old adage rings true—"if it ain't broke, don't fix it."
If you liked this blog post, why not subscribe to our blog? If you're interested in what we do as a 3rd party logistics provider, don't hesitate to check out our services (as expressed above, we are very pro finding you the lowest total cost!). We're also in the twittersphere, so give us a follow to get the latest logistics and supply chain news.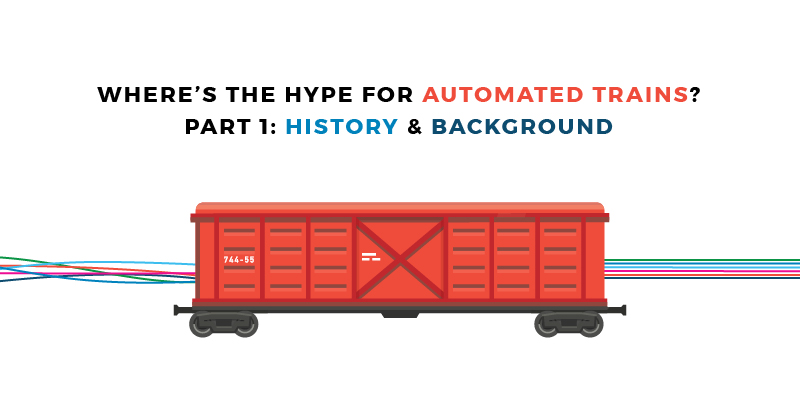 Talk of automation is sweeping the transportation industry, but there's barely a whisper when it comes to automated trains or self-driving trains.
The conversation around automation and A.I is nothing new. Since 2010, it seems like every industry headline has to do with a newly tested application for these technologies. This isn't surprising. The technology is indeed revolutionary and if recent advancements are any indication, very close to becoming the new standard. Industry experts are predicting that in three short years, both automated cars and automated ships may be a reality.
However, trains, another essential mode of transportation, seems to generate little news on the automation front.
This may seem strange on the surface, trains run on a track, after all, meaning they have only two directions of movement. Conversely, both cars and ships have eight directions of movement. Their onboard A.I would also need to worry about the local geography, weather conditions, other cars or ships, etc. Trains seem like the first and most obvious choice for transport automation.
The reason why there isn't of a push for more fully autonomous trains boils down to two issues: unionization and the importance of snap-judgements. Before we can deep- dive into those issues, it's important we look at the background of the technology as it relates to trains.
Train Automation: A Short History
Believe it or not, the technology to automate trains already exists. It has for decades, between 20 to 30 years according to David B. Clarke, director of the Center for Transportation Research at the University of Tennessee.
Vice journalist Carl Franzen, in his investigative piece for Motherboard, looked at the questions of "why we don't have driverless trains yet". According to the article, they already exist, we just don't hear about them. The first completely automated subway went into service in New York in 1961. Canada wasn't far behind as it tested a crewless freight train system shortly after according to an official report.
Automated Train Systems are More Common Than You Think
Since those early attempts at automating trains, the technology evolved and spread around the world. Franzen, quoting International Association of Public Transport (UITP), an advocacy group that promotes public transit, writes:
48 fully automated public metro systems can be found across 32 countries […] That number doesn't include other private light rain systems which number in the dozens
Train network automation has been around for so long and is so prevalent, that the UITP actually has Five Grades of Automation (GoA) for trains:
GoA 0 is on-sight train operation, similar to a tram running in street traffic.
GoA 1 is manual train operation where a train driver controls starting and stopping, operation of doors and handling of emergencies or sudden diversions.
GoA 2 is semi-automatic train operation (STO) where starting and stopping is automated, but a driver operates the doors, drives the train if needed and handles emergencies. Many ATO systems are GoA 2.
GoA 3 is driverless train operation (DTO) where starting and stopping are automated but a train attendant operates the doors and drives the train in case of emergencies.
GoA 4 is unattended train operation (UTO) where starting and stopping, operation of doors and handling of emergencies are fully automated without any on-train staff.
As you can see, the technology is further along than where it is with cars and boats. While automating those two transportation methods is still several years away, trains have enjoyed a nearly 50-year head start. Why then isn't there more investment in fully automating all train lines?
The answer, as mentioned in the introduction, has to do with unionization and quick decision-making. Come back next week when we go over why these two issues are such a barrier to future train automation efforts.
If you liked this blog post, why not subscribe to our blog? If you're interested in what we do as a 3rd party logistics provider, don't hesitate to check out our services (as expressed above, we are very pro finding you the lowest total cost!). We're also in the twittersphere, so give us a follow to get the latest logistics and supply chain news.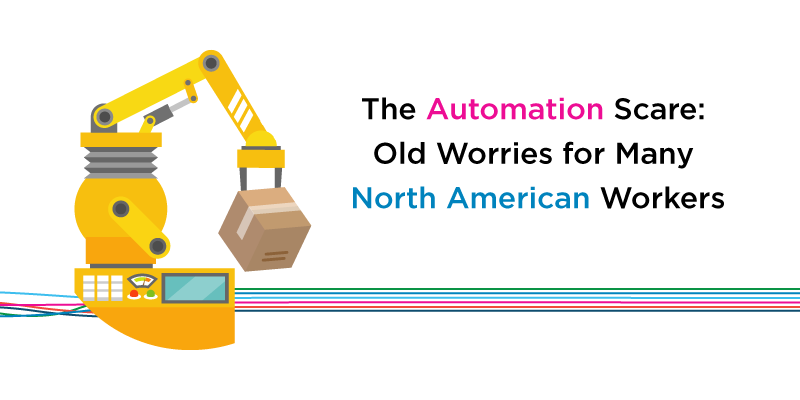 Will Robots be Friend or Foe to Today's Workers? Many publications condemn how automation will affect workers, but recent studies show it to be a benefit.
Twenty years ago, the big scare for many workers was that their job would move overseas. There were several stories during the 1990s and early 2000s of companies moving their operations to places like India and China. A combination of new IT technology and data technology allowed businesses to seek further efficiencies in labour costs abroad. While these actions were beneficial for those businesses, it cost many workers their jobs.
Offshoring still greatly affects industries such as manufacturing and bookkeeping. But, the rising wages in formerly off-shoring havens (China and India) has started to curb the trend. Growing political pressure and security concerns are also leading to a rise in re-shoring and near-shoring.
The scare of waking up one day and discovering your employer has moved overseas is no longer as acute for many North American workers. However, that doesn't mean their employment is secured thanks to automation.
How Will the 'Robot Apocalypse' Affect Workers?
Automation has only been in warehouses for a few years and is still in the prototype phase for several industries, like shipping & transportation. However, that hasn't stopped some publications from calling it a 'robot apocalypse' for workers.
For example:
These publications are not wrong or misleading. Many industries will have to change fundamentally. This also means several jobs will either change drastically or be eliminated.
Automation Can Mean a New Beginning for Many Workers
Automation isn't a losing zero-sum game for North American workers. For example, those on the warehouse floor have a new friend. Robots are being designed to work with staff, not replace them. These 'collaborative robots' are being developed to help people work more productively, efficiently and most importantly, safely.
In the retail world, an industry greatly affected by automation, new opportunities are appearing for workers thanks to e-commerce.
For example, Wall Street Journal writer Greg Ip writes in his article:
The brick-and-mortar retail swoon has been accompanied by a less headline-grabbing e-commerce boom that has created more jobs in the U.S. than traditional stores have cut. Those jobs, in turn, pay better, because its workers are so much more productive […] Throughout history, automation commonly creates more, and better-paying, jobs than it destroys. The reason: Companies don't use automation simply to produce the same thing more cheaply. Instead, they find ways to offer entirely new, improved products. As customers flock to these new offerings, companies have to hire more people
The fear of losing one's job because of outside factors is an old one for many people. Whether it be because of downsizing, outsourcing or automation, it can negatively impact a person's life all the same. The total net gain or loss of automation is impossible to predict at this early stage, but the opportunities the technology presents for worker and consumer alike are exciting.
If you liked this blog post, why not subscribe to our blog? If you're interested in what we do as a 3rd party logistics provider, don't hesitate to check out our services (as expressed above, we are very pro finding you the lowest total cost!). We're also in the twittersphere, so give us a follow to get the latest logistics and supply chain news.