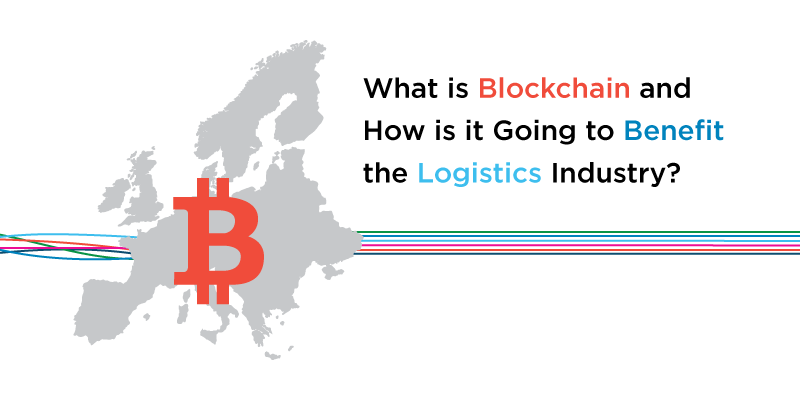 The Port of Rotterdam tests blockchain logistics which can kickstart a revolution in the level of transparency within the industry.
The Port of Rotterdam, Europe's largest shipping port, is taking part in a Blockchain consortium which is focusing on logistics, reported Coin Desk. The project has the support of more than fifteen public and private sector companies based in the Netherlands.
Consortium members will spend the next two years designing and developing applications for blockchain technology in the logistics sector. There have been similar efforts in the past, but according to the founders, this blockchain project is unique because of its scale in the logistics chain.
What is Blockchain Technology?
According to the Economist, a blockchain is a distributed database that maintains an ever-growing list of records called blocks. The information in a block cannot be altered retrospectively as each block contains a timestamp and a link to a previous block. The nature of blockchains makes it function like a public, digital, distributed 'ledger'.
The technology is relatively recent having first been put into practice by Satoshi Nakamoto in 2009 as a core component for the digital currency known as bitcoins.
Since its debut, blockchain technology has had a disruptive impact on several industries. Financial technology was the first to start adopting blockchains, but its started to move into the logistics sector as well.
How Blockchain Technology Can Benefit Logistics
There have been several articles published online about the benefits blockchain technology can bring to the logistics and supply chain sector. Here are a few ways the technology can improve the industry.
Transparency for customers. For most people, little is known about the products they use. As LetsTalkPayment.com phrases it, "an almost incomprehensible network of retailers, distributors, transporters, storage facilities and suppliers stand between us and the products we use."


With blockchain technology, customers will be able to see every part of the journey their product took before arriving in their hands. The network behind the store shelf will no longer be hidden, allowing the customer to make better informed decisions.
Transparency for auditors. Because the history of transactions is locked into each block, auditors will have an easier time understanding where items and resources have gone. This, as Adam Robinson of Cersasis puts it, "help[s] supply chain leadership, such as C-level executives understand how to make the supply chain more efficient and productive."
Greater security. The technology will enable supply chain companies to identify attempted fraud more easily.


"For example, an employee that goes into the system to change past events will alter the coding of the event" writes Robinson. "However, the altered coding appears so differently that it would be practically impossible to not notice the change. This will allow companies to recognize the fraud and who initiated the change almost immediately."
The two-year project undertaken by Port of Rotterdam will give insight into the scope of the benefits, but the technology has already shown promise.
"With a world that is becoming more connected on a daily basis, blockchain technology will inherently develop into a symbiotic relationship with the Internet of Things and today's advanced logistics and supply chain management systems" concludes Robinson.
That's it for us this week! If you liked this blog post, why not subscribe to our blog? If you're interested in what we do as a 3rd party logistics provider, don't hesitate to check out our services (as expressed above, we are very pro finding you the lowest total cost!). We're also in the twittersphere, so give us a follow to get the latest logistics and supply chain news.
Although it's only February, there are already two global trends in the supply chain logistics industry that'll play a big part moving forward into future years.
The first trend that has been taking shape in recent years is that next-tier economies (emerging countries that are not Brazil, Russia, India, China and South Africa, also known as BRICS) are having their markets currently experiencing an influx of what Agility's press release for the 2015 Agility Emerging Markets Logistics Index calls "dynamism". This is happening in a time when the global economy is experiencing a cool down.
The second trend, which has been ongoing for the better part of two decades, is the continuing evolution of the digital sphere. Specifically, in how Bitcoin has been gaining traction as a medium of exchange in many emerging markets (including ones in Agility's Index) and what that could mean for even the most basic of financial transactions in those countries.
A closer look at Agility's 2015 Index
Though the findings and highlights of the Index are interesting, what is important for the purposes of this post is the quote by Essa Al-Saleh, President and CEO of Agility Global Integrated Logistics concerning the trend:
"A year ago, there was talk of an emerging markets meltdown and of a new 'fragile five' based on concerns about weakness in South Africa, Brazil, India, Turkey and Indonesia. Emerging markets as a group turned out to be far more resilient – even vibrant – than expected despite continued sluggishness in the global economy" said Al-Saleh. "The factors driving growth are increases in population, size of the middle class, spending power and urbanization rates, along with steady progress in health, education and poverty reduction" he continued.
Bitcoins and their role in emerging markets
This upward trajectory ties into the rise of Bitcoins in emerging markets. For the purpose of brevity, we'll forgo explaining how it works and instead recommend this Wall Street Journal article by Michael J. Casey and Paul Vigna which explains it, and the ways it's not just a digital currency.
Although Bitcoins have had several confidence damaging scandals, it's still seen as having high utility in developing economies as it offers faster, more transparent, and sometimes a more stable alternative to local currencies that are experiencing high volatility. Min-Si Wang's article in Forbes on subject gives further detail about Bitcoin adoption in emerging markets (for example, the trading volume of Bitcoin in China grew from 0.4 percent in 2012 to 4.7 percent in 2014).
According to Jana, a mobile-payments company that serves as many as 2 billion people in emerging markets, some 58% of those surveyed, from Vietnam to Brazil, said they would feel comfortable investing in a virtual currency, rising to 75% in Kenya, home of the wildly popular M-Pesa mobile-money network. In fact, in some countries, as many as a fifth of respondents claimed that virtual-currency investments were a safer long-term bet than stocks and property.
What does it all mean?
At a fundamental level, Bitcoins offers a cheaper alternative to the financial transactions offered by those offered by banks and credit companies. If Bitcoin became a global standard, well…
… this model could slash trillions in financial fees; computerize much of the work done by payment processors, government property-title offices, lawyers and accountants; and create opportunities for billions of people who don't currently have bank accounts" writes Casey and Vigna. "Great value will be created, but many jobs also will be rendered obsolete.
The non-BRICS emerging markets are set to have a heavy impact on global business trends in the near future as their economies and logistical networks continue to strengthen. As they do, so does the faith open-source systems and digital money. The future looks to be very interesting in the coming years.
That's it for us this week! If you liked this blog post, why not subscribe to our blog? If you're interested in what we do as a 3rd party logistics provider, don't hesitate to check out our services (as expressed above, we are very pro finding you the lowest total cost!). We're also in the twittersphere, so give us a follow to get the latest logistics and supply chain news!