eCommerce operations is the true Santa's workshop and its logistics and supply chain professionals that scramble during the holiday season to make sure that your gifts and goodies arrive just in time for the holidays!
Most people are readying themselves and their bellies for the holidays, logistic providers are readying themselves as well. eCommerce businesses in particular, started preparing for the holidays back in August. Although Black Friday and Cyber Monday are behind them, there is still Christmas Day and Boxing Day still looming later this month.
Right now, operation teams across North America are making their lists (of inventory and personnel) and checking it twice (and several more times for good measure). Thanks to Black Friday and Cyber Monday they've found out which retailers and shippers are naughty or nice. This is because when the holidays come, customer shipments are comin' to town (every town)!
Getting the Workshops Ready
According to a recent Wall Street Journal Logistics Report written by Loretta Chao, Transportation and warehouse companies added about 8,900 jobs across the U.S in November.
The number of warehouse operator jobs grew by 3,100 jobs from October to November. Payrolls have also increased as its grown by 47,000 jobs over the past 12 months.
It wasn't only fulfillment centers that saw an influx of newly hired associates. As Chao points out,
Courier and messenger companies, including the package carriers that deliver online orders, increased their payrolls by 5,700 jobs last month, expanding employment in the industry by some 26,300 jobs from a year ago, according to the U.S. Department of Labor jobs report. The gain followed the addition of 12,200 transport and logistics jobs in October
Big Business in Gift Giving
The reason the holidays are such a scramble for retailers is because of the amount of business they stand to gain. In the U.S alone, the holiday season generated over three trillion dollars for the retain industry in 2013. The holiday sales accounted for 19.2% of retail total sales that year.
Increasingly, people are turning to online shopping. In terms of numbers, by 2010 B2C ecommerce sales totaled $283 billion USD in North America. By this year's end, ecommerce sales are predicted to reach nearly $600 billion according to Statista.com.
In 2015, the holidays season saw desktop retail e-commerce spending in the U.S reach over $56 billion USD. Most of that money was spent online on Cyber Monday.
Cost of Late Deliveries
Understandably, customers will be upset if the items they ordered online don't arrive on time. The main draw of purchasing gifts online is the promise of convenient and speedy delivery after all. Failing to hit deadlines means not just having angry customers, but also losing their trust when they need to do their holiday shopping in the future.
The holiday season of 2013 is the worst example of this. A shortened holiday season and erratic weather were cited as the reason for delays, but the damage was done. Customers were angry. It took costly good will gestures to regain their trust.
As 2016 ends, remember all the people that helped make your holiday special. Receiving gifts is great, but more amazing is the gift's journey and the people around you!
That's it for us this week! If you liked this blog post, why not subscribe to our blog? If you're interested in what we do as a 3rd party logistics provider, don't hesitate to check out our services (as expressed above, we are very pro finding you the lowest total cost!). We're also in the twittersphere, so give us a follow to get the latest logistics and supply chain news.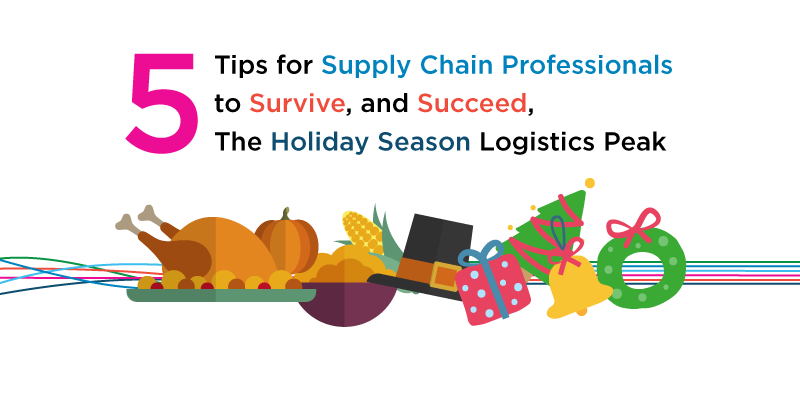 November is almost at an end. As December nears, the holiday peak looms for many distribution centers. The season will be the busiest for us in logistics and transportation thanks to Black Friday, Cyber Monday, Christmas Eve, and Boxing Day.
Customers will be expecting to receive their purchases and gifts with little hassle. This means that for many organizations, the sole focus of the winter peak will be to customer satisfaction. Thanks to the increasing number of people shopping online, the winter peak is especially volatile for orders.
Proper planning for the winter holiday peak should have started months ago. Some businesses go all-hands-on-deck as early as August, or October. While strategic planning is important for a smoother peak, it doesn't guarantee it. There are several ways the plan can become derailed.
This week we've decided to focus on the five ways to help make sure your business stays on track.
1.
Clarify Your Expectation

to the Staffing Providers

As Deborah Ruriani of Inbound Logistics points out in her article, planning for the holiday peak should have involved your staffing providers. With the winter peak so close, it's important that the expectations of your relationship are re-communicated. Turnover is likely to be high until the peak is over. Staffing providers need to ensure that new hires are of the same standards as those they are replacing.
2.
Audit the Preparedness

of Your Organization on All Levels

As the holiday season approaches, it might be tempting to hunker down and only focus on your work until it passes. Doing so puts your organization at risk. Fulfillment centers can only succeed if all its parts are all working smoothly and towards a common goal. Any weakness in the management, operations, support, HR or other departments can lead to a domino effect.
3. Regularly Check the
Morale of Your Employees
It's normal for stress levels to be higher during the holidays. A lot is expected of the staff and they'll have tight deadlines in which to accomplish these tasks. Stress levels can't get too high however. Too much stress over too long a period will cause mistakes. Too many mistakes will cause more stress, growing and extending the cycle.
4. Check and Update the
5S Lean

or Other Quality Initiatives

The 5S Lean Methodology is a strategy on how companies organize a work space for efficiency and effectiveness by identifying and storing the items used, maintaining the area and items, and sustaining the new order. By this time of year, your company should have a detailed space utilization plan in place. But remember, this time of year is volatile so your plan may need tweaking. You'll need to check which variables have changed since the plan was drafted and adjust accordingly. Flexibility is crucial in this area.
5. Continue to
Audit your Building's Processes

for Best Practice Research

Peak is an important time for many organizations. This is why a record of what worked and what didn't needs to be kept during and after every peak. Each peak brings with it the opportunity to do things a little bit better.

The winter peak is a stressful time for many of us in the logistics industry. Our customers expect us to deliver so they can have a happy holiday season. It's because of our customers that we need to ensure that both the planning and execution of peak plans are done with the utmost dedication and care.

That's it for us this week! If you liked this blog post, why not subscribe to our blog? If you're interested in what we do as a 3rd party logistics provider, don't hesitate to check out our services (as expressed above, we are very pro finding you the lowest total cost!). We're also in the twittersphere, so give us a follow to get the latest logistics and supply chain news.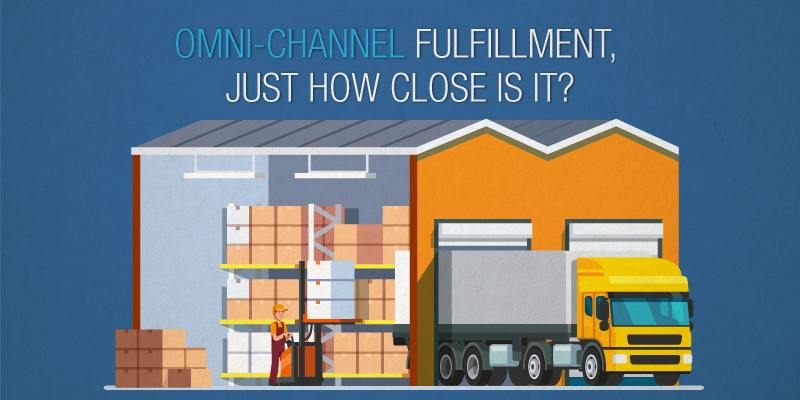 With so much discussion over omni-channel fulfillment being the future, it is interesting then that only 19% of the top 250 retailers are currently fulfilling omni-channel demand profitably, according to a new the third annual Sands Future of Retail Report.
Despite such a small percentage of top retailers making a profit from omni-channel fulfillment, the service is in high demand by customers and growing.
For example, for nine out of ten consumers, free shipping was reported as the top incentive to shop more online. This number has grown to become the top consideration. One-day shipping (69%) and free returns (68%) also continue to be top drivers.
The Future of Retail and Logistics
There were other key findings of note in the study:
Nearly a third of consumers (31%) now shop online at least once a week, an increase of 41% from two years ago.
Only 9% of consumers have used same-day shipping in the past year, but almost half (49%) say same-day shipping would make them shop more online if it were offered more frequently.
40% of consumers expect to receive their first drone-delivered package in the next two years or less. Less than a third (31%) think it will take more than five years.
Among consumers who don't trust drones to deliver packages, theft and damaged packages are the top concerns (72% each), but safety (68%) and privacy (60%) seem less risky than they were a year ago.
A theme throughout the study from customers was the expectation of greater and greater speed of the supply chain. This can be seen by the finding that consumers who shop online more than twice a week are twice as likely to be persuaded by same-day shipping as consumers who shop online only a few times a year (63% vs. 32%).
The main reason that so few top retailers are yet to make a profit from omni-channel fulfillment is simply that they have yet to figure out how.
According to the 2015 Third-Party Logistics Study, fully one-third of all respondents (nearly 800 manufacturers, retailers and 3PLs) say they're not currently prepared to handle omni-channel fulfillment.
Tim Foster, managing director, Asia-Pacific, with supply chain consulting firm Chainalytics weighed in on the discussion.
"Forester believes manufacturers and retailers will address this market transformation by eliminating non-value-adding activities within the supply chain. He cites the example of pharmaceutical distribution, where the traditional supply chain flow from manufacturer to wholesaler to retail pharmacy is being replaced by either a direct flow from manufacturer to retailer, or a loop with the 3PL in the center" summarizes Material Handling and Logistics News in this article.
3PLs have some time to catch up to customer demand. Privacy and security concerns are hampering the demand for omni-channel distribution in the areas of mobile phone payment. "This could explain why adoption has essentially remained flat year over year, with about a third of consumers having used these applications. Still, U.S. mobile payment transactions are expected triple in 2016 to $27 billion, a sign that a few eager early adopters and the growth of Apple Pay could eventually force more widespread changes in consumer behavior" concludes the article.
That's it for us this week! If you liked this blog post, why not subscribe to our blog? If you're interested in what we do as a 3rd party logistics provider, don't hesitate to check out our services (as expressed above, we are very pro finding you the lowest total cost!). We're also in the twittersphere, so give us a follow to get the latest logistics and supply chain news.