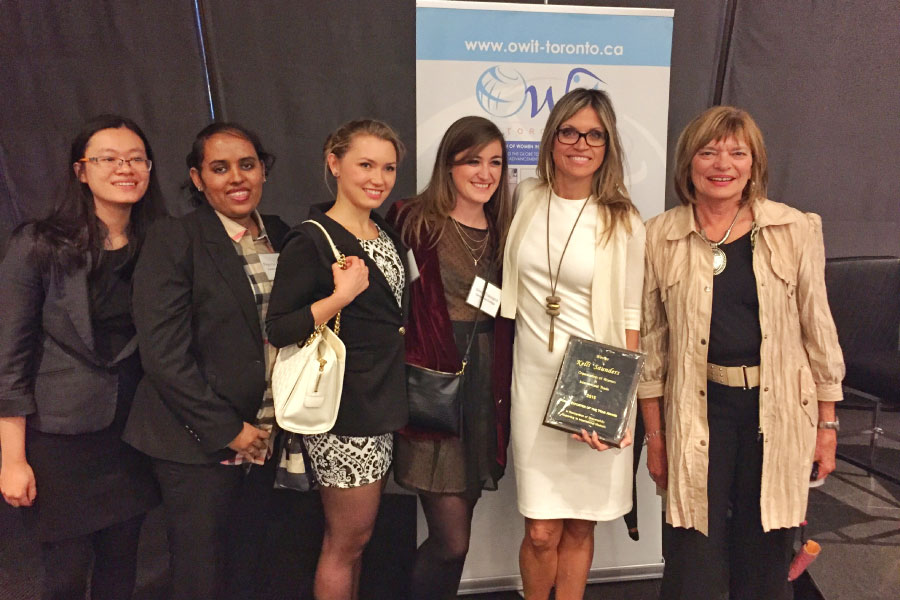 Nominated during OWIT (Organization of Women in International Trade) Toronto's Annual Awards Ceremony, where Kelli Saunders of Morai Logistics Inc. wins Woman Exporter of the Year.
Toronto, ON (June 16,2016)
On Thursday, June 9th 2016, Kelli Saunders, President of Morai Logistics Inc., an Authorized Agent of Mode Transportation, was the recipient of The Woman Exporter of the Year Award from OWIT-Toronto (Organization of Women in International Trade-Toronto). Nominees had to have at least 50% ownership of a profitable business registered and operating in Ontario for more than 3 years. Nominees also had to have earned their primary income from the business and must have been responsible for its daily operations. A significant portion of her company's business had to have come from exporting products or services.
The Woman Exporter of the Year Award honors an outstanding woman entrepreneur who, through her exporting endeavors, is advancing women and the image of Canadian business women in the international community.
Network and Cherish Those Around You.
Kelli was presented this award for her company's work with major fast-moving consumer goods companies as a third-party logistics provider with expertise in cross-border intermodal logistics in the US and Mexico.
Jim Damman, President of Mode Transportation, said:
We are all very excited for Kelli. She is an outstanding businesswoman, and she and her team do a great job of providing the best export solutions to her valued customers. This award is very well deserved. Her hard work in receiving this award is something that makes all of us very proud.
Kelli's advice to other women is to network and cherish those around them. Surrounding yourself with energetic high achievers will give you the foundation for a strong, career-long network from which to grow.
Shown above is Kelli's acceptance speech.
ABOUT OWIT TORONTO: OWIT-Toronto (Organization of Women in International Trade) is a non-profit professional organization designed to promote women doing business internationally, by providing networking opportunities, export education and global business contacts. Members include women entrepreneurs, service providers and business women involved in international trade.
That's it for us this week! If you liked this blog post, why not subscribe to our blog? If you're interested in what we do as a 3rd party logistics provider, don't hesitate to check out our services (as expressed above, we are very pro finding you the lowest total cost!). We're also in the twittersphere, so give us a follow to get the latest logistics and supply chain news.
By Lisa Henthorn
Virtually impenetrable not all that long ago, the "glass ceiling" blocking women from executive-level jobs in the logistics and supply chain industry appears to be shattering.
Though few (if any) people in our industry would argue that our historic gender bias has gone away, the outlook for women is considerably brighter these days than it was when Industry Week made this bleak observation a little over two years ago:
Half of the human population is female. More than half of all university students in the United States are female. Around a third of all MBA students, including those concentrating on supply chain studies, are female. And yet, when (we) did a manual count of top supply chain executives in Fortune 500 companies, we found only 22 women among 320 businesses that had a true supply chain function.
22 out of 320? That's a definitive "F-minus," but there's growing evidence that our industry's grade on gender equality is improving. Among the most significant signs: U.S. Secretary of Transportation Anthony Foxx appointed Michelle Livingstone to a two-year term on the National Freight Advisory Committee.
Livingstone, by the way, is VP of Transportation for Home Depot. As such, she's on a growing roster of females who hold top-level logistics posts at high-profile companies. The list also includes:
These executives deserve our applause. And the companies that gave them their respective titles should get a pat on the back, too. Why? If for no other reason, it's because they decided to break with the "old-boy network" tradition that lingers on in our industry and give leadership roles to the people most qualified to have them. This simply makes good business sense, and in light of our industry's ominous talent shortage, that's especially true.
In other words, as we look for answers to the labor shortage, there's no time like the present to tap the female labor pool.
Lisa Henthorn is a vice president at Eyefreight, a provider of transportation management system technology. Lisa can be reached at l.henthorn@eyefreight.com
About Eye Freight

The Eyefreight SaaS TMS is a Level 5 TMS, providing shippers with a control tower for central coordination and detailed visibility over multi-modal, multi-leg, international logistics. Eyefreight runs proprietary algorithms to manage and monitor the entire logistics process – optimizing inventory allocation and distribution planning, and unlocking traditional bottlenecks within the logistics function.