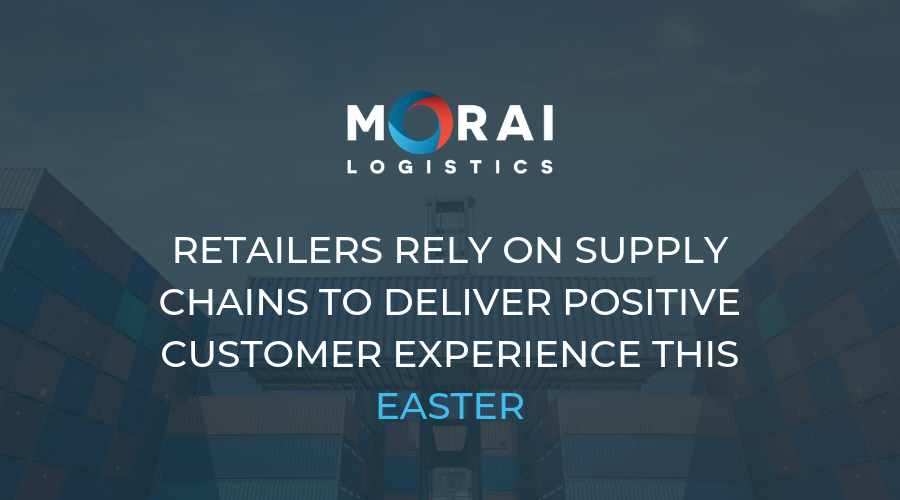 Supply chains and third party logistics (3PLs) must offer optimized solutions to meet consumer demand throughout the Easter holiday.
In 2018, Easter was celebrated by 84% of Americans. This fun and festive April holiday, is a time for children, family and friends, to enjoy traditional gatherings and exciting Easter egg hunts.
This holiday is also a 'time of generosity'. The most popular gift of 2018 was chocolate, sweets and candy. Statistics on planned consumer spending shows that last year, USD$2.6 billion was spent on candy. Food generated the most revenue at USD$5.7 billion, followed by gifts at $2.9 billion. That's a large output of candy, food and gifts to deliver for such a short holiday season.
However, consumers want more than on-time delivery. They want something personal. More and more consumers notice stores providing the same options. Therefore, what differentiates these companies? Customer experience (CX).
While consumer demand is at an all-time high all year round, holiday seasons usually generates an incredible peak. To deliver positive CX, retail companies rely on their supply chains.
Customer Experience (CX)
The definition of a great customer experience has changed over the years in response to technology. It's so easy for customers to buy what they want, as much as they want and whenever they want. According to Hubspot, good customer experience is,
The impression you leave with your customer, resulting in how they think of your brand, across every stage of the customer journey.
They further recognize that 'multiple touchpoints' impact the overall CX for a customer. From a supply chain standpoint, CX focuses not only on direct customers, but the customers they serve as well. That's why consumer demand across any industry impacts the supply chain.
Retail companies, who serve the Easter market in particular, are recognizing how important personalization services are. Rather than send a generic bunny bear to your eight year old niece, wouldn't it be more meaningful to personalize it with their name?
According to findings on customer experience (CX),
This requires digital supply chain capabilities — from the e-commerce site on the front end to supplier coordination for fulfilling orders to real-time logistics for tracking the goods.
In addition to personalization, other factors such as speed, on-time delivery, and visibility also create positive CX.
Impact on Supply Chains
Consumer demand is an ongoing barrier that retail companies and their supply chains face throughout the year. For any holiday season, the window to retain and capture new and loyal customers is shorter. Yet, customer expectation is high.
Retail companies face their own set of barriers, which impact their supply chains. When it comes to delivering CX to their customers during peak seasons, such as holidays, FedEx notes the following challenges:
Increased product variation with multiple vendors
Quality control
Fraud prevention
Inventory visibility
Customer expectation
Supply chains and third party logistics (3PLs) providers play an important role in delivering positive customer experience. They enable their customers to deliver product with speed, agility and efficiency. When large outputs are required during high seasons, such as holidays, 3PLs can be the difference between loss and retention. They host a network of omni-channel services that include air, ground, rail and ocean shipping. Large product loads are also transported in a safe, efficient and time sensitive manner.
Innovative technologies are integrating into processes and operations within manufacturing, warehousing and on-the-road deployment. Machine learning, artificial intelligence, and robotics help create streamlined and automated processes. In addition, this also shows a reduction in errors, delays, while ensuring on-time delivery and safe handling. This helps improve transparency, inventory control and traceability, which enables their customers to deliver a positive customer experience.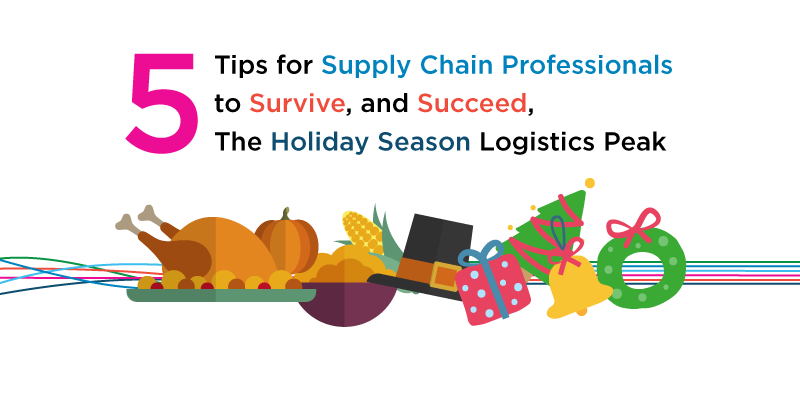 November is almost at an end. As December nears, the holiday peak looms for many distribution centers. The season will be the busiest for us in logistics and transportation thanks to Black Friday, Cyber Monday, Christmas Eve, and Boxing Day.
Customers will be expecting to receive their purchases and gifts with little hassle. This means that for many organizations, the sole focus of the winter peak will be to customer satisfaction. Thanks to the increasing number of people shopping online, the winter peak is especially volatile for orders.
Proper planning for the winter holiday peak should have started months ago. Some businesses go all-hands-on-deck as early as August, or October. While strategic planning is important for a smoother peak, it doesn't guarantee it. There are several ways the plan can become derailed.
This week we've decided to focus on the five ways to help make sure your business stays on track.
1.
Clarify Your Expectation

to the Staffing Providers

As Deborah Ruriani of Inbound Logistics points out in her article, planning for the holiday peak should have involved your staffing providers. With the winter peak so close, it's important that the expectations of your relationship are re-communicated. Turnover is likely to be high until the peak is over. Staffing providers need to ensure that new hires are of the same standards as those they are replacing.
2.
Audit the Preparedness

of Your Organization on All Levels

As the holiday season approaches, it might be tempting to hunker down and only focus on your work until it passes. Doing so puts your organization at risk. Fulfillment centers can only succeed if all its parts are all working smoothly and towards a common goal. Any weakness in the management, operations, support, HR or other departments can lead to a domino effect.
3. Regularly Check the
Morale of Your Employees
It's normal for stress levels to be higher during the holidays. A lot is expected of the staff and they'll have tight deadlines in which to accomplish these tasks. Stress levels can't get too high however. Too much stress over too long a period will cause mistakes. Too many mistakes will cause more stress, growing and extending the cycle.
4. Check and Update the
5S Lean

or Other Quality Initiatives

The 5S Lean Methodology is a strategy on how companies organize a work space for efficiency and effectiveness by identifying and storing the items used, maintaining the area and items, and sustaining the new order. By this time of year, your company should have a detailed space utilization plan in place. But remember, this time of year is volatile so your plan may need tweaking. You'll need to check which variables have changed since the plan was drafted and adjust accordingly. Flexibility is crucial in this area.
5. Continue to
Audit your Building's Processes

for Best Practice Research

Peak is an important time for many organizations. This is why a record of what worked and what didn't needs to be kept during and after every peak. Each peak brings with it the opportunity to do things a little bit better.

The winter peak is a stressful time for many of us in the logistics industry. Our customers expect us to deliver so they can have a happy holiday season. It's because of our customers that we need to ensure that both the planning and execution of peak plans are done with the utmost dedication and care.

That's it for us this week! If you liked this blog post, why not subscribe to our blog? If you're interested in what we do as a 3rd party logistics provider, don't hesitate to check out our services (as expressed above, we are very pro finding you the lowest total cost!). We're also in the twittersphere, so give us a follow to get the latest logistics and supply chain news.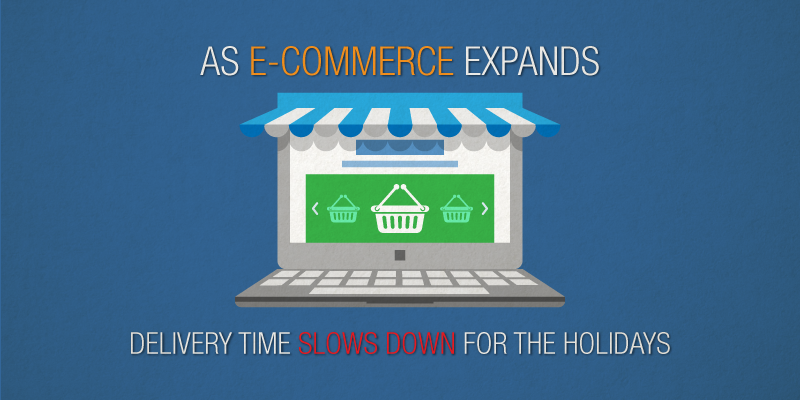 Kurt Salmon, a global management consulting firm, recently put out a study of online orders from 62 different retailers. The study analyzed online orders that were shipped to consumers, as well as those picked up in-store to measure shipping speed, accuracy and cost.
The most interesting find in the study, is that on average, order-to-delivery time for the 62 major retailers was slower by 20% than last year's average:
In fact, only 40% of buy online, pick up in store (BOPUS) transactions were error free this year, compared to 91% of delivered orders in the study and 98% of delivered orders during the rest of the year. This huge service gap—especially in such a customer-facing area—exposes retailers and can leave customers out in the cold
On the positive side, the amount of retailers surveyed from last year is now at 90%, up 15%. Retailers offering free shipping on anything in their catalogue rather than select items has also increased. This number has grown by 50%.
"Improved execution enabled 80% of retailers to complete orders within two weeks of Cyber Monday, up from 66% in 2014, with 9% fewer cancelled orders. Overall delivery time has increased 21% from 2014", writes the study.
An article on CNBC.com also describes how although there is a gap, the deadline for deliveries has gained an additional day.
According to a study by customer analytics firm StellaService, Dec. 21 is the most common deadline put in place by retailers promising standard or free shipping by Dec. 25. That's one additional day compared to last year, when the most common cutoff date was Dec. 20.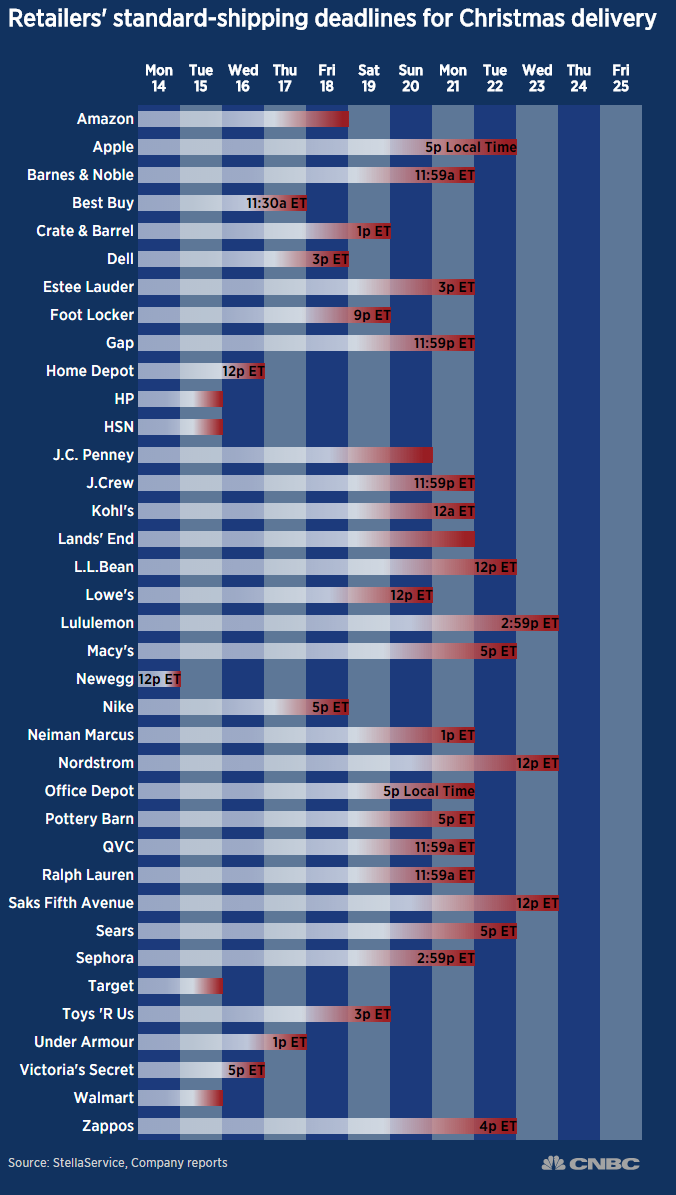 Source: CNBC
It'll be important for e-commerce companies to improve their order-to-delivery times not only to meet current customer demand, but also future customer demand. Looking at data from this past Black Friday and Cyber Monday, it looks like Cyber Monday has already eclipsed the former as the shopping holiday.
According to this article from LogisticsManagement.com, the sales breakdown for the two holidays was as follows:
Sales expectation for Cyber Monday were expected at $3 billion, a first for the holiday
This is a 12% annual increase and a 50% increase from 2012, according to Adobe
According to an analysis by ShipMatrix, 91 percent of orders delivered by UPS' ground service during Cyber Week were on time, compared to 97 percent during that time frame last year.
Black Friday sales dropped from $11.6 billion in 2014 to $10.4 billion in 2015, according to data from ShopperTrak
Online sales between Thanksgiving and Sunday were up 17 percent to $8.03 billion, according to Adobe
That's it for us this week! If you liked this blog post, why not subscribe to our blog? If you're interested in what we do as a 3rd party logistics provider, don't hesitate to check out our services (as expressed above, we are very pro finding you the lowest total cost!). We're also in the twittersphere, so give us a follow to get the latest logistics and supply chain news!