In the world of logistics several factors can be involved when it comes to producing and moving your goods. Where is the best place to manufacture your products? Should we stay within the county's borders or go offshore? If so, which country would produce the most cost-effective solution, or produce with a certain level of quality? This month, we're going to focus on an interesting logistics hub that is sometimes overlooked, but is always at the back of most Supply Chain Officers minds: Mexico.
The Offshore Duel: Mexico vs. China
While there has always been an attraction towards creating logistics and supply chain hubs in Mexico as a means to reduce production costs, among other things, the competition has always been Mexico vs. China with regards offshoring options. For the past decade this has always been the case, but as the US economy creeps to pre-recession levels, American companies have been looking to restructure their supply chain. Companies are bringing their products closer to home and Mexico has become an attractive nearshoring alternative to making products within country in order to keep costs low while maintaining production quality.
According to the Offshore Group's recent blog post:
Michael Shifter, president of Washington policy group Inter-American Dialogue, told Reuters U.S. manufacturers are shifting their sights to Mexico to be part of the country's $800 billion goods and services market.

"There's something happening in the region and the U.S. wants to be part of it," Shifter said. "Whether there's a well-thought-out vision or policy remains a question. But there is more of an affirmation of the region and a willingness to engage."
Mexico's Logistics Infrastructure
Mexico is aware of these trends and has already taken initiatives in order to attract companies to invest in their logistics hubs. Here are some of the highlights that we find to be the most appealing with regards to being a strong contender as a logistics hub for companies.
Improvements to Mexico's Railways
According to Railway Track and Structures (RT&S), Mexico is investing in 4 billion pesos (~$318 million USD) to copmlete 12 rail-specific projects underway that will improve routes between Mexico City and Queretaro (a known manufacturing centre) and between Meridia and the Riviera Maya. This plan is said to increase transportation and communications speed; offering attractive intermodal options for many US companies.
Improvements to Corporate Social Responsibility and Sustainability
As US businesses begin to relocate south of the border, considerations to improve Mexico's corporate social responsibility (CSR) policies and sustainability practices have gone underway. Over half of the 166 publicly traded companies in the Mexican stock market have created a system for managing sustainability related activities, with considerations for improvement in the supply chain included. This is a great start due to the fact that sustainability along all levels of the supply chain is still in its developing stages at the global level. Such an initiative offers a competitive edge towards Mexico's main offshoring competitor, China, as trends for companies to tackle on green practices have now prioritized considerations on sustainability as a determinant for deciding offshore locations.
For more information about how Mexico is seen as an attractive supply chain location for both manufacturing and distribution, check out this great white paper from Jones Lang LaSalle.
If you liked this blog post and you want to read more of our content, don't hesitate to subscribe to our blog. Or if you want more logistics and supply chain content throughout the day, follow us on Twitter! If you're interested in what we do as a 3rd party logistics provider, feel free to check out our core services. Otherwise, we'll catch you next week!
Last month we took a look at the
retail industry
and how its supply chain is affected with regards to recent news. We're continuing the series this month by exploring the crude oil industry. If you have been keeping up with
recent news
, last Saturday the town of Lac-Mégantic experienced an unexpected tragedy when 73 black rail tankers carrying pressurized containers of crude oil was derailed.
The train was parked for an overnight shift change, the tankers decoupled from their locomotives for an unknown reason (as of yet) and rolled downhill without any drivers into the town centre, derailing and setting off a series of explosions. The explosions caused fires that lasted for hours; about 30 building were destroyed and a death toll of at least 15 with dozens unaccounted for.
This tragedy has given light to concerns of the logistics behind crude oil transport and below we will take a look at how development in the crude oil supply chain has changed with regards to the modes of transportation and the factors that affect crude oil costs.
Crude Oil Transport Shifting to Rail
The revival of oil trains in North America stemmed from the Bakken shale in North Dakota due to fracking (i.e. hydraulic fracturing) creating a huge amount of product that needed to be moved without too many options with regards to the pipeline. This led to the oil industry turning to rail to move crude oil to refineries at the East and West Coasts as well as the Gulf Coast. This growth led to huge shipments of oil. For example, in Canada's railroads alone rail transport for crude oil has gone from 500 carloads in 2009 to a predicted 130 000 to 140 000 this year, according to the Railway Association of Canada.
Apart from being a highly efficient mode of transport for crude oil, costs for train transport can also be lower due to the crude oil in trains being made entirely of tanker cars of oil. This effectively creates an above-ground pipeline and is more cost-effective than traditional the traditional mixed cars of boxcars, flatbeds, etc. (a.k.a. 'manifest trains').
Supply Chain Factors that Affect the End Cost of Oil
We'd like to finish this off with a look at two main factors, with regards to the logistics and supply chain aspects of oil transport, lead to changes in cost for the end user.
Mode of Transportation – As discussed above, consumer end cost rises if we limit train movement. If you change the cost from intermodal/rail to truck transport, costs will increase. Equipment shortages can also affect the prices of oil as in order to supply the demand, companies will have to seek alternative modes of transportation in order to meet consumer needs. Disasters along the supply chain can have a devastating impact on the price of oil, something we have already been made aware of in 2010 when the BP oil spill on the Deepwater Horizon rig happened.
Supply & Demand – Obviously one of the biggest factors that affect the end cost of oil is how much we have available to distribute and how much we need. There are also global oil inventories that affect pricing. Global oil inventories exist to balance the supply and demand. When production exceeds the demand for oil, the excess oil is stored. This way, when consumption exceeds the current supply of oil, the oil inventories can be tapped to meet the demand but could end up increasing cost for the end user.
We hope you enjoyed this month's industry focus on the oil industry. If you liked this blog post and you want to read more of our content, don't hesitate to subscribe to our blog. Or if you want more logistics and supply chain content throughout the day, follow us on Twitter! If you're interested in what we do as a 3rd party logistics provider, feel free to check out our core services. Otherwise, we'll catch you next week!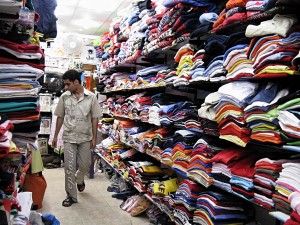 With recent news talking about the current controversy surrounding the Rana Plaza tragedy in Bangladesh, this week we'd like to focus on the retail industry as a whole and explore what is currently happening and how supply chain and logistics ties into all of the news trends. So we've been motivated to write a monthly post on the trends.
A Challenge for Physical Stores to Remain Relevant
Ever since the development of the Internet the concept of online retail, or e-stores, have been present and has been developing at a relatively rapid rate. Physical stores work to compete with online retail sites but also have to work with integrating online retail as a part of their services as well.
Physical stores have the advantage of giving consumers the opportunity browse, try on or try out, and purchase items on the spot (all without the added cost of shipping!). This doesn't seem to be enough as certain sectors in the retail industry suffer big blows from the major online retailers. Case in point: Amazon and the book store crash that happened a couple of years ago. That's not to say the physical stores in some sectors have merged beautifully with e-commerce, apparel retail being one of them.
So how does online retail tie in to the supply chain process? Well, to start it has been a great influencer in the growth companies, which in turn has led to analysis in a company's manufacturing and supply chain strategies. We're going to focus on clothing and apparel in our case study below to see how other factors have affected how manufacturing and supply chain is changing:
Case Study: Apparel Retail
In the world of logistics, there is an incredible amount of complexity that goes into getting your product from a factory to store shelves or your doorstep. The above-mentioned tragedy in Bangladesh has stimulate the European Union to press for Bangladeshi authorities to immediately initiate international labour standards. Furthermore, agreements with the International Labour Organization (ILO) have proposed short-term and medium-term steps to improve labour conditions.
These current attempts stem from consumers now wanting companies to be more transparent with regards to their supply chain. While the move to create better conditions for offshore workers are underway, companies in apparel retail are creating ways to take advantage of this as a marketing strategy. One great example is Planet Money, which is an online retail store that sells shirts that tells the story of its creation. It takes you on the journey from being made in Bangladesh to being brought to your doorstep.
We hope you enjoyed this quick glance at the retail industry. Stay tuned for next month when we feature another industry and give you a quick breakdown of another interesting industry sector for the logistics and supply chain industry. If you're interested in the role we play in logistics, feel free to check out our services. Also, we're social on Twitter so don't hesitate to give us a shout and let us know how we're doing!