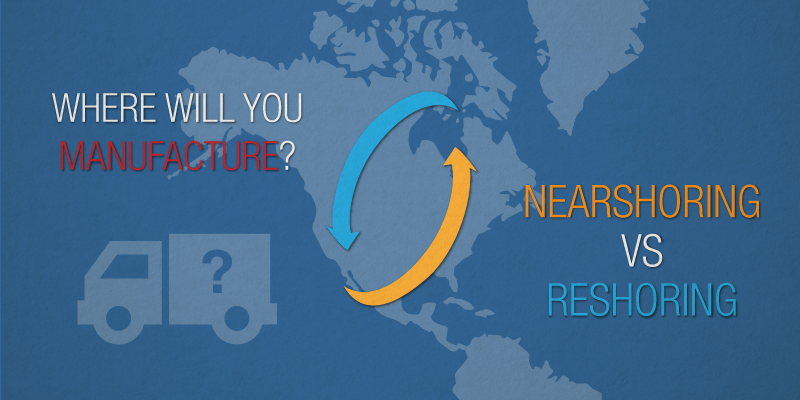 In the past, we've written about the benefits of near-shoring over off-shoring. However, something we haven't discussed in much detail is re-shoring.
A recent article on EBN discussed the findings of Cushman & Wakefield's 2015-2017 North American Industrial Forecast. In the article, writer Jennifer Baljko highlights the differences between the praise reshoring has gotten in the media versus Cushman & Wakefield's findings and in doing so, asks an important practical question of manufacturing and logistics companies: "Where will you put your factory?".
Before going any further, it's important to properly define the terms re-shoring and near-shoring as they are sometimes used interchangeably despite them having very different meanings.
According to a Forbes article on the topic,
Re-shoring refers to manufacturing that was previous done outside of America and has been moved back to America. Near-shoring refers to manufacturing work that has returned closer to America in countries such as Mexico.
Cushman & Wakefield's findings, as Baljko points out, makes fining quality and affordable space for factories and warehouses one of the biggest challenges for companies who decide to move back home.
"A lack of quality space remains one of the biggest challenges facing manufacturers in the U.S. Emerging technological advances, such as improved measuring/process control, advanced digital technologies and sustainable manufacturing, have made many older facilities functionally obsolete, opening the door for more speculative construction to take place within the next few years," the report noted.
How Does Near-shoring compare?
Although Cushman & Wakefield's study advised caution for companies considering re-shoring their manufacturing, their findings did indicate that near-shoring to Mexico might be a more prudent long-term strategy.
"Major drivers of industrial real estate activity continue to reflect the prominent role of distribution and logistics sectors. They include large renovations, like Kuehne+Nagel's 341,000 sf at O'Donnell Logistics Park, or expansions, like Walmart's 132,000 sf at Parque Industrial El Convento" they write.
The reason for this is that is because of the competitive land prices the country offers. "Average industrial land costs range from $638.08 psf to $231.85 psf for private industrial parks sites and raw land respectively" they write in their report.
Manufacotring in Mexico also has other advantages that we've written about elsewhere, but according to Cushman & Wakefield's, "Generally, Mexico is increasingly developing a pool of high-skilled workers and rapidly integrating its manufacturing industries with global production lines. Also, in addition to a successful macroeconomic reform agenda, an ambitious investment program by the federal government is expected to bring further improvements to Mexico's transport and logistics infrastructure" they highlight in their findings. "Given such factors, Mexico's industrial real estate market is forecast to continue growing and benefiting from increased demand from a diversified range of industries" they conclude.
That's it for us this week! If you liked this blog post, why not subscribe to our blog? If you're interested in what we do as a 3rd party logistics provider, don't hesitate to check out our services (as expressed above, we are very pro finding you the lowest total cost!). We're also in the twittersphere, so give us a follow to get the latest logistics and supply chain news!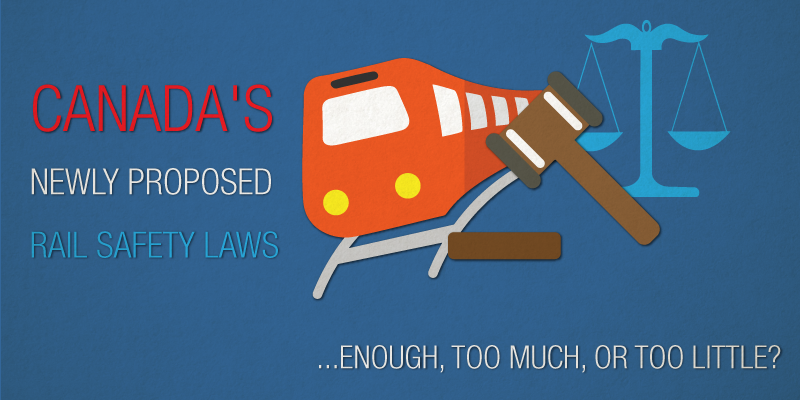 On the 20th of February, Federal Transport Minister Lisa Raitt revealed The Safe and Accountable Rail Act which proposes amendments to the Canada Transportation Act and Railway Safety Act. The Act, which is a response to the Lac-Mégantic disaster in 2013, will make railways and crude oil shippers responsible for the cost of accidents said Raitt.
Along with other previously introduced rail safety requirements, this new act will introduce the following:
Railways moving large volumes of crude oil will now be required to carry insurance of up to $1 billion to cover the costs of a potential accident.
Oil companies shipping their product in railway cars, meanwhile, will now face a levy of $1.65 for every tonne of crude shipped roughly 23¢ per barrel.
The Act will bring in minimum insurance requirements for railway crude oil shippers using federally regulated railways, from $25 million for carriers of minimally dangerous goods to $1 billion for substantial quantities of them.
Two new liability insurance levels — $100 million and $250 million — will be phased in during the two years after the bill receives royal assent. Companies will be required to come up with half that amount in the first year and the full amount the year after that.
Companies that ship crude oil will also have to pay a fee per tonne shipped that will go into a $250-million backup fund to cover costs above what their insurance covers if they're involved in an accident involving crude oil.
Too Much or Too Little?
Although the reaction to the announcement of the Act has been mostly positive by the Canadian press, it hasn't been without some controversy.
An article in the Financial Post quoted Greg Stringham, of the Canadian Association of Petroleum Producers'
vice-president of oilsands and markets, who expressed some concerns.
In today's price environment, every little bit affects the economics. Crude oil prices have plunged more than 50% since June, causing many producers to cut spending.
Mr. Stringham said about 200,000 barrels of oil were moving by rail in Canada every day at the end of 2014. He continued by saying that oil and gas producers don't know whether additional costs from the new insurance burden will cause oil-by-rail movements to become more expensive for producers.
Looking at the comments section of the articles covering this story, it's easy to see that there is also the other side who feel that the newly proposed Act can isn't being taken far enough. It seems that this sentiment stems from the recent Canadian Pacific Railway strike which ended just before employees would've been legislated back to work.
In a Maclean's article, NDP Labour critic Alexandre Boulerice condemned the government for taking quick action against the workers when it was revealed that that there was a legislation being poised in end the strike. "It will put public safety at risk, since the problem of long hours and fatigue among those conductors will not be resolved," he said at the time
A Problem With No Clear Solution
The growing number of train derailments has to do with the growing volumes of oil being shipped. This is a trend and problem for both Canada and the U.S. There've been different long-term solutions that have been recommended, but for now, let's hope that the new Safe and Accountable Rail Act shows some promise in curbing this deadly trend.
That's it for us this week! If you liked this blog post, why not subscribe to our blog? If you're interested in what we do as a 3rd party logistics provider, don't hesitate to check out our services (as expressed above, we are very pro finding you the lowest total cost!). We're also in the twittersphere, so give us a follow to get the latest logistics and supply chain news!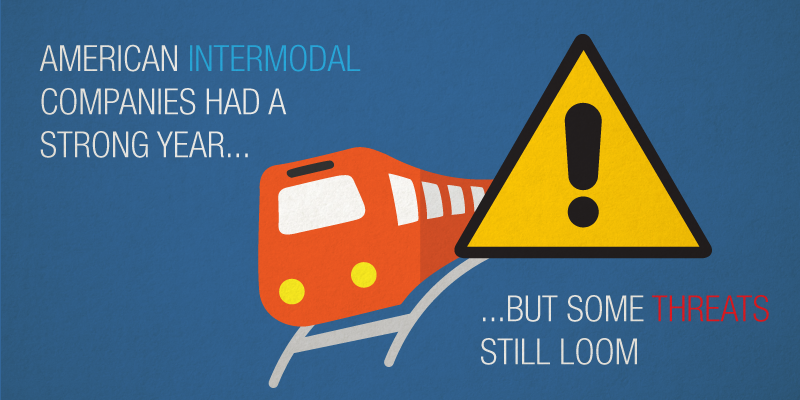 Last week, the Intermodal Association of North America (IANA) reported in its most recent edition of the Intermodal Market Trends & Statistics report, a strong full-year and fourth quarter 2014 performance for intermodal volumes despite harsh weather conditions, and continuing intermodal congestion.
An article from Logistics Management by Jeff Berman on the report noted that:
Total 2014 intermodal volume—at 16,276,892 containers and trailers––saw a 4.8 percent annual increase compared to 2013. Domestic containers—at 6,444,532—were up 5.7 percent, and international containers—at 8,166,010—were up 4.4 percent. All domestic equipment at 8,110,882—was up 5.1 percent, and trailers rose 2.9 percent to 1,666,350.

For the fourth quarter, total volume—at 4,111,401—was up 3.0 percent compared to the fourth quarter of 2013. Domestic containers were up 5.1 percent at 1,672,332, and international containers—at 2,011,754—were up 2.1 percent en route to leading all intermodal segments for the fourth year in a row and seven of the last eight years. Trailers eked out a 0.1 percent gain at 427,315, and all domestic equipment was up 4.0 percent at 2,099,647.

Based on IANA data, the report observed that 2014 marked the first time in three years that international, domestic containers, and trailers each saw annual gains, while showing the strongest overall intermodal growth since 2011. What's more, international volume posted its largest annual increase since the economy was emerging from the depths of the recession in 2010, with the 4.4 percent annual growth rate almost double the previous three years, while total international volume was only 4 percent below 2006's pre-recession peak. And 2014 trailer volume saw its first annual gain in three years, while seeing a 35 percent total decline in the past decade.
IANA President and CEO Joni Casey commented on the findings: "For the first time in four years, international, domestic container, and trailer market segments all posted year-over-year growth. And volume gains were widespread geographically, with eight out of nine regions recording increases during 2014." IANA officials also suggested that the reason international growth exceeded expectations in the fourth quarter, was because of "stronger than expected container imports."
Casey added that considering that the overall volume growth rate of 4.8 percent was above 2013, as well as higher than in 2012, 2014 intermodal industry performance modestly exceeded expectations.
The Skies Aren't All Clear Yet
Although the findings in the report are very encouraging, an article written by Mark Szakonvi on JOC argues that caution is required going forward.
In particular, he noted that a number of threats from the reappearance of brutal weather conditions seen last year, to a West Coast port lockout could quickly derail the rail industry's gains.
"The railroads aren't out of the woods yet. Although the waterfront employers said on Jan. 26 that it had reached a tentative agreement on chassis maintenance and repair with the International Longshore and Warehouse Union— a major roadblock to a labor contract — there is still concern of a terminal lockout by employers. If that were to happen, BNSF Railway and Union Pacific Railroad, the two major U.S. Western railroads, would no longer accept marine container terminals. Analysts differ on the severity an embargo of international intermodal traffic would have on rail service, but they agree it would be negative."
That's it for us this week! If you liked this blog post, why not subscribe to our blog? If you're interested in what we do as a 3rd party logistics provider, don't hesitate to check out our services (as expressed above, we are very pro finding you the lowest total cost!). We're also in the twittersphere, so give us a follow to get the latest logistics and supply chain news!