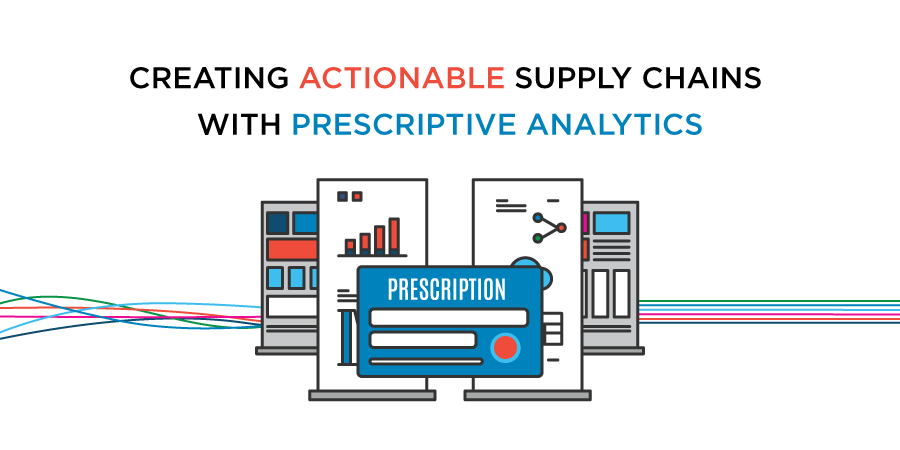 Prescriptive analytics is a decision making model that can help supply chains meet the increasing demands that have resulted from the revolution of technology.
Now more than ever, the supply chain and logistics industry is under pressure to meet the unprecedented growing demands of consumers. In addition, they also must meet demands with efficiency and immediacy, while offering competitive rates and network opportunities. The impact of emerging technologies on transportation supply chains is a point of interest to a variety of industry leaders. It requires actionable initiatives that specifically analyze innovative ways for supply chains to improve their bottom line and transform to effective digital supply networks (DSNs).
Prescriptive Analytics is a critical approach toward helping supply chains achieve this transformation. Gartner Inc.defines this technology as:
A form of advanced analytics which examines data or content to answer the question "What should be done?" or "What can we do to make _______ happen?
This form of algorithmic decision making, enables companies to visualize actions that improve operations and capitalize profits. This blog post dives deeper into understanding the function and benefits of prescriptive analytics in supply chain management.
Prescriptive Versus Predictive Analytics
Advanced analytics can be described as being either descriptive, predictive or prescriptive. Their meaning can be broken down into fundamental questions that help businesses achieve an objective.
Descriptive        —————    "What has happened?"
Predictive         —————    "What could happen?"
Prescriptive       —————    "What should we do?"
In April, Morai Logistics discussed the imperative need for supply chains to improve transparency. We describe predictive analytics as a recommended technology that provides organizations with the technology to forecast and achieve real-time visibility. Joined by Artificial Intelligence and Machine Learning, this suite of tools help many industries such as retail, healthcare and transportation. What's does prescriptive analytics bring to the table?
According to Digital Journal, the global prescriptive analytics market serves numerous markets including healthcare, information technology & communications, manufacturing, government and defences, and of course transportation and logistics. They share the following insight into the growth of this market:
Prescriptive analytics market accounted for USD 1.20 billion growing at a CAGR of 30.95% during the forecast period of 2017 to 2024.
In comparison to forecasting with predictive analytics, prescriptive analytics identifies how 'business processes should evolve or be modified'. It's an algorithmic decision making model that analyses data in order to take action. Applying this level of analysis can help any business understand how to effectively use their 'resources, costs and capabilities'.
Benefits for Supply Chains
Transportation and logistics is a market segment that should utilize prescriptive analytics. However, their integration is comparatively slower to other industries despite feeling the pressure of consumer demand the most. Although there is a growing need for new and improved processes, many industry leaders fear the unknown of integrating a new technology tool. Supply Chain Management Review states that implementing prescriptive analytics is 'a crucial analytics approach'. They further reinforce the following outcomes below as beneficial to improving supply chain management.
Create 'visibility between the supply chain and finance'.
Provides managers with advanced platforms that help base decisions on fact-based scenarios.
Integration of predictive benefits such as cost reductions, forecasting and end-to-end visibility.
Create a prepared, informed and confident workforce.
Advanced analytics is a critical tool that should be integrated into any organization looking to achieve profit growth. Supply chains must continue to embrace technologies in order to meet customer demands, while creating a competitive advantage in changing markets. Predictive analytics is important because it helps supply chains understand future risks, challenges and outcomes. However, prescriptive analytics leverages data to devise action that will improve efficiency, immediacy and their bottom line.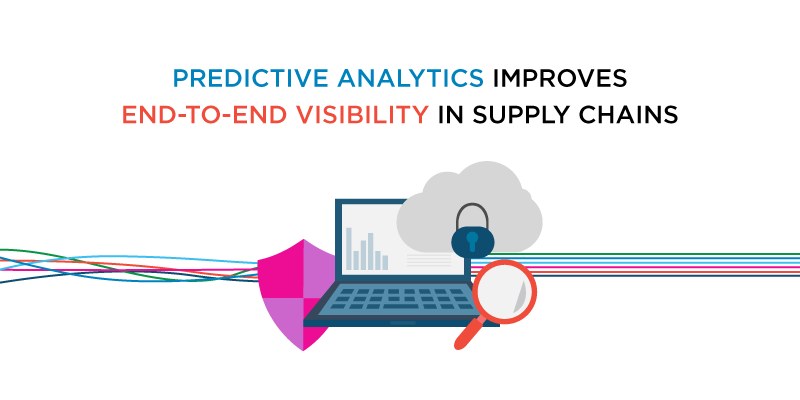 Predictive analytics is a technology tool that  is improving the end-to-end customer experience of the retail, healthcare and transportation industry.
The increase in consumer demand is becoming more apparent across global markets and a variety of industries. This month, multinational retail corporation, Wal-Mart, announced their partnership with 'actionable predictive intelligence' platform, FourKites. According to Digital Supply Chain:
The Canadian branch of Walmart has agreed a new partnership with FourKites for the development and furthering of the company's supply chain visibility and predictive analytics capabilities.
FourKites platform will enable Wal-Mart to optimize their consumer experiences by leveraging insight that will clearly identify the lifecycle of their shipments. In addition, the company will be able to improve their 'staffing levels, assignments and minimize truck waiting times'.
A challenge supply chains face in changing markets is visibility. On February 15th, Morai Logistics identified how predictive analytics can help create efficient processes such as forecasting and real-time visibility. Investment in technologies that offer 'end-to-end predictive visibility' is a route many industries are taking to improve the customer experience.
This article looks at the application of predictive analytics in the retail, healthcare and transportation industry. Specific focus will be placed on how the appropriate translation of big data will better the end-to-end customer experience.
Retail
Large wholesale companies have been utilizing predictive analytics to improve daily operations of their large product volumes for quite some time. However, in the past cost of technical personnel and lack of appropriate process has presented challenges with providing customers with personalized service.
According to Digitalist Magazine, the following improvements are achieved when wholesalers implement predictive tools to assess Big Data.
Data on customer purchases can help predict future sales.
Narrows and tailors product focus to the client's needs.
Helps 'detect risk' and 'provides insight into new product categories'.
Provides product recommendations to address customer inquiries.
In addition to the above efficiencies, research states that predictive analytics supports the development of loyalty programs as Big Data is translated in real-time. Therefore, addressing the need for immediacy.
Healthcare
Another industry looking to predictive analytics to improve processes and leverage Big Data is the healthcare industry. Instead of focusing on the customer experience, applying this technology will hopefully enhance patient care by taking a preventative approach.
Health Facilities Management magazine states that tools are needed to help asses 'which patients will require more intense interventions than others'. Integrating predictive analytics into the supply chain will also reduce costs by providing efficient assessments on necessary materials and products. The article quotes vice president of inventory management solutions for Cardinal Health, who states:
Rather than analytics being retrospective, we are trying to infer what will happen in the future. There is no denying the health care industry is looking to streamline their processes and supply chains to better service patients and the community.
Transportation
When it comes to transportation supply chains, transparency is key to creating an optimal end-to-end user experience. Even 73% of online shoppers feel more confident making purchases when they have the ability to track their delivery. Given the demands of online markets, companies are seeing the need for leveraging Big Data.
Referred to as 'real-time freight visibility', both shippers and suppliers should be aware of all particulars relating to the shipment lifecycle. Research addressing the importance of freight visibility identify four reasons and how predictive analytics can help.
Helps 3PLs retain business and avoid late shipments by monitoring deliveries.
Improves the visibility of 'shipment status and location'.
Avoid costs associated with 'late and off-schedule shipments'.
Create business opportunities by meeting visibility requirements.
Investment in technologies has been a reoccurring theme in changing markets, as the issue of visibility continues to be address. Many industries, such as retail and healthcare, are recognizing the positive outcomes that occur from integrating such technologies into their supply chains. 3PLs will also be able to translate Big Data into meaningful information, and use predictive analytics to meet the demands of immediacy and improve visibility.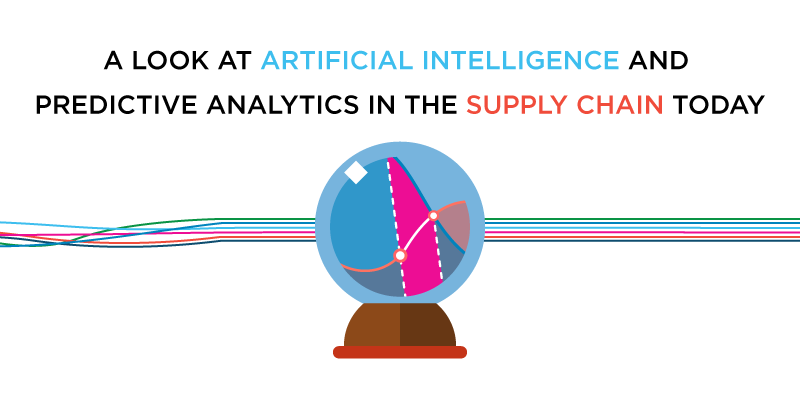 Global supply chains fear the possibility that technology will disrupt. But the ability for emerging platforms to help SME's achieve competitive differentiation remains strong.
There is no denying that digitization of the supply chain has evolved at an exponential rate. It has caused many industries to remain on their toes when it comes to increasing consumer demands. From autonomous vehicles to Smart homes, companies must strive to meet the growing need of immediacy. This is combined with 24/7 service by investing in innovative technology.
The supply chain and logistics industry continues to monitor the impact digitization has on current and future production, operations and the overall management of transport. On January 11th, 2018, Morai Logistics reinforced the need for the industry to pay close attention to demand as globalization is making demand difficult to quantify and predict.
AI & Predictive Analytics
Artificial Intelligence (AI) and predictive analytics are two emerging platforms that are receiving positive consideration from supply chain and logistics. Their benefits range from supporting SME start-ups to optimizing transport management systems, and even improving transparency with customers.
This article identifies how leveraging these technologies can yield lucrative results for supply chain and logistics companies. It will also cover how to create competitive differentiation.
Artificial Intelligence & Supply
In March of 2017, a $125 million Pan-Canadian Artificial Intelligence Strategy was proposed by the Government of Canada in an effort to support academics and research. The country's continual effort to be a leader in AI has positioned this emerging platform as a top investment for many industries, supply chain and logistics included. Research confirms that the market could reach $47 billion within the next two years. These predictions provide an encouraging figure that pushes investigations toward the benefits of AI.
The Information and Communications Technology Council explains that integrating AI "enables machines or the in-build software to behave like human beings which allows these devices to perceive, analyze data, reason, talk, make decisions and act." For the supply chain and logistics industry this can translate into many benefits in relation to forecasting, inventory and transparency.
How Does a TMS Come Into Play?
InBound Logistics also speaks to the integral role AI will have in optimizing transportation management systems (TMS) to a more efficient level than in the past. Their article details three areas that they believe AI will have a positive impact:
Improve the 'shipment lifecycle' by simplifying the real-time exchange of Big Data
Provide actionable intelligence = Business intelligence + Consulting Intelligence
Accurate and efficient mitigation strategies facilitated by assessment, analysis, counsel and execution
Based on the above areas, supply chain companies can expect to see a reduction in operation delays and be able to manage risks using these so-called 'expert systems'. Although AI is offering a more advanced method to manage logistics, another emerging platforms that will change the game in terms of efficiency is predictive analytics.
Predictive Analytics
A predominant outcome of advanced technology is an unceasing source of Big Data. Yet, a large quantity of data is only useful when there are appropriate tools in place to assess patterns and predict actionable results.
The concept of predictive analytics is best described by global leader in technology, IBM. They identify its capabilities as encompassing:
Ad-hoc statistical analysis, predictive modeling, data mining, text analytics, optimization, real-time scoring and machine learning [implementing this technology] helps organizations discover patterns in data and go beyond knowing what has happened to anticipating what is likely to happen next.
Predictive analytics is adopted by companies, such as Amazon and Oracle, to create efficient processes such as forecasting and real-time visibility. However, how does this create transparency and efficiency in the supply chain? The ability for companies to forecast (predict) possible disruptions in the shipment lifecycle is imperative for devising appropriate mitigation strategies.
In addition, it helps organizations improve customer service by assessing shipments based on previous patterns. Research also indicates that predictive analytics helps 3PLs optimize their solutions. The more insight a company has on their shipments the more visibility they can guarantee to their customers.
Integrating artificial intelligence and predictive analytics has proven to help companies keep up with the increasing demands of consumers. This article has identified only two emerging platforms that are currently being leveraged by the supply chain and logistics industry. With continued investments in innovative technology across the globe, the future of the digitized supply chain will continue to evolve.
If you liked this blog post, why not subscribe to our blog? Interested in our 3rd party logistics services? If so, don't hesitate to check out our services . We're also in the twittersphere, so give us a follow to get the latest logistics and supply chain news.