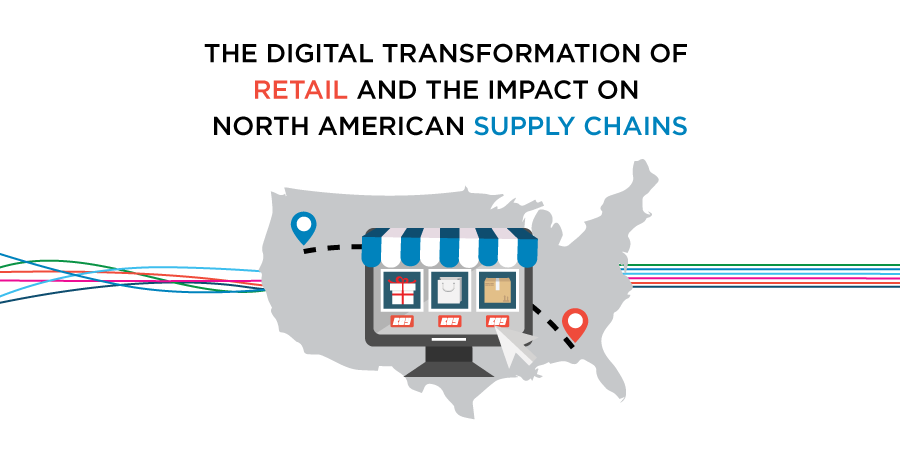 The future of retail is growing increasingly reliant on digital technologies, which will place significant demand on transportation supply chains.
According to the U.S. Census Bureau, in 2017 retail sales hit a record breaking $5.7 trillion USD. By 2020, global retail sales is expected to rise to $27.73 trillion USD. Statistics also reveal that last year, 'an estimated 1.66 billion people worldwide purchased goods online'. This translated into $2.3 trillion USD in e-sales, a figure that's expected to rise to $4.48 trillion USD by 2021. These figures represent a positive progression of economic prosperity and in addition also identity a significant transformation in the retail industry.
Research on the cause and effect of these figures suggest that technology is playing a significant role in where retail is headed. Recent trends indicate that both technology and consumer behaviour are two notable factors influencing these numbers. Therefore, it's no surprise that this will have an impact on supply chains, the question is how much?
Morai Logistic has identified the benefits emerging technologies provide supply chains to meet the increase in consumer demands. This week, we look at how digitization is impacting the retail industry and how this translates into a need for greater immediacy and efficiency.
Current Trends in Retail
The retail industries transition from brick-and-mortar to online, is one of the most prominent ongoing movement today. By 2020, e-commerce sales will account for '16% of retail sales', making its mark as the 'largest channel' in North America. This doesn't suggest that ecommerce shopping carts will completely replace traditional physical stores. However, it does require an urgency for retail companies to adjust their strategies in order to accommodate consumer demands.
There are many factors that impact consumer behaviour. For one, the internet gave people the ability to access information in real-time, helping them make informed buying decisions. From reviews to recommendations, consumers heavily rely on digital information to guide their in-store purchases. According to the Balance, as a result of changes in consumer spending,
Retailers found they had to offer value in the form of higher service and convenience in addition to lower prices.
In order for companies to respond with convenience, low prices and gain competitive advantage, they must provide both online and in-store opportunity. Statistics on consumer spending this year, signifies that there is 'a definite move toward online shopping'. The retail industries response to this rise in consumer demands also means a shift from a product-centric model to one that is customer-centric.
The Customer Wants More
Across a variety of industries, including both retail and supply chain, we see that the customer experience is becoming a focal business model. Customization is key to propel the buyer's journey. According to Salesforce,
84% of customers say being treated like a person, not a number, is very important to winning their business.
With easy accessibility to products online, there is also an increase in demand for 'instant gratification'. This translates into speed, which in supply chain is referred to as immediacy. The Financial Brand states that the ability for a company to deliver a product fast is no longer a 'nice-to-have' but a 'need-to-have'. Therefore, companies must structure their supply chains accordingly.
A Retail Supply Chain
As in-store and online retail sales and consumer demands continue to rise, companies must optimize the way products are delivered. A strategic approach is necessary in order to meet growing consumer expectations, which can be summarized as follows:
Next-day or same-day delivery
Free shipping
Free returns
However, experts say that supply chains have not been able to keep up with this rise in retail prosperity. Worldwide management consulting firm, McKinsey & Company, states there in order to keep us there is a "need for a supply chain revolution." What does this look like?
Retailers must improve their visibility across the entire shipment lifecycle; offer cost-effective solutions, while being able to deliver expedited shipping; restructure to achieve a 'greater flexibility in inventory management'; and also optimize their distribution methods by incorporating optimal distribution centers (DC).
As the retail industry continues to grow and expand, supply chains will notice a progressive amount of pressure. The impact of increased consumer demand across a large scale of industries is a result of how technology is changing consumer behaviour.