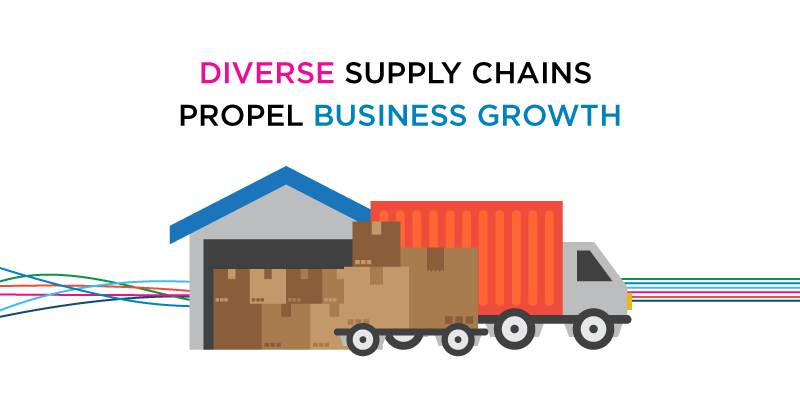 In a globalized world of changing markets, Morai Logistics represents a business model that views supplier diversity in the workplace as a top priority.
There is a growing urgency for Canadian businesses to incorporate supplier diversity programs into their own models. Not only do these initiatives build a social, economic and sustainable brand, they also help companies thrive in changing markets. The Conference Board of Canada describes these programs as the added value small and medium-sized businesses owned by women and minorities give to organizations and the economy.
Over the last month, media has placed the spotlight on the advancements women are making in various industries, including technology and supply chain.
London web developer named rising star of women in tech
Walmart's sourcing from women-owned suppliers drives business
The above headlines identify the importance women play in accelerating the industry, and their positive impact on business growth. This article outlines the benefits of supplier diversity programs and why Canadian businesses should work diligently toward adopting them into their models.
Supplier Diversity in Canadian Business
According to the Conference Board of Canada, supplier diversity programs are currently implemented into 39% of organizations throughout the country. In comparison to small enterprises, large organizations and companies within the private sector are more likely to implement these initiatives.
In a featured article for EBN online, Kelli Saunders spoke about supplier diversity, and the liberal government's proposed investment into diverse suppliers. There is a push for the Canadian and U.S governments to increase procurement support for diverse suppliers including businesses owned by women and minority groups.
Procurement Leads to Change
Although procurement programs are currently available, there are reasons why women-owned businesses have yet to leverage procurement opportunities. These include:
Lack of awareness
Cost and administration
Lack of confidence in contract opportunities
However, the Governments proactive support in procurement of supplier diversity is a huge step forward. According to Conference Board of Canada, it's important that large municipalities recognize and address the benefits of supplier diversity
Benefits of Supplier Diversity Programs
The benefits of implementing supplier diversity programs include building strong supply chains, increasing competitiveness and establishing corporate social responsibility.
1

. Corporate Social Responsibility

One of the most beneficial outcomes of implementing a supplier diversity program is establishing corporate social responsibility (CSR). Global Affairs Canada defines CSR as "the voluntary activities undertaken by a company to operate in an economic, social and environmentally sustainable manner."

Large scale companies, such as TD Bank Group, have implemented supplier diversity programs as a CSR effort. Diversifying business portfolios help companies leverage 'shared value and social licence' in global markets.
2

. Competitive Advantage

A key competitive advantage for any business is having a socially diverse and inclusive business model. Working in conjunction with CSR, Forbes also proposes that promoting diversity differentiates a company's brand while increasing consumer engagement. In comparison to brand names, Customers are increasingly attracted to companies that give back to their communities and the environment. As a business diversifies, their relationship with stakeholders and markets diversify, developing price and service level competition as well.
3

. Economic Growth

Investment into social diversity programs also has a tremendous impact on the growth of the economy. In fact, the Conference Board of Canada states that 'nearly 1 million Canadian women business owners' contribute to 'more than $117 billion annually to the Canadian economy'. In addition, engaging in business with diverse suppliers means opening up to new markets which translates into economic development.

Moving forward, the investment into social diversity programs is an integral component to the business model of any company. The procurement of funding into women and minority-owned businesses would create positive change and contribute to social and economic success.