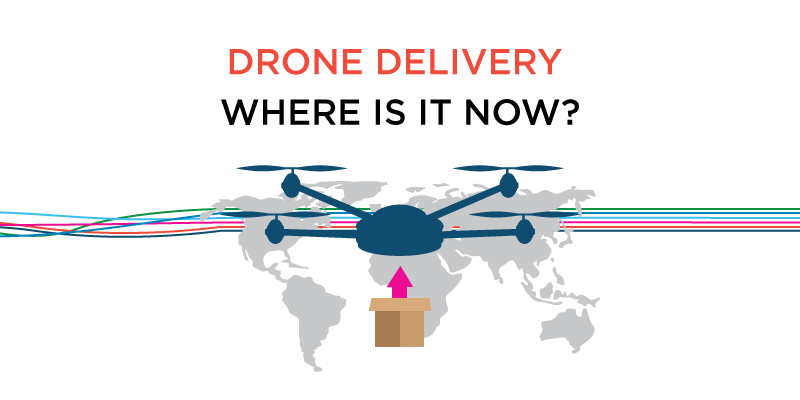 A look at where the technology meant to revolutionize small package delivery is in 2017
In 2013, the undisputed king of North American logistics, Jeff Bezos, revealed to CBS' 60 minutes the future of small package logistics. Bezos showed off two drones which he said will be able to deliver packages anywhere within 10 miles of an Amazon fulfillment centre in half an hour.
News about the reveal was effervescent to put it lightly. Matt Hickey of Forbes called Bezos a pioneer and that "the future, it seems, is going to be a great place to live." Not to be outdone, analyst for Forrester Research, Suchirita Mulpuru, told the New York Times, "the drones could be a game changer—20 years from now." Surely, others would take a cue from Amazon's example.
The fledgling technology of Amazon Prime Air, though exciting, was still very much finding its feet. In 2013 the company acknowledged that they were in talks with the Federal Aviation Administration and US lawmakers on how the service should be regulated. "I don't want anybody to think this is just around the corner. This is years of additional work from this point," said Bezos four years ago.
So where is the technology now? It has been years since the announcement, what new developments have we made in 2017? Who else has risen to Amazon's challenge?
Canada
90% of Canada's population lives within 100 miles of the American border. The further north one goes in Canada, the more remote it gets. The challenge to logistics is one of access. There are few good roads in Canada's north and flying goods into remote communities on the few available airstrips is uneconomical.
A company aptly named Drone Delivery Canada received regulatory approval in October for testing their drone delivery service to a remote community in the country's north.
Moose Cree First Nation is an indigenous community near Timmins Ontario, just over 700 km north of Toronto. The logistical challenges of this community have doubled the cost of consumer goods. A quick google image search of northern grocery shelves shows the horror that is shopping for groceries in the north.
Food Price in Northern Canada:
Tropicana orange juice – $26.29
Pack of seedless grapes – $28.19
Milk – $10.75
Pack of strawberries – $14.39
Frozen Pizza – $27.99
Broccoli- $7.43
Margarine- $11.29
The company's CEO hopes to solve the logistical challenge of the Canadian north; hoping to build what he calls "a railway in the sky."
United States
United Parcel Service, or UPS, tested a literal new platform for the launching of drones last February in San Francisco.
The company used their iconic brown trucks as a road-bound aircraft carrier for drones. How does it work? A roughly minute and a half long video from UPS shows the delivery driver loading the drone from the inside of the truck, opening a door in the roof of the vehicle revealing an autonomous drone on a sort of tiny helipad, which then flies off under GPS control to its delivery location. The same GPS control then docks the drone back on the truck, after it is finished making the delivery. The company touts the time-saving potential of this technology as it allows delivery personnel to deliver more than one package at once.
2017 was an interesting year for drone delivery. These were just two examples of companies who are rising to the challenge Bezos presented to the world four years ago. What 2018 holds for is an uncharted horizon of wonder.
If you liked this blog post, why not subscribe to our blog? If you're interested in what we do as a 3rd party logistics provider, don't hesitate to check out our services (as expressed above, we are very pro finding you the lowest total cost!). We're also in the twittersphere, so give us a follow to get the latest logistics and supply chain news.