Outsourcing is business strategy of contracting work out to a third-party. Companies use outsourcing to gain access to cheaper labour, larger specialized labour pools, and/or obtain other benefits through an economy of scale. The term encompasses both the setup of a subsidiary, and the off-site activities of a company.
For decades, companies used outsourcing strategies to meet the needs of their business, but it was not formally identified as business strategy until 1989.
The three main types of outsourcing are: offshoring, nearshoring, and reshoring in the logistics and supply chain industry. The main difference between them is the location of the third-party. Each has its own benefits and costs, but because of the dynamic nature of global political-economy these are always changing.
We created this eBook to kick off 2017 to clarify why companies choose a particular offshoring option over another. This way, you can see how manufacturers think about these strategies.
What is the Difference Between Logistics
Oursourcing Options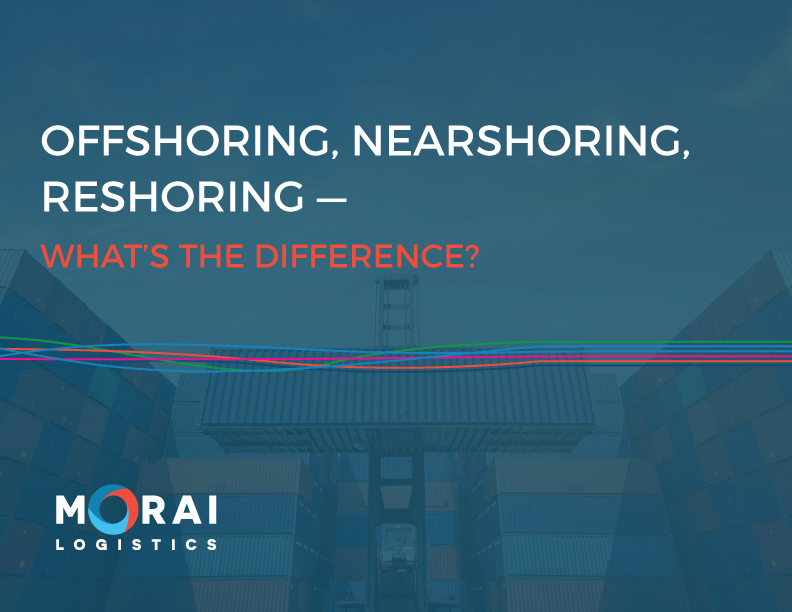 Choosing Shoring Options
There are many advantages to outsourcing certain jobs and functions—cost advantage, access to bigger pools of skilled labour, increased efficiency, and saving on infrastructure and technology. However, the biggest advantage is that it allows your business to focus on core areas. Your business will be able to spend more time on building its brand, R&D, and providing higher value added services.
Offshoring, nearshoring and reshoring each have their own distinct advantages and disadvantages. Though, what will work best for your business will depend on its goals and core competencies. Talking to a third-party logistics provider is a very useful way to learn more about sourcing options.
That's it for us this week! If you liked this blog post, why not subscribe to our blog? If you're interested in what we do as a 3rd party logistics provider, don't hesitate to check out our services (as expressed above, we are very pro finding you the lowest total cost!). We're also in the twittersphere, so give us a follow to get the latest logistics and supply chain news.