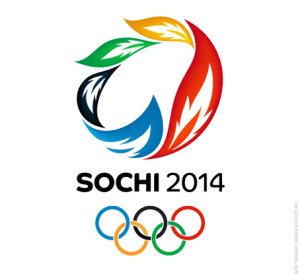 In the spirit of the games, we've decided to do our monthly Industry Focus Week on the Olympics. As many of you may already know the Olympics happens once every four years, alternating every two years between the Summer and Winter Olympics. The creation of the ceremony was inspired by the original ancient Olympic Games from Olympia, Greece back around 800 BC. Currently, it is governed by the International Olympic Committee (IOC), which was founded in 1984.
It is now a global event where the top athletes of every participating country meets to compete in a host city which changes every year. This obviously created many economic for the hosting cities, but present logistics challenges in many aspects leading up to and during the event itself.
This blog post, we're going to take a look at the logistics and supply chain processes behind Sochi to give you a better idea of how a massive event like this can be pulled off from our industry perspective.
The 2014 Sochi Winter Olympics Logistics Challenges
The Olympics opening ceremony happened last week, and while it went off almost completely without a hitch, the task of turning Sochi into an Olympic venue is not without its challenges.
The Logistics of Building Sochi into an Olympic Host City
John Fritsche, the NBC Senior VP for Olympics Operations commented that the Sochi Olympics has been the most complex since his career began in 1979:
One of the things logistically challenging about Russia and Sochi is that from a marketplace point of view there is no Home Depot here, no Costco here, no city industrial base or any kind of base to draw from… We have to bring everything we need, as much as we can, and then bring it back to the States.
NBC reported that it would likely exceed $100 million in production costs. The majority of the problem lies in the fact that it is not very easy to get to Sochi. News has already spread regarding people getting to Sochi from around the globe having difficulties getting to the Olympic venue (i.e. it's not the easiest to fly to, and the visa is over $200). But this doesn't compare to the difficulties of getting materials into the city. Many of the goods for example, have to get routed through Istanbul, then across the Black Sea by boat in order to get to the destination.
Getting Goods Into Sochi
The Olympics in general is notorious for being one of the largest logistics nightmares when it comes to transporting goods on a global scale. Many packages will be sent from all over the world to a central location at the same time so that athletes, spectators, staff and media representatives get everything they need during the games. For a sample of the demographics, there are:
More than 7,500 Olympic, Paralympic, and respective team members attending
Over 25,000 volunteers helping out
Over 12,000 media representatives
All of the above-mentioned will need their tools or equipment, including extras (in case goods are faulty or damaged) for the entire duration of the Winter Olympics. Aeroloft and Russian Railways (RZhd) are the official cargo freight carrier and official freight services providers for the 2014 Sochi Winter Olympics this year, respectively.
Goods will be loaded into Russian Railway trains and shipped to one of two distribution centers, boasting 2,700 square metres of space to house all Olympic game-related goods and the other 8,400 square metres (IBC Warehouse) for all broadcasting equipment.
Warehousing Snow
A really interesting fact about the Sochi that you may not know is that it is one of the warmest locations ever selected to host the Winter Olympics. In order to help accommodate for this challenge, the Olympic ski village of Roza Khuntor developed the largest snow-making operation in Europe. They have 404 snow cannons ready for use, and in preparation for the winter Olympics, have saved 450,000 tonnes of snow from last winter. They've been stored in the largest snow warehouse ever made.
The end product that you see today is a great logistics success story that involved overcoming many challenges from our side of the industry. We hope that our reader who aren't too familiar with logistics and supply chain now have better understanding (and hopefully a new appreciation!) of how we get your goods to where they need to be!
That's it for us this week! If you liked this blog post, why not subscribe to our blog? If you're interested in what we do as a 3rd party logistics provider, don't hesitate to check out our services (as expressed above, we are very pro finding you the lowest total cost!). We're also in the twittersphere, so give us a follow to get the latest logistics and supply chain news!