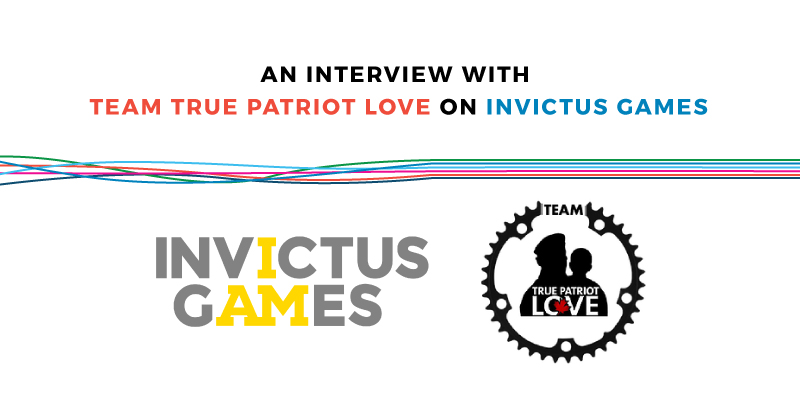 Toronto hosts 2017's Invictus Games, an international adaptive multi-sport event created by Prince Harry where wounded, injured, or sick armed services personnel and associated Veterans take part in various sports.
The name Invictus was coined based on its Latin origins meaning: unconquered or undefeated. Prince Harry describes the games as a "a spotlight on the unconquerable character of servicemen and women and their families." The motivation being a display of the very best of human spirit.
This year could not have been better timing for addressing issues of Canadian Veterans and their families with the events being hosted in Toronto. One of the main reasons we supported Team True Patriot Love earlier this summer is because we truly believe in the organization they chose to support: True Patriot Love Foundation (TPL).
True Patriot Love Foundation Leverages Invictus as a Platform to Bring Awareness to the Current Canadian Veteran Situation
TPL is an organization that works closely with the Canadian Armed Forces, Department of Veteran Affairs and local grassroots organizations to clearly identify the most urgent needs of Canadian military families on a national scale, while avoiding duplication of efforts between all organizations.
A multinational symposium prior to the Games was organized by TPL, which brought together competitors and their families from the 17 nations represented at the Invictus Games, international leaders and senior representatives from the charitable, research, and medical sectors to discuss the most pressing concerns within the military community.
The Morai Logistics team decided to feature this week's post to outlining the difficulty Veterans face when transitioning into civilian life and how the average Canadian can help support those men and women returning from military service.
An Interview with Team True Patriot Love on What Canadians Can Do to Help Veterans in Need
Sitting with three members of Team True Patriot Love, the team that raced to bring awareness to TPL and to contribute their donated earnings to support their cause.
In June of this year, Team True Patriot Love successfully completed the Race Across America (RAAM) 2017, coming in second place with a time of 5 days, 17 hours and 55 minutes, setting a new Canadian record. The team also were successful in raising over $130,000 for Canadian Veterans in support of the True Patriot Love Foundation.
We go over the three biggest questions stemming from the call to bring Canadians up to speed on the current situation for Canadian Veterans returning from service, what their needs are, and what can be done as a Canadian citizen wanting to do more and support their servicemen and women.
Reid McGregor, from Team True Patriot Love, answers on behalf of him, Chris Slawson, and Bryan Murphy.
Shaun Francis, the executive chair of True Patriot Love Foundation, encourages ordinary Canadians to get to know Veterans and their families, hinting that civilian and governmental support for the current cohort of Canadian Veterans was a "generational commitment." What are your thoughts on this?
The point about getting to know Veterans and helping build back their social network and supporting them in their civilian life is extremely important. Canada has done an incredible job of creating a melting pot of culture and diversity that is inclusive and celebrated from coast-to-coast, but we have failed to fully support those that voluntarily elect to join the military and serve our country. Furthermore, it is clear that we continue to fall short of providing a stable network for them to return to.
I have struggled to find an outlet or events where I would get to interact with more Veterans. My grandfather was a military Veteran, but no one in my circle of friends born in the early 80s chose the military as a career. In choosing TPL as the charity to support in our Race Across America, our cycling team wanted to change this. We needed to find a way to open our network not only to meet Veterans but theirs as well, and create a new environment where we could help support them, but also build new friendships. We were introduced to Glen Villa, a 31-year-old Veteran at the True Patriot Love Toronto Tribute Dinner in 2016.
Glen agreed to join our team in the race and as part of our crew shared valuable leadership, motivation, and technical skills that had a direct impact on our success in setting a new Canadian 8-man record. Glen shared many stories about how the close community of the military is so vastly different than what's waiting after returning from service I was glad we had the honour to work with Glen and also build a friendship. Glen is not an anomaly and their needs to be more services to support people like Glen. More information, more ways to honour and more direct involvement needs to be addressed otherwise for those with less and less connections to the military, we risk losing the link between military and community.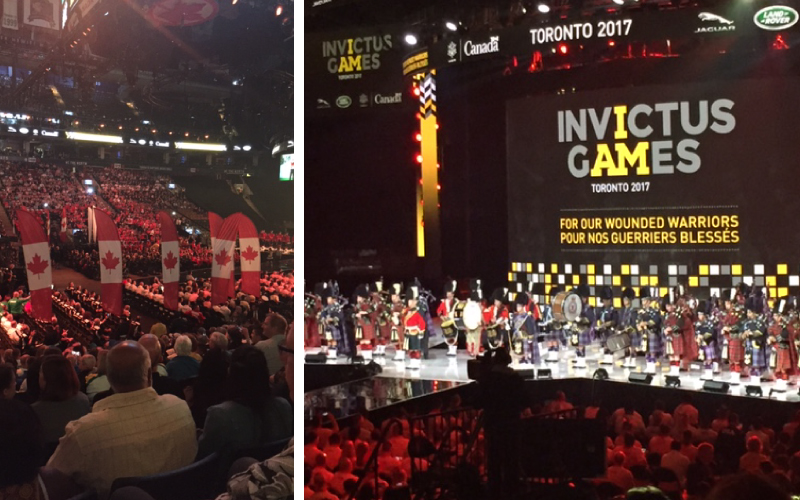 Team TPL Members Attend the 2017 Invictus Games in Toronto
How can the "Average Canadian" better support Veterans or get more informed on the issue?
Get involved. The difficulty is that when you are not part of a (figuratively speaking) "military family", it's hard to find ways to be a part of it. Whether it be through community programs or within corporate organizations, you have to put yourself out there. Once you do though, it opens up a different and unique part of society and one that should be an essential part of being Canadian.
As Canadians we need to understand that our Veterans deserve every opportunity as civilians and should be supported in returning to civilian life and create opportunities for them to succeed. As a Canadian, we owe it to them. I have no doubt that events like the Invictus Games will show society how tough these people really are and that although they may face physical and mental challenges in their life outside of the military, the skills that they exude vastly surpass any of these.
What sort of support structures do you feel the Canadian Government needs to put in place?
There needs to be a more accessible medium to interact with Veterans. It has been a personal gain for me to meet someone like Glen and I know the more focus we put on celebrating the men and women who serve our country the more the community will build. Events like the Invictus Games not only shine a spotlight on our military but also celebrates them through a different lens. It celebrates their abilities and their drive, and exposes regular Canadians to the struggles that these heroes face in daily life. Watching them put that aside to compete was inspirational.
Remembrance Day certainly brings the military into the spotlight but it is once a year and although incredibly important and patriotic, it does little to address the next wave of Veterans. These are not our grandparents anymore, but our colleagues, associates and our neighbours. Creating a unique environment where we can interact with our Veterans would be essential.
Sports is an easy avenue to start with. The US created the Warrior Games which brings together wounded service men and women from air force, navy and marines to compete. This could have profound national impact and increase community involvement. If we can also find ways to include military Veterans in our daily activities I would expect more support to build. Maybe we create a "Marathon of Sport" similar to Motionball where we can interact with Veterans in a more fun and social manner. Any event where civilians have an opportunity to interact with Veterans will build a foundation and support.
About Morai Logistics and Team True Patriot Love
Morai Logistics Inc. is a 3rd party logistics provider with an operating agency agreement representing Mode Transportation. They are a logistics team based in the Greater Toronto Area and do business throughout North America, specializing in cross-border logistics, especially Mexico.
They were the presenting sponsor to Team True Patriot Love, the only eight rider Canadian Cyclist Team that participated in the Race Across America (RAAM) for Canadian Veterans supporting True Patriot Love Foundation.