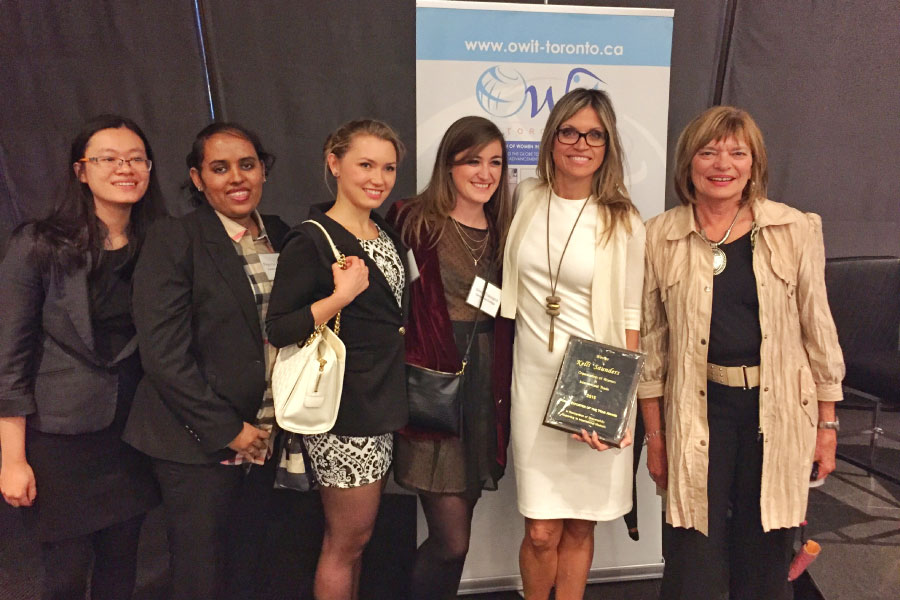 Nominated during OWIT (Organization of Women in International Trade) Toronto's Annual Awards Ceremony, where Kelli Saunders of Morai Logistics Inc. wins Woman Exporter of the Year.
Toronto, ON (June 16,2016)
On Thursday, June 9th 2016, Kelli Saunders, President of Morai Logistics Inc., an Authorized Agent of Mode Transportation, was the recipient of The Woman Exporter of the Year Award from OWIT-Toronto (Organization of Women in International Trade-Toronto). Nominees had to have at least 50% ownership of a profitable business registered and operating in Ontario for more than 3 years. Nominees also had to have earned their primary income from the business and must have been responsible for its daily operations. A significant portion of her company's business had to have come from exporting products or services.
The Woman Exporter of the Year Award honors an outstanding woman entrepreneur who, through her exporting endeavors, is advancing women and the image of Canadian business women in the international community.
Network and Cherish Those Around You.
Kelli was presented this award for her company's work with major fast-moving consumer goods companies as a third-party logistics provider with expertise in cross-border intermodal logistics in the US and Mexico.
Jim Damman, President of Mode Transportation, said:
We are all very excited for Kelli. She is an outstanding businesswoman, and she and her team do a great job of providing the best export solutions to her valued customers. This award is very well deserved. Her hard work in receiving this award is something that makes all of us very proud.
Kelli's advice to other women is to network and cherish those around them. Surrounding yourself with energetic high achievers will give you the foundation for a strong, career-long network from which to grow.
Shown above is Kelli's acceptance speech.
ABOUT OWIT TORONTO: OWIT-Toronto (Organization of Women in International Trade) is a non-profit professional organization designed to promote women doing business internationally, by providing networking opportunities, export education and global business contacts. Members include women entrepreneurs, service providers and business women involved in international trade.
That's it for us this week! If you liked this blog post, why not subscribe to our blog? If you're interested in what we do as a 3rd party logistics provider, don't hesitate to check out our services (as expressed above, we are very pro finding you the lowest total cost!). We're also in the twittersphere, so give us a follow to get the latest logistics and supply chain news.