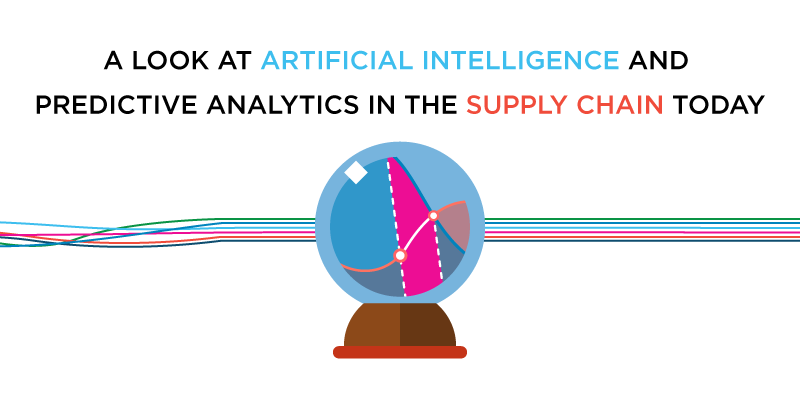 Global supply chains fear the possibility that technology will disrupt. But the ability for emerging platforms to help SME's achieve competitive differentiation remains strong.
There is no denying that digitization of the supply chain has evolved at an exponential rate. It has caused many industries to remain on their toes when it comes to increasing consumer demands. From autonomous vehicles to Smart homes, companies must strive to meet the growing need of immediacy. This is combined with 24/7 service by investing in innovative technology.
The supply chain and logistics industry continues to monitor the impact digitization has on current and future production, operations and the overall management of transport. On January 11th, 2018, Morai Logistics reinforced the need for the industry to pay close attention to demand as globalization is making demand difficult to quantify and predict.
AI & Predictive Analytics
Artificial Intelligence (AI) and predictive analytics are two emerging platforms that are receiving positive consideration from supply chain and logistics. Their benefits range from supporting SME start-ups to optimizing transport management systems, and even improving transparency with customers.
This article identifies how leveraging these technologies can yield lucrative results for supply chain and logistics companies. It will also cover how to create competitive differentiation.
Artificial Intelligence & Supply
In March of 2017, a $125 million Pan-Canadian Artificial Intelligence Strategy was proposed by the Government of Canada in an effort to support academics and research. The country's continual effort to be a leader in AI has positioned this emerging platform as a top investment for many industries, supply chain and logistics included. Research confirms that the market could reach $47 billion within the next two years. These predictions provide an encouraging figure that pushes investigations toward the benefits of AI.
The Information and Communications Technology Council explains that integrating AI "enables machines or the in-build software to behave like human beings which allows these devices to perceive, analyze data, reason, talk, make decisions and act." For the supply chain and logistics industry this can translate into many benefits in relation to forecasting, inventory and transparency.
How Does a TMS Come Into Play?
InBound Logistics also speaks to the integral role AI will have in optimizing transportation management systems (TMS) to a more efficient level than in the past. Their article details three areas that they believe AI will have a positive impact:
Improve the 'shipment lifecycle' by simplifying the real-time exchange of Big Data
Provide actionable intelligence = Business intelligence + Consulting Intelligence
Accurate and efficient mitigation strategies facilitated by assessment, analysis, counsel and execution
Based on the above areas, supply chain companies can expect to see a reduction in operation delays and be able to manage risks using these so-called 'expert systems'. Although AI is offering a more advanced method to manage logistics, another emerging platforms that will change the game in terms of efficiency is predictive analytics.
Predictive Analytics
A predominant outcome of advanced technology is an unceasing source of Big Data. Yet, a large quantity of data is only useful when there are appropriate tools in place to assess patterns and predict actionable results.
The concept of predictive analytics is best described by global leader in technology, IBM. They identify its capabilities as encompassing:
Ad-hoc statistical analysis, predictive modeling, data mining, text analytics, optimization, real-time scoring and machine learning [implementing this technology] helps organizations discover patterns in data and go beyond knowing what has happened to anticipating what is likely to happen next.
Predictive analytics is adopted by companies, such as Amazon and Oracle, to create efficient processes such as forecasting and real-time visibility. However, how does this create transparency and efficiency in the supply chain? The ability for companies to forecast (predict) possible disruptions in the shipment lifecycle is imperative for devising appropriate mitigation strategies.
In addition, it helps organizations improve customer service by assessing shipments based on previous patterns. Research also indicates that predictive analytics helps 3PLs optimize their solutions. The more insight a company has on their shipments the more visibility they can guarantee to their customers.
Integrating artificial intelligence and predictive analytics has proven to help companies keep up with the increasing demands of consumers. This article has identified only two emerging platforms that are currently being leveraged by the supply chain and logistics industry. With continued investments in innovative technology across the globe, the future of the digitized supply chain will continue to evolve.
If you liked this blog post, why not subscribe to our blog? Interested in our 3rd party logistics services? If so, don't hesitate to check out our services . We're also in the twittersphere, so give us a follow to get the latest logistics and supply chain news.