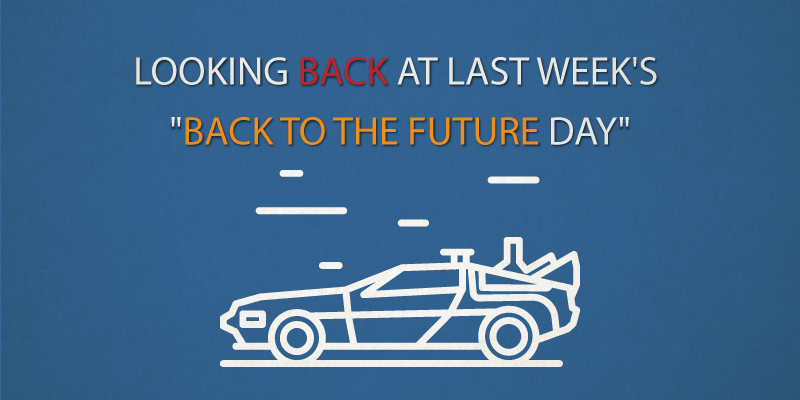 Last week on Wednesday was "Back to the Future Day". According to the Back to the Future trilogy, characters Marty McFly (Michael J. Fox) and Doctor Emmett Brown (Christopher Lloyd)'s journeyed forward 30 years to the "future" date of October 21st, 2015.
Given the cultural impact the film has had across generations in the three decades of its release, the day was celebrated with many articles and memes across the social media landscape.
There were a few very fun logistics articles relating to the day, some of which we'd like to highlight for this week's blog post! Before that however, we need a moment to talk about Pepsi.
In the scene wherein Marty and Doc Brown travel to 2015, a running gag is how everything is covered in futuristic product placement of existing popular brands. So in celebration, many companies featured in the film created collectable equivalents of the fictional products from the films. Nike revealed self-lacing shoes, Universal Pictures released a trailer for Jaws 19, and Pepsi produced a ready supply of "Pepsi Perfect" to meet the hungry customer demand. Ok that last one isn't entirely true.
Thanks in part to selling earlier than promised and greatly underestimating the demand for the collector item, Pepsi has something of a PR disaster on its hands with its handling of Pepsi Perfect. What should've retailed for $20.15 a bottle, is now being sold by private sellers upwards of $500.00. That's a 25x mark-up in less than a week! Needless to say, many people are not happy and the resentment on social media and in product reviews is not doing any favours to the Pepsi brand.
With that out of the way, let's look at those promised blog posts!
Logistics and Back to the Future Day
The first is an article by Alvaro Fernandez, a solutions blueprint developer for Kinaxis. The article is about failed supply chain predictions from the "future" portrayed in the films. From RFID tags on milk cartons (so close!), to self-driven trucks, Fernandez discusses five things that the movies got wrong for 2015. What makes this a favourite article of Back to the Future Day for us, is that Fernandez did a bit of research and had interesting links in regards to how far along supply chains are to reaching these predictions as well as the real world hurdles they'll need to overcome before they can be fully realized.
This post by LogisticsHandling.com takes a more nostalgic approach. It invites the reader to conduct a thought experiment. What if the reader really did go with Marty and Doc Brown 30 years into the future?
If we were to share a ride back to 1985 with Marty in his DeLorean, we'd see some key moments when the era of internet commerce first began to come together. The first Internet domain name, 'symbolics.com' was registered; Microsoft released its Windows 1.0 operating system, featuring mouse navigation to allow PC users to 'point and click' their way through screens or 'windows'; Dell built and designed its first computer system, and the first mobile call was made in the UK on the embryonic Vodafone network
Before we go, be sure to check out this video of Michael J. Fox and Christopher Lloyd reuniting to talk about what actually came about by 2015.
That's it for us this week! If you liked this blog post, why not subscribe to our blog? If you're interested in what we do as a 3rd party logistics provider, don't hesitate to check out our services (as expressed above, we are very pro finding you the lowest total cost!). We're also in the twittersphere, so give us a follow to get the latest logistics and supply chain news!