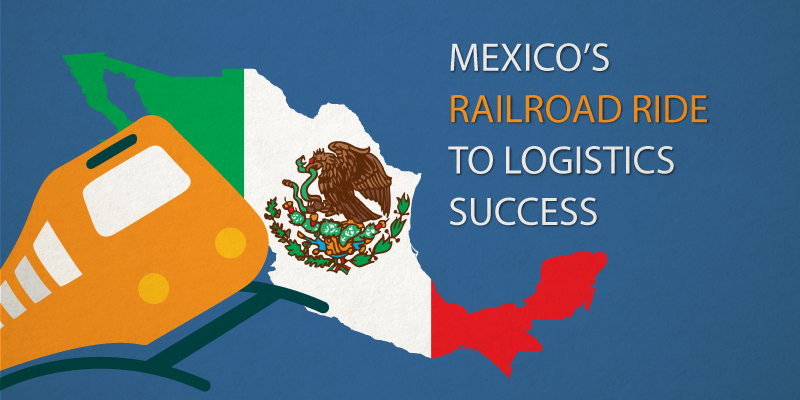 Last Friday, a new international rail bridge between the United States and Mexico was finally operational. The project took 15 years to complete, and had a price tag that ran over $120 million according to an article in the San Antonio Express news.
This new international bridge, of a sort not built in over one hundred years, is impressive but it is only a small part of Mexico's rapidly developing rail ways and intermodal capabilities.
The combination of recent labor disputes at the U.S. West Coast, and rising costs on goods shipped to the U.S. from China (due to high oil prices and rising wages) has made Mexico very popular for international trade and companies seeking to convert to nearshoring as their logistics strategy.
It should be no surprise then that the aforementioned article quoting census data, writes that in the first six months of 2015, Mexico topped $262 billion in trade.
An excellent InboundLogistics.com article on the topic covers Ferrocarril Mexicano's success, the country's largest railroad, as a case study for the growing demand for rail transportation both domestically and between Mexico and the United States. This railroad had its carload volume increase by 6.6 percent in 2011 compared with 2010, and revenues increase by 13.9 percent.
Mexico's central location, and the country's commitment to improving security across its entire rail system are the other reasons InboundLogisitcs attributes to the railroad renaissance.
A similar article on LogisticsViewpoints.com emphasizes that Mexico has received a lot of investment from private companies to improve the Mexican rail system (over 5 billion U.S in fact).
This, according to the article, has created a system that is compatible with those of both its northern neighbours: "rail transportation, including bulk, general cargo and intermodal, has been a key factor in the expansion of trade between the U.S. and Mexico".
Bringing it all back home
Stronger, more secure, and better supported rail ways are not the only things Mexico has to offer. Along the Mexico-Texan border, an area traditionally filled with warehouses, a home for "reshoring" is being created. U.S manufacturing companies are moving back home.
CoStar.com gives the example of the $8.1 billion purchase by IndCor Properties of 18 buildings with a combined 2.13 million square feet in El Paso, TX, as evidence of this. The article also discusses why goods shipped to West Coast ports have declined by 30% thanks in large part to the ongoing labor disputes there (which is because of ongoing labor disputes there).
The best way to conclude this blog post, is to again quote from the InboundLogistics article:
Investments in better processes, connectivity and operations will continue to increase capacity, expand intermodal ramp operations, improve service and increase train speed within the growing Mexican railroad network. This, combined with the improvements made over the past 20 years, are making rail and intermodal a sustainable, viable and long-term transportation solution for both cross border and intra-Mexico supply chains
That's it for us this week! If you liked this blog post, why not subscribe to our blog? If you're interested in what we do as a 3rd party logistics provider, don't hesitate to check out our services (as expressed above, we are very pro finding you the lowest total cost!). We're also in the twittersphere, so give us a follow to get the latest logistics and supply chain news!