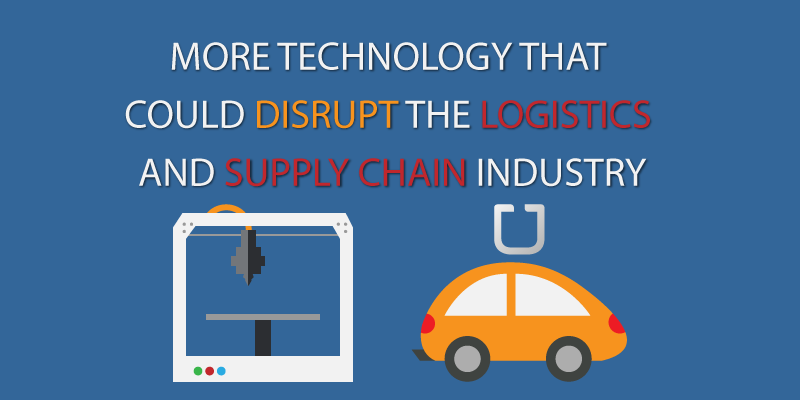 In the past, we've discussed how drones and RFID technology are set to impact the logistics industry. These technologies, along with Amazon Robotics (previously Kiva Systems), would have been considered speculative science fiction less than decade ago. These technologies are either only a few years from revolutionizing the supply chain landscape, or have already begun transforming it.
The many logistics, business, and technology articles on the subjects make the three seem like the industry is only weeks away while ignoring some very real gains this past year in some other potentially game changing technology.
For this week, we'd like to discuss the potential impact of things such as mass produced cheap 3D printers, and uberfication. These two innovations are quickly bridging the gap from speculative opinion pieces to best practice!
Mass produced 3D/4D Printers
So this first piece of technology is much closer to being a reality as working 3D/4D printers already exist and are being used in a limited capacity across multiple industries and creative novelties.
This isn't surprising. The technology is almost four decades old and for most of that time it has been prohibitively expensive with many items produced in that time being little more than talking pieces.
It is only recently that companies such as Nike, Gillette, and Mattel have started investing heavily in 3D printing with even Google joining in with a plans to mass produce 3D-printed smart phones.
With some commercial 3D printers now retailing for less than $100, and newer models such as Hewlett Packard's Multi Jet Fusion on the horizon however, it won't be long before the technology starts becoming a viable alternative to traditional shipping.
Uberfication
In the time span of 3 short years, the international transportation network company of Uber Technologies Inc. went from launching its app to having an estimated worth of $50 billion.
It did this by not necessarily offering a new product or service (vehicle-for-hire business models have effectively existed since the idea of transportation has existed), but by streamlining the entire process. Uber tapped into the frustration that many felt with the process of hiring a taxi and instead offers a cheaper, quicker, much more personalized experience which all start with a swipe or two on your phone.
Although many may view Uber as a taxi app, its valuation is indication that investors instead see it as a logistics company according to Adrian Gonzalez, president of consulting firm Adelante SCM.
The soon-to-be launched UberRUSH expands the Uber services to allow customers to get "pretty much anything in minutes" according to the their site:
If every local business delivered, we'd all save time and energy. But most simply can't. Day-to-day operations are already complicated and delivery can cause all sorts of logistical headaches. There has never been a simple local delivery solution. Until now.
UberRUSH aims to steam-line delivery services much in the same way the company has done to the taxi industry with business owners using Uber drivers to deliver products to customers.
The site also boasts that UberRUSH will allow both customers and businesses to: "order and track deliveries instantly, expand delivery zones, and integrate with existing tools and platforms"
It'll be interesting to see what customers of the near-future will prefer, the go-anywhere mechanical Amazon drone delivery, or the personalized (though less versatile) Uber delivery of a package and a hello.
That's it for us this week! If you liked this blog post, why not subscribe to our blog? If you're interested in what we do as a 3rd party logistics provider, don't hesitate to check out our services (as expressed above, we are very pro finding you the lowest total cost!). We're also in the twittersphere, so give us a follow to get the latest logistics and supply chain news!