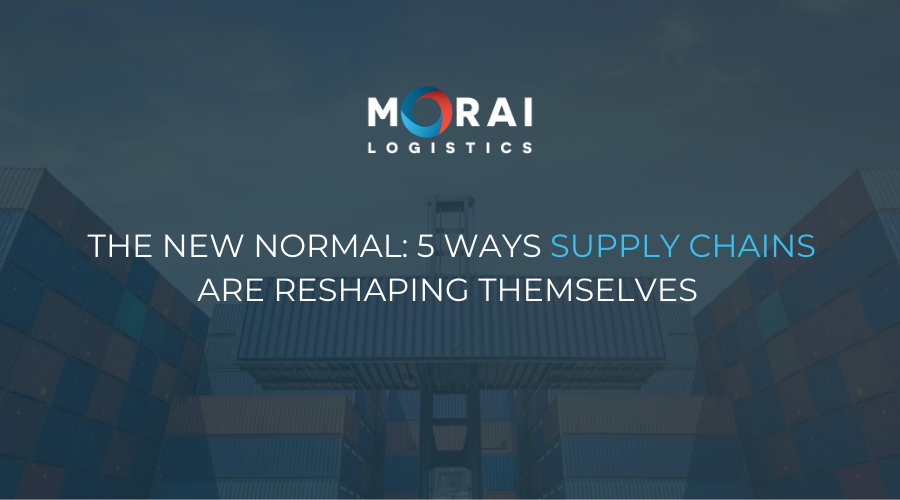 Supply chains have undergone extreme change in response to the pandemic these past few months—here's what they're set to look like going forward.
It's hard to overstate the impact COVID-19 has had on supply chains. It has brought risk to numerous processes within them, particularly in warehousing. Moreover, it has made certain areas of sourcing as well as supplies inaccessible or unreliable. Equally, it's called into question the very shape of the modern supply chain. It's demanded acceleration in some aspects of the chain and a step backwards in others.
This article by Morai Logistics highlights several ways in which supply chains are transforming in response to the pandemic.
Regional Supply Chains
With global supply chains breaking down due to the impediments that come with COVID, supply chain leaders are looking to adapt to a regional model. This is because many of these impediments are coming by way of companies' reliance on China. As such, companies are now looking for regional independence in their supply chains.
A CNBC article from earlier this year, covering a EIU report explains,
"By building quasi-independent regional supply chains in the Americas and Europe, a global company will provide a hedge against future shocks to their network," the EIU said. "For those companies that have this luxury already, they have been able to shift production of key components from one region to another as lockdowns and factory closures resulting from coronavirus have unfolded."
Sourcing Diversification
While most companies aren't going to outright abandon China, the sensible ones will look to not have sole sourcing dependency on them. It comes down companies wanting to have options in case of future emergencies such as this one. They don't want to be once again stuck and scrambling for a path ahead. Thus, the "China + 1" approach has gained a great deal of traction. It gives companies the ability to still benefit from Chinese sourcing while having the flexibility to pivot.
Increased Storage
Although this won't necessarily be a long-term trend, for now at least, shippers will require more storage. With many carriers having cancelled their shipments, leading to a much higher proportion of blank sailings than before. Put more simply: wherever demand has been negatively impacted, inventory needs to be stored.
As Supply Chain Dive's post with Georgia Ports Authority Executive Director Griffith Lynch emphasizes,
Shippers will, in the short term, need ports and carrier partners that are able to provide extra storage, he said. Much of the warehouse space available throughout the U.S. is being absorbed by e-commerce customers that have seen a significant increase in business since the pandemic, he continued.
Focus on Collaboration
The value of strong supplier relationships has never been more apparent than it is now. More than ever before, there needs to be mutual trust and understanding between supply chain leaders and their suppliers. In an uncertain supply chain landscape where demand can rapidly change and hindrances can spring up in any section of a chain, it's critical for those running them to be working in unison with their suppliers so they are able to anticipate and address any possible risks. What's more, this additional consolidation of information will only make the supply chain as a whole run more smoothly and efficiently.
Digitization
There's been a considerable focus on resilience following this pandemic. Rightfully so. Supply chains need to be robust enough to weather whatever comes their way. Central to achieving this for many companies has been digital transformation. Through going digital, companies have been able to address many of the factors necessary for resilience.
Via digitization, companies have been able to make their supply chains more transparent, integrated, collaborative, proactive, agile, visible, and so on. By giving themselves access to the best technologies available, companies are putting themselves in the best position to handle uncertainty.