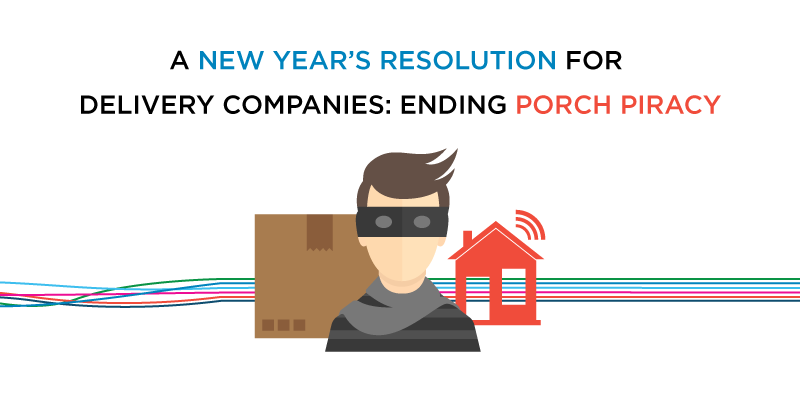 A viral video opens up discussions of how private and public sectors are coming up with their solutions to stop package theft at the doors of people's, deemed 'Porch Piracy.'
You may have experienced a package being stolen from your porch at some point in your life. It happens. It's a relatively simple form of thievery for opportunistic miscreants as the risk of getting caught is low; people aren't always home, etc. Front porch thievery, deemed "porch piracy" by some, was put into the attention of people all over social media as a video by Jaireme Barrow taking measures into his own hands became viral.
Consequently Barrow, an Acoma, Washington man rigged a fake package with fishing wire and a 12-gauge shotgun blank.  Deemed "The Blank Box,"  it was built to (safely) scare off would-be thieves.
Funny as the video is, it highlights a problem that's been growing recently—package theft. According to a survey by Ring, a home security company, up to 1 in 5 U.S homeowners were victims of package theft in the last year.
More Deliveries Means More Opportunities for Thieves to Ruin Someone's Holidays
The growing number of package deliveries correlates to the continued rise of online shopping. In fact, as of this year, roughly 80% of the U.S population have purchased something using the internet. Total US ecommerce sales is estimated to be $353.7 billion. That number is expected to rise to $485.3 billion by 2021. As for deliveries, the average American homeowner receives on average, nine packages between Black Friday to New Year's Day.
Unfortunately, the number of delivery thefts has also grown. A NBC News article quoting a insuranceQuotes.com report puts the number of Americans impacted at 23 million. Most people are either working late or staying with friends & family during the holidays. This gives the 'porch pirates' more time to steal unattended packages.
Combating Porch Piracy
Thankfully, this problem hasn't gone unrecognized. In particular, many in the private and public sectors are doing their part to stop would-be thieves.
For example, in Rancho Cordova, California, local police have set up a special sting operation. Undercover officers drove in an unmarked SUV and delivered fake packages to various homes. With the bait laid, they then sat and waited. Once a thief tried to make off with a package, the police then made an arrest. The program only started during the last holiday season, but both residents and law enforcement hope it will act as a deterrent in the future.
Ecommerce and shipping companies are doing their part to fix the problem as well. Amazon, UPS and FedEx have their own creative solutions. Other businesses have sprung up to sell security measure to customers, such as Luxer One.
Packages for Safekeeping
Luxar One is a Sacramento, California-based firm that is,
…Setting up locker systems in luxury apartment complexes, office buildings and retail operations, where packages can safely be kept (typically for a small fee), hopefully preventing so-called porch pirates or other delivery mishaps.
The company's services are proving to be very popular. According to Thomas' article:
Luxer One reported an 83% increase in package delivery volume to its lockers during the week after Black Friday and Cyber Monday, compared with the week prior.
Package delivery volume to its locker units jumped 44% in November this year compared with one year ago.
The company currently works with more than 1,200 apartment communities across the U.S.
Porch pirates have been a huge problem for holidays shoppers in recent years. With this in mind, hopefully 2018 will see a decline in such activities. The holidays are already a stressful time for many due to all the planning involvement. People don't need to added stress of missing gifts and packages.
If you liked this blog post, why not subscribe to our blog? If you're interested in what we do as a 3rd party logistics provider, don't hesitate to check out our services (as expressed above, we are very pro finding you the lowest total cost!). We're also in the twittersphere, so give us a follow to get the latest logistics and supply chain news.