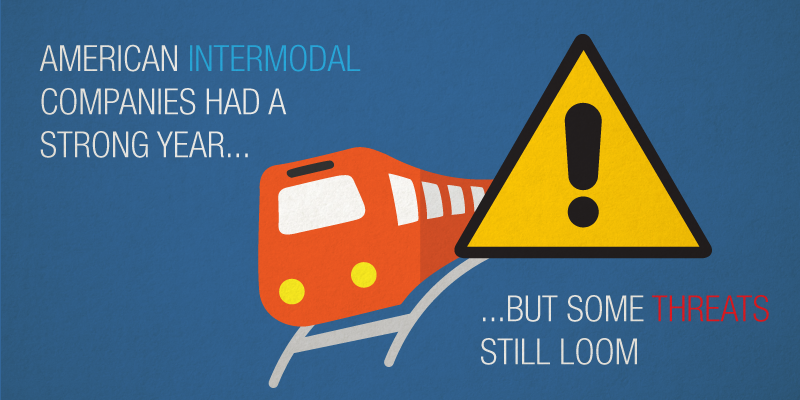 Last week, the Intermodal Association of North America (IANA) reported in its most recent edition of the Intermodal Market Trends & Statistics report, a strong full-year and fourth quarter 2014 performance for intermodal volumes despite harsh weather conditions, and continuing intermodal congestion.
An article from Logistics Management by Jeff Berman on the report noted that:
Total 2014 intermodal volume—at 16,276,892 containers and trailers––saw a 4.8 percent annual increase compared to 2013. Domestic containers—at 6,444,532—were up 5.7 percent, and international containers—at 8,166,010—were up 4.4 percent. All domestic equipment at 8,110,882—was up 5.1 percent, and trailers rose 2.9 percent to 1,666,350.

For the fourth quarter, total volume—at 4,111,401—was up 3.0 percent compared to the fourth quarter of 2013. Domestic containers were up 5.1 percent at 1,672,332, and international containers—at 2,011,754—were up 2.1 percent en route to leading all intermodal segments for the fourth year in a row and seven of the last eight years. Trailers eked out a 0.1 percent gain at 427,315, and all domestic equipment was up 4.0 percent at 2,099,647.

Based on IANA data, the report observed that 2014 marked the first time in three years that international, domestic containers, and trailers each saw annual gains, while showing the strongest overall intermodal growth since 2011. What's more, international volume posted its largest annual increase since the economy was emerging from the depths of the recession in 2010, with the 4.4 percent annual growth rate almost double the previous three years, while total international volume was only 4 percent below 2006's pre-recession peak. And 2014 trailer volume saw its first annual gain in three years, while seeing a 35 percent total decline in the past decade.
IANA President and CEO Joni Casey commented on the findings: "For the first time in four years, international, domestic container, and trailer market segments all posted year-over-year growth. And volume gains were widespread geographically, with eight out of nine regions recording increases during 2014." IANA officials also suggested that the reason international growth exceeded expectations in the fourth quarter, was because of "stronger than expected container imports."
Casey added that considering that the overall volume growth rate of 4.8 percent was above 2013, as well as higher than in 2012, 2014 intermodal industry performance modestly exceeded expectations.
The Skies Aren't All Clear Yet
Although the findings in the report are very encouraging, an article written by Mark Szakonvi on JOC argues that caution is required going forward.
In particular, he noted that a number of threats from the reappearance of brutal weather conditions seen last year, to a West Coast port lockout could quickly derail the rail industry's gains.
"The railroads aren't out of the woods yet. Although the waterfront employers said on Jan. 26 that it had reached a tentative agreement on chassis maintenance and repair with the International Longshore and Warehouse Union— a major roadblock to a labor contract — there is still concern of a terminal lockout by employers. If that were to happen, BNSF Railway and Union Pacific Railroad, the two major U.S. Western railroads, would no longer accept marine container terminals. Analysts differ on the severity an embargo of international intermodal traffic would have on rail service, but they agree it would be negative."
That's it for us this week! If you liked this blog post, why not subscribe to our blog? If you're interested in what we do as a 3rd party logistics provider, don't hesitate to check out our services (as expressed above, we are very pro finding you the lowest total cost!). We're also in the twittersphere, so give us a follow to get the latest logistics and supply chain news!