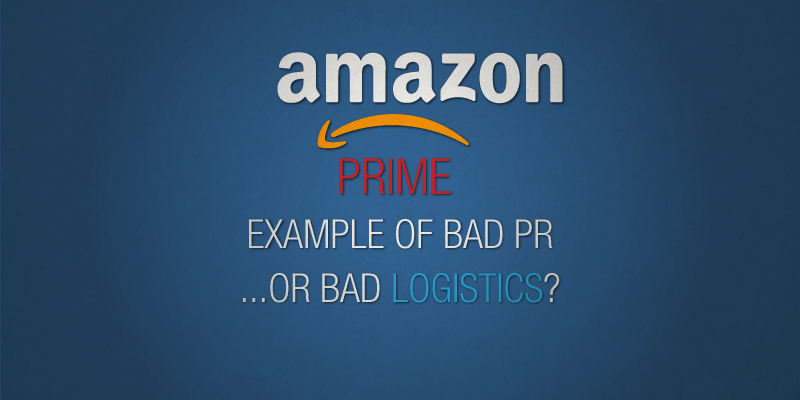 Blowing up Big, But Not as Expected
"Prime Day is a one-day event held on July 15, 2015, where Prime members can find more deals than Black Friday" announced Amazon on its North American sites prior to the event. It wouldn't be just an unofficial commercial holiday, but a "global shopping event" the company stated in a press release.
However, shortages in popular sale items and mediocre to miniscule discounts on other items led to a strong social media backlash to Prime Day which included hashtags such as #UnhappyPrimeDay, #AmazonFail, #GoBackToSleep, and #PrimeDayFail.
Some of those tweets can be seen here:
You better hope that robbery works out, because with 76% off black balaclavas, you missed a real steal #PrimeDay pic.twitter.com/lHkQi405rl

— Danny O'Dwyer (@dannyodwyer) July 15, 2015
Turns out #PrimeDay was better than expected! I thought I would waste hundreds but ended up spending nothing at all.

— Morgan C. Besmer (@MorganBesmer) July 15, 2015
My favorite thing about #PrimeDay is looking at what people are buying. There's a wait list for an electronic pencil sharpener. In 2015.

— Kelli (@ksnedegar) July 15, 2015
#PrimeDay IT IS WHAT I HAVE ALWAYS WANTED! pic.twitter.com/srcajDuHMD

— Admiral Bahroo (@AdmiralBahroo) July 15, 2015
Ah yes, my favorite electronic: Flintstones vitamins #PrimeDay pic.twitter.com/zElkUXy167

— Evan Thomas (@EvanDerekThomas) July 15, 2015
An article on TechCrunch.com which cited data released by Adobe which aggregated counter sales across over 4 million social mentions on blogs, Twitter, Instagram, WordPress, Reddit, Foursquare and elsewhere, gave interesting details regarding the nascent holiday.
By late afternoon on Prime Day, the event had 90,000 social mentions, but by the same point, Black Friday 2014 had seen 20 times the number of mentions during the same time period (or 1.6 million)
Half of the social media mentions in the U.S expressed sadness as many of the negative tweets it found were pointing to less-desirable items, like socks, microfiber towels and Adam Sandler movies
Sentiment for the #PrimeDay hashtag went from 10% negative sentiment before the sale to 24% negative once sales launched
Combined @Amazon and the #PrimeDay hashtag have had a sizeable dip in sentiment since the sales launched receiving a combined 41,434 negative mentions from users
All Style, But Where's the Substance?
Amazon obviously put a lot of time and money into promoting their Prime Day event. The company hoped it would eclipse Black Friday as the premier shopping holidays.
In their effort to make Prime Day big, Amazon seems to have forgot a simple logistical concept regarding inventory management 101 – knowing what they had.
As an article on Entrpreneur.com points out, the reason for ho-hum attitude of some customers had to do with lower-than-expected inventory for popular items, and unimpressive "discounts" such as these.
Damn been waiting for the PS4 to go down 10 cents #AmazonPrimeDay pic.twitter.com/eIiThMX9IT

— lupe (@cherryyyybomb) July 15, 2015
The frankly bizarre items with massive discounts was neither here nor there, but it did lead to some amusing screen captures and captions.
Boom or bust for Amazon?
Amazon did well. Very well in fact. Hiroku Tabuchi, wrote in this New York times article,
Independent data confirmed the sales surge. ChannelAdvisor, which tracks third-party sales on Amazon, said that Amazon's sales on Wednesday jumped 93 percent in the United States and 53 percent in Europe compared with the same day of the week last year
Despite the sales number, many analysts agree that Prime Day has been a PR disaster for Amazon, a fact made worse because as of this article, the company has offered no apologies.
"In the long run, that means Amazon's decision to ignore the backlash could have longer-lasting effects beyond the Prime Day sales boost", writes Sarah Perez of TechCrunch.com. "Consumers who were on the fence about the value of Amazon Prime may think poorly of Amazon's brand following the bad social media buzz".
The question now is: "Can those spurned Prime members muster enough goodwill to stay signed up after their trial expires?", only time will tell.
Until then, we're left with some amusing tweets.
That's it for us this week! If you liked this blog post, why not subscribe to our blog? If you're interested in what we do as a 3rd party logistics provider, don't hesitate to check out our services (as expressed above, we are very pro finding you the lowest total cost!). We're also in the twittersphere, so give us a follow to get the latest logistics and supply chain news!