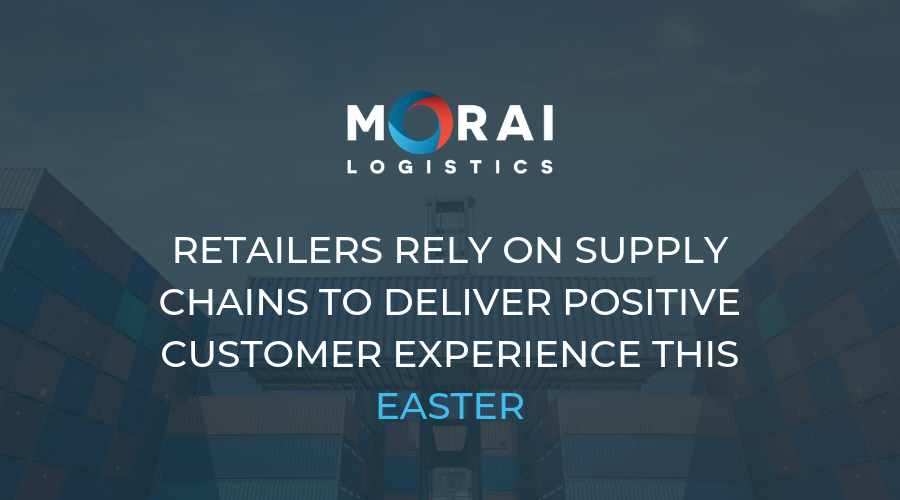 Supply chains and third party logistics (3PLs) must offer optimized solutions to meet consumer demand throughout the Easter holiday.
In 2018, Easter was celebrated by 84% of Americans. This fun and festive April holiday, is a time for children, family and friends, to enjoy traditional gatherings and exciting Easter egg hunts.
This holiday is also a 'time of generosity'. The most popular gift of 2018 was chocolate, sweets and candy. Statistics on planned consumer spending shows that last year, USD$2.6 billion was spent on candy. Food generated the most revenue at USD$5.7 billion, followed by gifts at $2.9 billion. That's a large output of candy, food and gifts to deliver for such a short holiday season.
However, consumers want more than on-time delivery. They want something personal. More and more consumers notice stores providing the same options. Therefore, what differentiates these companies? Customer experience (CX).
While consumer demand is at an all-time high all year round, holiday seasons usually generates an incredible peak. To deliver positive CX, retail companies rely on their supply chains.
Customer Experience (CX)
The definition of a great customer experience has changed over the years in response to technology. It's so easy for customers to buy what they want, as much as they want and whenever they want. According to Hubspot, good customer experience is,
The impression you leave with your customer, resulting in how they think of your brand, across every stage of the customer journey.
They further recognize that 'multiple touchpoints' impact the overall CX for a customer. From a supply chain standpoint, CX focuses not only on direct customers, but the customers they serve as well. That's why consumer demand across any industry impacts the supply chain.
Retail companies, who serve the Easter market in particular, are recognizing how important personalization services are. Rather than send a generic bunny bear to your eight year old niece, wouldn't it be more meaningful to personalize it with their name?
According to findings on customer experience (CX),
This requires digital supply chain capabilities — from the e-commerce site on the front end to supplier coordination for fulfilling orders to real-time logistics for tracking the goods.
In addition to personalization, other factors such as speed, on-time delivery, and visibility also create positive CX.
Impact on Supply Chains
Consumer demand is an ongoing barrier that retail companies and their supply chains face throughout the year. For any holiday season, the window to retain and capture new and loyal customers is shorter. Yet, customer expectation is high.
Retail companies face their own set of barriers, which impact their supply chains. When it comes to delivering CX to their customers during peak seasons, such as holidays, FedEx notes the following challenges:
Increased product variation with multiple vendors
Quality control
Fraud prevention
Inventory visibility
Customer expectation
Supply chains and third party logistics (3PLs) providers play an important role in delivering positive customer experience. They enable their customers to deliver product with speed, agility and efficiency. When large outputs are required during high seasons, such as holidays, 3PLs can be the difference between loss and retention. They host a network of omni-channel services that include air, ground, rail and ocean shipping. Large product loads are also transported in a safe, efficient and time sensitive manner.
Innovative technologies are integrating into processes and operations within manufacturing, warehousing and on-the-road deployment. Machine learning, artificial intelligence, and robotics help create streamlined and automated processes. In addition, this also shows a reduction in errors, delays, while ensuring on-time delivery and safe handling. This helps improve transparency, inventory control and traceability, which enables their customers to deliver a positive customer experience.