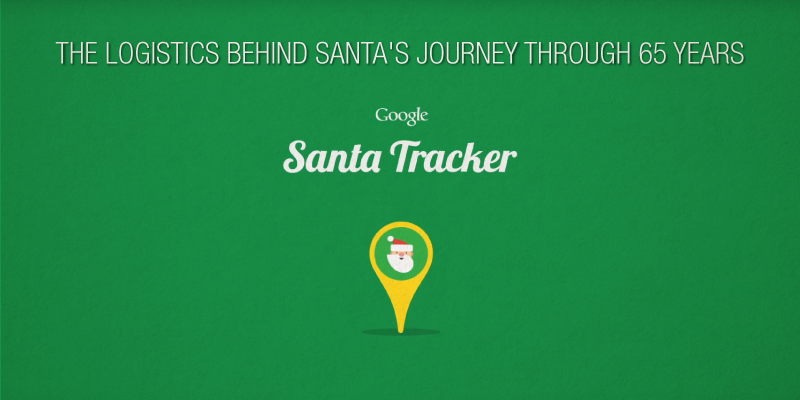 Every year on this day, the North American Aerospace Defense Command (NORAD) "tracks" and broadcasts Santa Claus' location as he leaves his home in the North Pole and delivers presents too all the children of the world.
This article on CNET goes into colorful detail about the origins of the now 65 year old Christmas-themed program:
"One morning that December, U.S. Air Force Col. Harry Shoup, the director of operations at CONAD, the Continental Air Defense Command–NORAD's predecessor–got a phone call at his Colorado Springs, Colorado, office. This was no laughing matter. The call had come in on one of the top secret lines inside CONAD that only rang in the case of a crisis.

Grabbing the phone, Shoup must have expected the worst. Instead, a tiny voice asked, "Is this Santa Claus?"

"Dad's pretty annoyed," said Terri Van Keuren, Shoup's daughter, recalling the legend of that day in 1955. "He barks into the phone," demanding to know who's calling.

"The little voice is now crying," Van Keuren continued. "'Is this one of Santa's elves, then?'"
What had happened is that a local paper had run an ad with a large picture of Santa Claus that urged kids to call the displayed number to talk "personally any time day or night".
However, the number listed on the ad was wrong by a digit. Rather than talking to jolly St. Nick, children were calling into a very special phone line that was only supposed to ring if the Cold War heated up and Russia attacked.
Thanks to the wrong digit in the ad, many hopeful kids called in excited to be and eagerly anticipating their chance to tell Santa want they want personally. Realizing what had happened and not wanting to crush the expectations of so many children, those on the other end of the line decided to pretend to be Santa and his helpers. From there a tradition was born.
Now every December 24th, children can call NORAD to find out where in the world Santa is located.
Tracking Santa Today
"Tracking Santa" is more difficult and resource intensive than many would imagine. Here's the short list of some of the stats behind the scene:
Although the program is led by NORAD, it comes to no cost to tax payers. Instead, it is paid for by its corporate partners and through the hard work of the people working on helping to track Santa.
It is through their efforts that Christmas can remain special a little longer for thousands of children around the world.
That's it for us this week! If you liked this blog post, why not subscribe to our blog? If you're interested in what we do as a 3rd party logistics provider, don't hesitate to check out our services (as expressed above, we are very pro finding you the lowest total cost!). We're also in the twittersphere, so give us a follow to get the latest logistics and supply chain news!