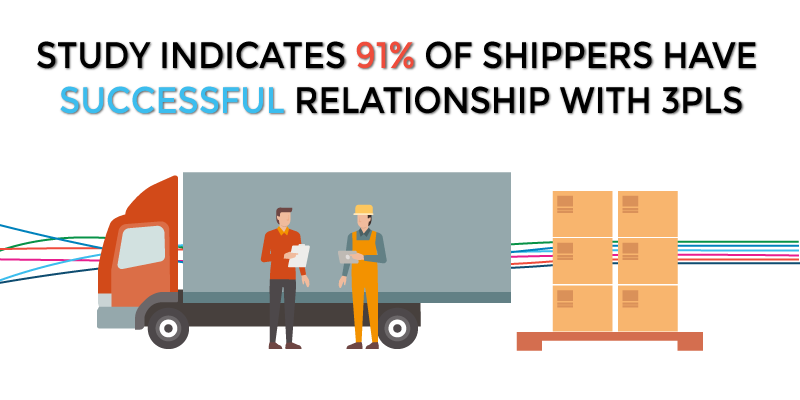 The 3PL industry has come a long way in a few short years with its evolution from tactical service providers to collaborative partners that take on greater accountability and control.This week on the blog, we wanted to focus on the relationship between shippers and 3PLs.
In the past, the question was why a company should hire a 3PL as many companies had their own in-house logistics teams; then the question became if a company should hire a 3PL as the cost-benefit of outsourcing certain functions was weighed. And now in 2016, the question is which 3PL a company should partner with as a growing number of companies have as best practice, the outsourcing of some or most of their logistics functions.
The 2017 21st Annual Third-Party Logistics Study, which was released recently by Capgemini Consulting, Penn State University, and Penske Logistics at the Council of Supply Chain Management Professionals Annual Conference in Orlando, Florida sheds light on the change in strategy.
Data for the study was based on feedback from 194 usable responses from both shippers, or users of 3PL services, and non-users of 3PL services, as well as a separate, related version of the survey by 148 respondents from the 3PL sector.
One of the focuses of the study was looking at the 3PL and shipper partnerships in tandem with the strategic nature of relationships.
Of those surveyed, 91% of shippers and 97% of 3PLs indicating they have successful relationships that are bringing about positive results, which is up from 2012, which showed that 88% of shippers and 94% of 3PLs cited successful relationships.
75% of shippers and 93% of 3PLs also indicated that using 3PL services has led to over all logistics cost reductions, and 86% of shippers and 98 percent of 3PLs said that has led to improved customer service.
Big data, the new core competencies of 3PLs
A selling point for 3PL partnerships is the effectiveness such a relationship provides in preventing visibility "black holes".
By selecting the right 3PL provider, a company gains in-transit visibility for all inventories from point of origin to final destination, information concerning production status, and projected inventory at destination distribution centered as well as accurate ETAs and data that would allow for easy comparison of expected performance to actual performance.
Big data, the study indicates, is the new way visibility is ensured and the new core competency 3PLs are providing.
Key Area for 3PLs
The biggest focus areas related to big data cited in the study for shippers included: improving integration across the supply chain; improving data quality; improving process quality and performance; increasing levels of data transparency; improving customer interaction and service; and improving logistics optimization.
98% of 3PL's indicating that improved, data-driven decision-making is essential to the future success of supply chain activities and processes, which was supported by 93%of shippers.
86% of 3PLs and 81 percent of shippers also noted that effective use of big data will become a core competency of supply chain operations.  
The study ultimately explains why so many businesses have turned to 3PLs for their logistics needs. Strategic shipper and 3PL relationships create value throughout the supply chain.
That's it for us this week! If you liked this blog post, why not subscribe to our blog? If you're interested in what we do as a 3rd party logistics provider, don't hesitate to check out our services (as expressed above, we are very pro finding you the lowest total cost!). We're also in the twittersphere, so give us a follow to get the latest logistics and supply chain news.