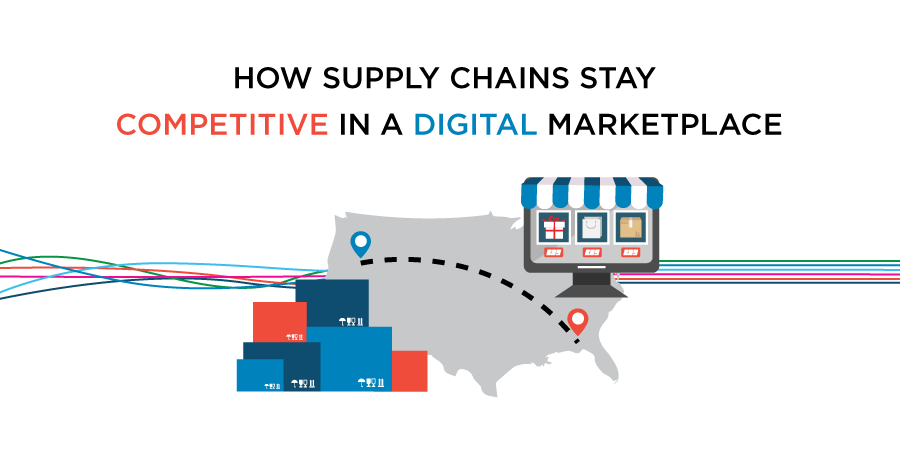 To compete in today's digital marketplace, supply chains must build a framework that prioritizes visibility, supplier diversity, technology and the customer experience.
Survey results from '623 supply chain professionals across 17 countries', concluded that one of the top industry challenges was 'facing global competition'. Over the last two decades, the competitive landscape of supply chain and logistics has changed considerably. The process of transporting product from A to B has transformed over the years.
The definition of 'supply chain' has also shifted over time. This correlates to the advancement of technology. According to Supply Chain Dive,
Because of its novelty and rapid changes in the world market, supply chain remains a controversial term – shifting per the user's needs.
Morai Logistics recognizes the current shift facing supply chains today. A rise in ecommerce has enabled consumers to purchase products anywhere at any time, which has created a need for immediacy. Consumer demand has also increased expectations relating to lower shipping rates, faster on-time delivery and complete transparency. Supply chains must be predictive, preventative and proactive to ensure that transactions run efficiently and effectively.
However, technology also helps develop advanced tools that enable third party logistic providers (3PL) to gain a competitive edge. This blog post discusses how technology can be the driver of change to your supply chain, and how companies can gain competitive advantage.
Visibility
Statistics reveal that in 2017, 'full supply chain visibility' became the 3rd 'most important strategic priority'. When it comes to supply chains, consumers place great importance on transparency. For instance, online shoppers like companies that offer updates on their transactions and shipments. They want to be involved in every step of the shipment lifecycle, and receive open communication and real-time responsive. Technology provides an unceasing transmission of insight in the form of big data. Numbers can translate valuable information that can guide companies to better predict inefficiencies. Advanced analytics help supply chains achieve visibility.
Customer-Centric Approach
On August 9th, 2018, Morai Logistics released an eBook entitled Customer Service: A Long Term Strategy for Future Supply Chains. Prioritizing the customer is extremely important because supply chains directly impact when and how products are transported. Statistics also reveal that 75% of businesses considered 'services as more important than price'. According to Forbes,
Customer-centricity is the most desired business outcome of supply chain digitization.
As mentioned above, visibility plays a significant role in creating a supply chain that focuses on the needs and demands of shippers and suppliers. In addition, technology solutions can help deploy a customer-centric strategy by offering personalized customer experiences.
Technology – Centric Approach
As mentioned above, technology has been directly linked to improving the customer experience, in addition to overall efficiency. Adopting emerging platforms will enable supply chains to leverage advanced analytics, and also improve productivity through forecasting and inventory management.
Global research icon, Gartner, states that 65% of supply chain professionals believe that 'adopting and investing in emerging technologies' is a competitive advantage. Furthermore, '90% of companies' that are 'operating at stages four or five maturity levels outperform their peers'. These statistics confirm that to be an industry leader in this global market, supply chains must adopt technology.
Supplier Diversity
If you want to obtain competitive advantage, incorporate a supplier diversity program into your supply chain operations. According to Supplier Diversity Canada, including 'under-represented businesses in a company's supply chain', you lead as an organization that values corporate social responsibility. Companies establish credibility and promote a customer-centric model by reflecting 'their existing/targeted customer base'.
For supply chain and logistics companies to stay competitive in today's global market place, they must learn to adapt. By prioritizing customer-centric models, visibility, supplier diversity and technology, they increase their advantage, which ultimately benefits their bottom-line.