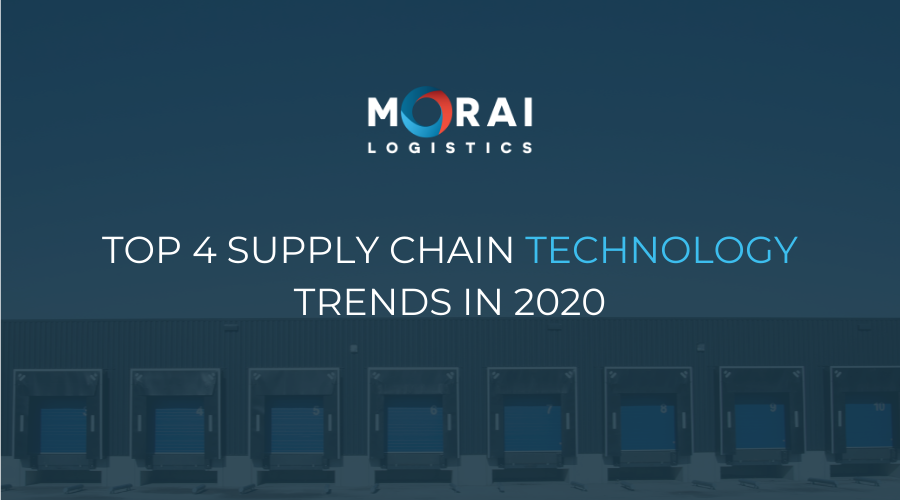 Supply chains are largely defined by the technology that facilitate them, as such it's crucial to know the technology trends that are shaping the year.
The demands placed upon companies' supply chains are greater than ever and they're only growing. Supply chains are to be faster, cheaper, more flexible, more transparent, more green, and a whole lot more. As such, technology has had to keep abreast of these new requirements. In turn, the amount of new technology being tried out in supply chains is astounding and impossible to cover in its entirety. However, there are a number of technology trends worth keeping track of.
This article by Morai Logistics runs down 4 of the most noteworthy supply chain technology trends to watch out for in 2020.
5G
The advent of 5G received a lot of attention in 2019. However, it's in 2020 where it's set to finally start seeing wider adoption. Being the latest generation in wireless technology, 5G means companies will be able to access the internet at speeds several times faster than before. This will have an incredible impact on supply chains. They'll be able to manage and transfer data at rates far greater than before. And, with data being central to supply chain success, this will go a long way.
This is something that Logistics View Points covered in further depth in a recent article,
5G will impact supply chain and logistics by allowing more data to be transferred more quickly in real-time, in turn making increased visibility throughout the supply chain possible. As more and more devices throughout the supply chain and manufacturing process become part of the "Internet of Things," they will produce an incredibly rich data stream that will send signals in real-time to trigger a wide variety of events.
With that said, 5G remains in the nascent stages of having the infrastructure to support itself for widespread adoption. Thus, it remains to be seen whether it will take off for supply chains in 2020 or whether it'll take more time.
Supply Chain Applications
Applications are already in the process of transforming the way in which supply chains are run. That is only set to continue this year. Two of the most important components of a healthy supply chain are visibility and real-time data. Critically, both of these factors are optimized through to use of supply chain apps. They allow everyone along the chain to know what is happening as it's happening.
Machine Learning for Warehouse Management
The pressures placed upon warehouses are numerous and ever-growing. The e-commerce explosion taking place is changing the way they have to operate. As a consequence, they need to be able to anticipate and prepare for customer demand more precisely than ever before. This is why in 2020 there's a big opportunity for companies to apply machine learning to their warehouses. Through machine learning, supply chain managers will be able to better predict and respond to demands.
Another Logistics View Point article explains,
Machine learning's ability to adapt to changing conditions makes it especially well-aligned with the dynamic nature of today's e-commerce warehouses. Manhattan Associates utilizes machine learning within its WMS to determine the amount of time required to complete a certain task in a given set of circumstances such as historic duration and item characteristics.
Integration Throughout Supply Chains
Due to the complex and multifaceted nature of supply chains, the data within them are susceptible to being silo'd. As data in the different sections of a chain might be collected via separate sources—different tools—the resulting data might become isolated. This, in turn, leads to supply chain managers getting an incomplete view of their operations. This is why 2020 should see further attention being brought to the importance of integrated platforms. Platforms where the totality of operational data can be consolidated, giving managers a unified view of their supply chain.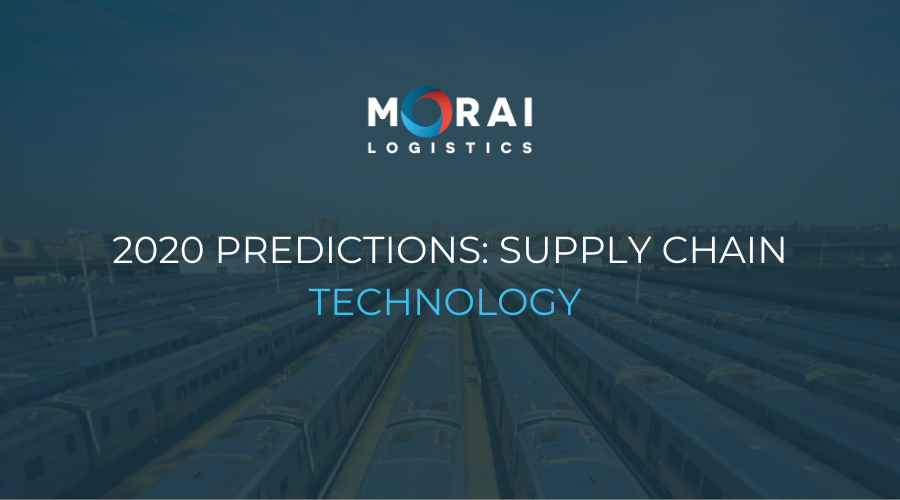 As 2020 fast approaches, it's worthwhile looking ahead to where supply chains are set to go in the coming year, particularly with respect to the technology that bolsters them.
Companies successfully adopting the latest and greatest technology has really become central to supply chains performing well. As such, the past year has seen companies move towards digital transformation. This is because digitization is the main mechanism through which companies can integrate the technologies they need.
As a 2020 predictions report from IDC states,
Digital transformation is now the overriding priority for most manufacturers and retailers, with the adoption of digital technologies aimed to improving efficiency and effectiveness in the shorter term while providing the opportunity to either disrupt their market segment or be resilient to others that may try.
Having said that, most companies are now in some state of digital transformation. Thus, the question then becomes what technology will they look to to best optimize their supply chains? Rather than something wholly new, it's likely that the next year will simply see supply chains embrace more of the same, just to different degrees.
This article by Morai Logistics highlights technological developments set to take place in the coming year.
Artificial Intelligence and Machine Learning Will Become Even More Prominent
With more and more data being gathered by supply chains, it's becoming increasingly important to utilize that data precisely. This is where AI and machine learning algorithms will come into play. By having sufficient data, machine learning can distinguish the quality data from the junk. In turn, it can use that quality data for a number supply chain functions. Key among those functions being forecasting and planning. But they are just two amongst many.
A Finance Online post further explains the importance of AI and machine learning,
Artificial intelligence (AI) will also play an essential role in making supply chains more efficient. The technology can be used to automate procedures using algorithms based on data from previous processes. Automation makes supply chains more efficient by eliminating human errors. AI also can identify patterns in the supply chain, and companies can leverage this technology to predict purchasing demands and manage inventory. This takes the guesswork out of planning and procurement, eliminating the need for planners to do the same calculations over and over.
Blockchain Adoption and Belief Will Come Gradually
Blockchain technology has gained a great deal of attention in recent years. In the past year though, some of that attention has turned sour. A great deal of skepticism has arisen regarding a variety of its limitations. At the same time, the technology has finally made some strides.
TradeLens, in particular, has elevated itself into being the largest blockchain platform available for shippers. Nevertheless, it will take some time before blockchain is trusted and adopted en masse. Until then, as will be the case in 2020, the technology will experience slow and steady progress.
Robots Will Work With (Rather Than Replace) Human Workers
Robots are an emerging presence in supply chains. As a result of this, many workers in the space have grown concerned about the likelihood of robots replacing them. While some degree of displacement seems inevitable, much of the worry is overblown. 2020 will see humans working alongside robots in supply chains. And, in many ways, this will liberate human workers.
A recent Supply Chain Digital article expands on this,
Machine learning algorithms will handle boring, repetitive tasks like data hygiene and number crunching that planners with domain experience will use to make decisions. In our customer base, technology automation hasn't replaced humans but elevated the roles of chronically overstrained planners, allowing them to focus on work that creates the most value.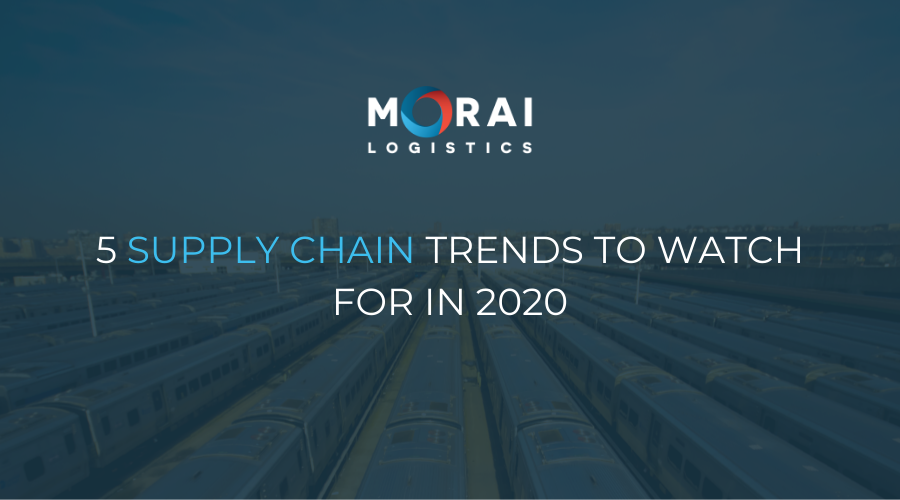 With 2019 coming to an end, it's important to know what the new year will bring the world of supply chains—here are 5 supply chain predictions for 2020.
The year's almost over. 2019 saw significant changes for supply chains all across the globe. Technological advancements continued coming in thick and fast. Additionally, several preexisting innovation picked up steam. Going forward, many of 2019's develops are set to continue into 2020. On the other hand, several supply chain changes that come next year could be entirely novel. It's impossible to know for sure, but there are certainly some indications one way or the other.
This article by Morai Logistics highlights 5 of the most prominent supply chain trends to be mindful of in 2020.
Going Green
More than ever companies will need to make their supply chains green. That means bringing down their carbon emissions and waste. Not only will this be critical for pleasing consumers but also in avoiding sanctions by governments. Furthermore, having a more sustainable supply chain means reducing inefficiencies, further reducing costs.
An Industry Week article further expounds on the value of a green supply chain,
Transportation is the second largest source of greenhouse emissions after electricity generation, Lapide noted. He said companies need to develop energy efficient transportation operations, greatly enhance their reverse logistics capabilities, move toward green product design and take a holistic view of supply chain compliance as they become aware that their image in the marketplace depends not just on their own operations but their whole supply chain.
Focus on Integration
With technology becoming an ever-increasing factor for supply chains, integration is going to continue to be crucial going forward. In fact, even more so than before. As the number of supply chain innovations grow, it'll become even more important to consolidate them. In turn, as data continues to be an increasingly valuable commodity for smart supply chains, integration will ensure it's all collected and stored in the same space.
Blockchain's Gradual Increase in Significance
Blockchain technology hasn't quite arrived with the impact some predicted. Quite clearly it's a promising technology, but it needs time. 2020 won't necessarily be its breakout year, but it should be another year where it makes steady gains. There will be particular focus on TradeLens. It being the most comprehensive and highly adopted blockchain platform in the field of shipping and logistics. Ultimately, the demand for visibility and transparency in supply chains is only going to grow more pronounced. As such, blockchain isn't going anywhere.
Automation and its Consequences
Automation is only going to become more prominent with each passing year. With that said, that move towards a less human supply chain might have costs in the short term that will become apparent over the course of the year. After all, digitization which is a prerequisite for automation, is extremely expensive and takes time to adjust to.
Trade Ready's post explains why digitization can be detrimental to companies in the short term,
While many companies are moving to an increasingly digital workflow to reduce costs, in my opinion going digital is itself a big cost as investing in technology would be. While it will be beneficial at some point, investing in infrastructure and training humans will help to increase the productivity of supply chain and eliminate the additional cost of maintenance.
Smarter Warehouse Management with IoT
The internet of things (IoT) is integral to the earlier mentioned integration. When it comes down to smart warehouse management, having devices continually connected to the internet and giving constant feedback is vital. They allow warehouse managers to know the state of their inventory and track the performance of their operations.
TradeGecko emphasizes the importance IoT is set to have in integrating and boosting the productivity in warehouses,
That being the case, supply chain technology will likely become not only more integrated with other such tools, but will also become more specialized, as well. Supply chain teams that adopt this highly-integrated and specialized technology moving forward, then, will almost certainly spur a massive growth in productivity throughout their processes.