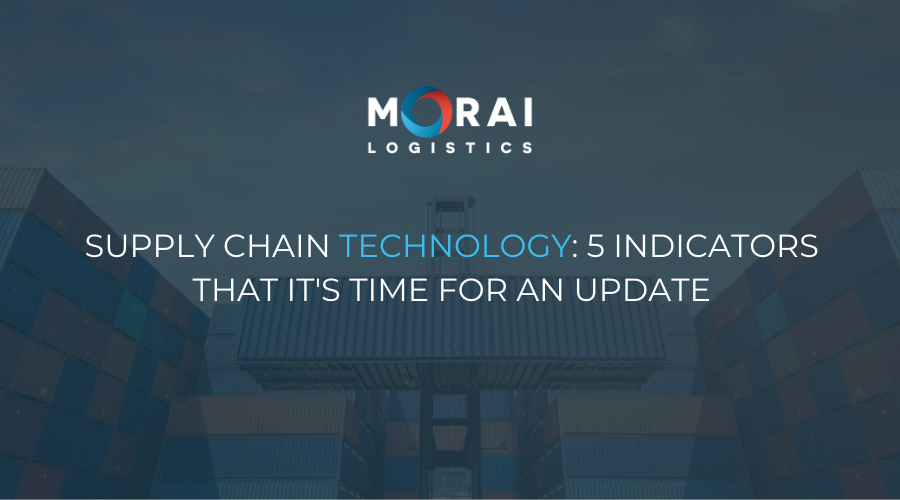 The speed at which technology within the supply chain progresses is, at times, hard to keep up with—here are 5 key signs that a supply chain needs to modernize. 
Technological advancements are taking place in the supply chain all the time. In light of the transformative nature of the past year, staying abreast of those advancements is more important than its ever been. A technologically modern supply chain is what stands between a company running smoothly regardless of external pressures and it being crippled by every disruption it faces.
This article by Morai Logistics covers 5 of the most significant indicators that reveal that a supply chain needs updating in terms of its technology.
Transportation Costs are too High
One of the main issues supply chains face when they're suffering from a lack modernization is high transportation costs. These high transportation costs, is turn, limit profits. The reason that they're a mark of out of date technology is because now transportation management softwares exist. With them, companies are able to greatly improve the efficiency of their transportation processes, reducing costs.
As a post from BluJay Solutions explains,
You already know that transportation takes up a big chunk of doing business. Cutting and controlling these costs is a key to surviving and thriving. A modern transportation management system, such as BluJay's Transportation Management, leverages data to help make better decisions in the moment and works over time to pinpoint opportunities for long-term savings.
Struggling with Visibility
The modern supply chain has visibility throughout its operations. With fully integrated supply chains, smart sensors, data being collected continuously for real-time insights, and so much more, companies now have the ability to always have a view of all stages of their supply chain. Moreover, this means they're able to give their customers precise updates about their deliveries. Thus, if companies find themselves having trouble meeting their customers' expectations as a result of not being able to provide them regular shipment information, it's a strong suggestion that they're lagging behind.
Having Difficulty Taking Advantage of Opportunities
Often, as the market changes, new opportunities arise. However, to sufficiently take advantage of them, quick and flexible responsivity is required in the supply chain. If a company finds itself repeatedly having trouble pulling the trigger in time, it needs overhauling. Similarly, if it doesn't have the infrastructure to pivot to even attempt to address the opportunity, it needs a revamp. What these failings point to is a supply chain that lacks agility. Agility that comes hand in hand with technological proficiency.
Difficulty Dealing with Pre-existing Technology and Data
The integration and consolidation of data is critical to the smooth function of an up to date supply chain. It is crippling to a supply chain to be run with old digital tools that can't interact with each other. They lead to information silos and are difficult to utilize competently. What's more, even if the tools are used, they are limited in their scope and applicability.
An article by Supply Chain 24/7 lays out this regrettable scenario,
Only two people in the world understand your system, and they're both about to retire. Hopefully you aren't still relying on legacy, custom-configured technology, because if you are, odds are the people that built it will be retiring soon. Take a proactive approach to sunsetting the technology before the people who understand it aren't around to maintain it, and you're left with a system that could become a black box with your data locked inside.
Inventory Management Shortcomings
Very much like transportation costs, high inventory costs are also a strong sign that a supply chain needs upgrading. By having the earlier mentioned technologically augmented visibility to keep track of incoming shipments, companies can stay well stocked. On the other hand, without visibility, inventory management becomes an imprecise and costly operation.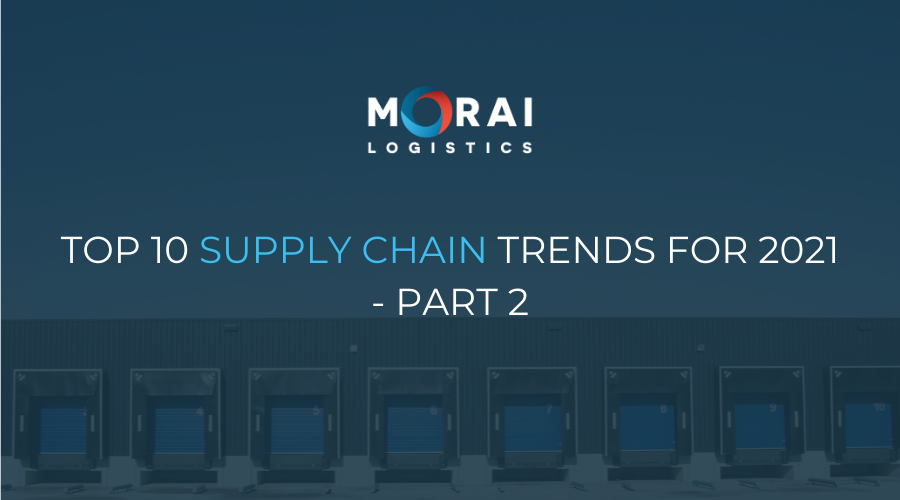 After such a hectic and transformative year for the supply chain, 2021 is finally around the corner—here are the biggest trends to keep an eye on going forward.
So much has changed in the world of supply chain over the previous 12 months. With the onset of the COVID-19 pandemic, supply chains were forced to dramatically reorient themselves in order to survive. In a landscape altered by such a global event, which is still actively impacting the running of supply chains today, the changes are going to continue going into next year. Last week, we highlighted the first five most significant trends we are anticipating in the near future. Yet, there remain many more movements in the supply chain to watch out for.
This article by Morai Logistics completes the top ten trends that will shape supply chains in 2021.
Increases in Third-Party Logistics (3PLs)
Companies are always looking for ways to reduce the cost of their supply chains. If they can do so while improving its quality then all the better. Next year should see more companies looking to third-party logistics in order bring down costs, delivery times, and improve customer service.
An article from Finances Online further explains,
Partnering up with third-party services can help companies reduce costs while improving customer service. For instance, more businesses will integrate and start to offer inland services, reducing overall freight costs, and streamlining the supply chain. Integrations are particularly useful for shippers who often use a combination of sea and land transportation for their products. With integrated services, delivery times become shorter, and customer service improves.
An Elastic Logistics Surge
What's become clear with the monumental disruption that the pandemic has brought is that supply chain efficiency isn't enough. In order for supply chains to be able to survive in the current climate, as well as be resilient against further disruptions down the line, they have to be flexible and adaptable enough to deal with whatever fluctuations the market brings them. This more malleable approach is elastic logistics. Logistics made to make supply chains responsive enough to shape themselves around demand.
Further Adoption of IoT
As mentioned in Part 1, visibility throughout the supply chain is one of the highest priorities for companies. A large part of that effort to achieve such visibility is via the continued adoption of IoT devices. Certainly, IoT has already become a prominent part of supply chains. Yet, that prominence is set to grow even further, as companies look to IoT technology like sensors to give a complete and continuous view of their operations.
Artificial Intelligence (AI) Driven Automation
Automation comes in many forms. One of those forms (automated robots) was covered in Part 1. Another kind of automation that is becoming increasingly critical to the supply chain is automation facilitated by AI. One of the main reasons AI is playing such a big role in automation is that it can automate certain supply chain processes via algorithms based off previously collected data. This means the removal of human error and, thus, boosted efficiency.
Agility will be Paramount
Finally, as suggested in the Elastics Logistics section, there has been something of a realignment of supply chains this year. Supply chains can no longer prioritize being lean over everything else. With ongoing, and the possibility of future, large scale disruption hanging over supply chains, it's become clear that agility comes before everything else. An agile supply chain means a supply chain that is able to quickly adjust its operations to respond to market pressures. That's the supply chain of the future.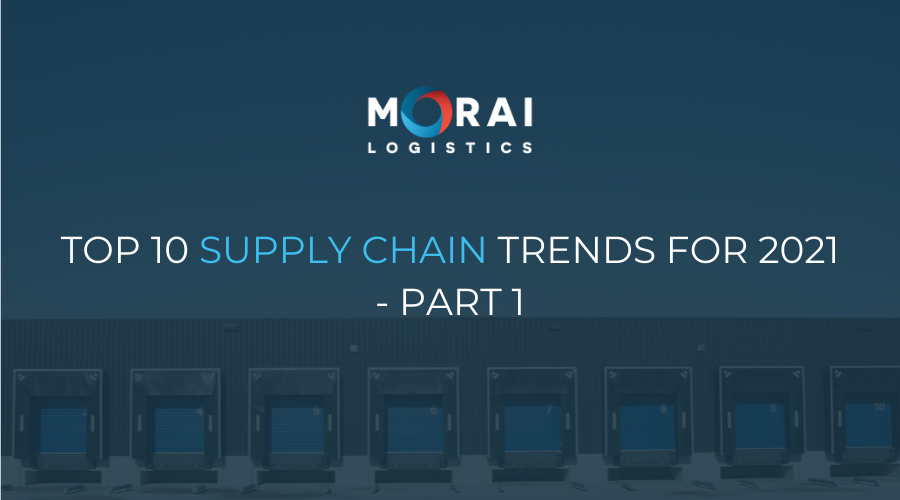 As a tumultuous year marked by supply chain disruption comes to an end, eyes turn to 2021—so what are the biggest trends to watch out for heading into next year?
It's been a year of incredible turmoil and, subsequently, change. This has been especially true in the world of supply chain. Supply chains were hit very hard by the COVID-19 pandemic and were made to aggressively transform their operations in order to survive. As such, the year has seen them experience digitization at a rate unlike ever before. Moreover, their has been a strategic pivot from efficiency at all costs, to agility in order to bolster resilience. Now, as a new year fast approaches, the question becomes: how will these many changes shape supply chains going forward?
This article by Morai Logistics highlights 5 trends that will influence supply chains in 2021.
Environmentally Responsible Supply Chains
The push for green supply chains has been strong for years, and next year will be no different. More than ever before, customers expect the companies that they buy from to be responsible in regards to the environment. Not only that, a majority of them are willing to pay more in order to support products that are.
Thus, by taking their supply chains green, companies not only work towards bettering the environment but also gain more loyal customers. Not only that, but it has the added benefit of positively affecting company culture and reducing waste, improving profit margins.
The Automation of Robots
Automation and robotics have been tremendous forces of productivity in the supply chain in recent times. As automated robots are able to uniquely assist various sections of the supply chain, they've staked a claim for being a required component of quality supply chains. With that in mind, it's hardly surprising that their adoption will only continue at higher rates than before in the future.
An article from Finances Online provides an overview of many of the most valuable capabilities of automated robotics,
More companies today are using drones and driverless vehicles to streamline logistics operations. Companies and consumers can expect drones to become fully capable of making deliveries of small goods. Self-driving cars are also likely to be more advanced by 2020 … In warehouses, autonomous mobile robots will see more use in speeding up menial, labor-intensive tasks … robots can drastically improve the supply chain's productivity.
Blockchain Growth
Blockchain technology, despite a lot of buzz, has seen slow adoption. Given the many concerns around it, including whether it's truly scalable in its utility, the hesitation has been understandable. Yet, as visibility remains a major priority for companies, the technology is becoming hard to deny. More and more, companies are viewing it as a central piece in their supply chain visibility. With this being the case, blockchain saw considerable growth this year, and that growth should continue in 2021.
Emphasis on Transparency
Tied to both sustainability and visibility, is supply chain transparency. Customers want to know the consequences of a company's supply chain when buying its products. These consequences range from their environmental impact to their working conditions. In response to this, companies are looking to find ways (including the aforementioned blockchain technology) to give customers a transparent view of their supply chain operations and their outcomes.
A Globalized Workforce
The workforces of companies are changing. Already research shows that 80% of manufacturers have multinational operations as of this year. The main reason for this comes down to skills. Companies have skill gaps that they have to address, and limiting workforces to a single country hurts their ability to gain access to that necessary skilled labour. With this being the case, the multinational workforce trend will remain strong in 2021.