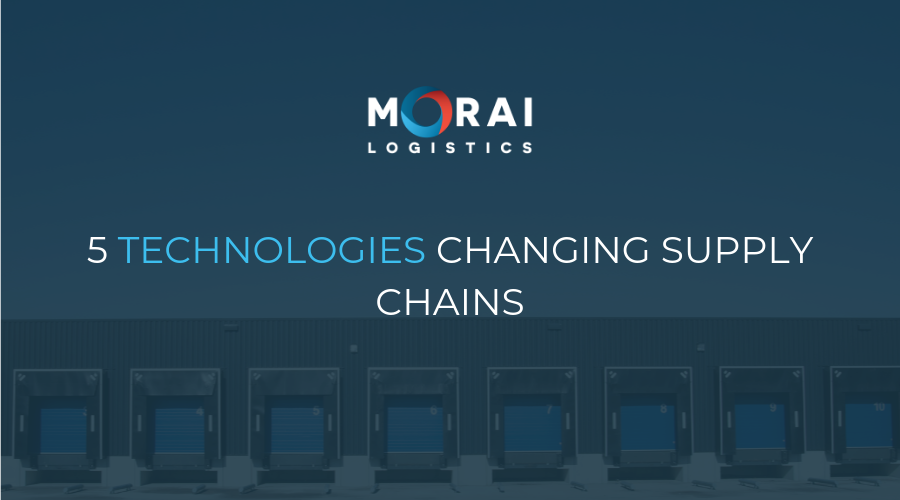 With advances in technology influencing supply chains in a large variety of ways, it's worth knowing just what those technologies are and how they are generating change. 
Business fields of all kinds are in the midst of a great transformation driven primarily by technology. As such, technological innovations are coming fast and heavy and companies are having to adapt to them at a rapid pace to keep up. It's no different for supply chain companies. Technological advancements are reshaping the way supply chains operate. With that being the case, it's critical that companies keep track of them in order to stay competitive.
A McKinsey article pointed this out, stating,
For all the effort that companies devote to improving the performance of their supply chains, relatively few have unlocked the full potential of digital technologies.
This week's article by Morai Logistics pinpoints 5 technologies that are having a significant impact on supply chains today.
Artificial Intelligence (AI)
AI is perhaps the most talked about technological innovation in supply chains and elsewhere. And for good reason. It is having an impact on supply chains in a variety of ways already and that impact is set to grow. It can be used for forecasting internally and externally.
This means AI can track the state of inventory, the health of machinery, have the latest information about weather patterns or conditions, and much more. Moreover, in a time when data and the insights that can be gleaned from it are paramount, AI can analyze that data and provide precise recommendations based off it.
The Internet of Things (IoT)
IoT is soon to be responsible for over a trillion dollars in spending annually around the world. In turn, as devices that can connect to the internet grow more developed, the need for them by businesses will also grow. With that said, in the world of supply chains, IoT is making its presence felt. It can link operations, assist the effectiveness of automated processes, and make real-time tracking of products easier.
Thus, whether it be live security cameras or real-time trackers on merchandise, IoT has a lot to offer supply chains. Through IoT, supply chains have the potential to be more transparent and encourage stronger relationships between businesses and clients.
Blockchain
Blockchain technology, with each passing year, becomes more inextricably linked to supply chains. There are several reasons for this. For one, blockchain meets the strong demand for transparency in supply chains. By being able to follow the product on its journey through the supply chain and validate its movement each step of the way, blockchain ensures clarity to the process.
Additionally, blockchain also affords supply chains security, as it has no central authority, has immutable data, and allows for real-time tracking. Finally, blockchain also helps drive down costs since it gets rid of middlemen and speeds up product movement.
Cloud
Cloud-based supply chains are proving to have a number of advantages over traditional supply chains. Firstly, they make supply chains more efficient by making the most out of automation and data, reducing waste. Second of all, clouds allow for seamless scalability, avoiding the headache of antiquated operational expansions. In addition to that, scalability also means supply chains become more cost-effective as they grow. Since the expansions themselves no longer add costs.
5G
The incredible increase in internet speed 5G is set to bring with it will enhance supply chains considerably. Consequentially, all the previous technologies mentioned here are dependent to some degree or another on the internet. Furthermore, in many cases, such as with real-time tracking and visibility or data collection, faster internet means better performance. Thus, rather simply, 5G will be a big leap forward for supply chain companies, as it will allow them to achieve many of the outcomes they want faster and more effectively.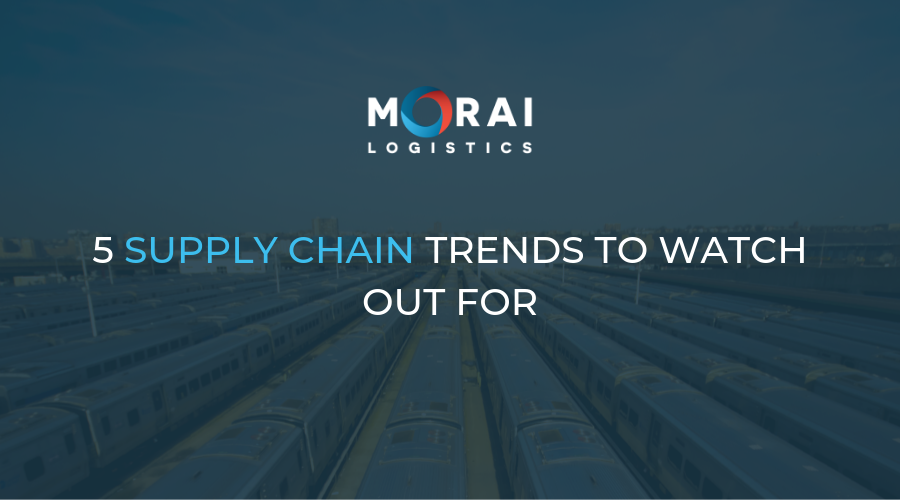 With supply chain companies having to continually respond to the needs of their respective markets, it's critical that they stay cognizant of the many structural and operational advances being made in order to remain competitive.
Customers' expectations about what supply chains should look like in terms of responsivity, transparency, and flexibility are greater than ever. As a result, supply chains are evolving faster than ever to meet and surpass those expectations. In turn, this evolution means monumental changes to the technology, management, and operations of supply chains.
Globecon Freight pointed out the scale of these changes in an article earlier this year,
Supply chain management is undergoing a significant transition that will change the face of shipping and logistics.
This week's article by Morai Logistics identifies 5 prominent trends taking place and set to take place in the world of supply chains.
Digital Transformation
The need for supply chain operations to be digitized is stronger than ever and will only grow going forward. If supply chains are going to take advantage of the many technological innovations today and in the coming years, they need the infrastructure for it. That means making their operations digital. By undergoing a digital transformation, supply chain companies can lay the groundwork to make their technological progress iterative, not singular. Technology will keep advancing and it's crucial supply chains keep abreast of it.
Artificial Intelligence (AI) and Automation
Both AI and automation are set to greatly boost efficiency, lower costs, and drive profitability in supply chains. They can work individually or hand-in-hand to improve a range of supply chain processes. These include (but aren't limited to) warehouse management, forecasting, data collection, equipment maintenance, and waste reduction. AI and automation are only going to become even more powerful, adaptable, and precise in the future. Thus, it's inevitable that their presence will only grow in supply chains.
Transparency
More than ever before, customers expect to know the state of their product from beginning to end. This means that supply chain companies need to ensure that their chains are as transparent as possible. This is set to be achieved in a variety of ways, including blockchain, transparency mapping, tracking materials, and third-party certification. Blockchain in particular is primed to play a major role in supply chains going forward, as it is a database that's data cannot be altered. Moreover, the data that's entered in a supply chain blockchain needs to be verified by everyone in it.
Real-Time Tracking
Building off the demand for transparency but also the continual need to be able to check on the integrity of a supply chain is the advent of real-time tracking apps and devices. These can be wearable devices that employees wear, helping them with a variety of tasks that are then instantly available for review. For example, a warehouse employee can use a device to input data regarding inventory. This data in turn can be viewed by the inventory manager. Additionally, apps can be made available for customers and those overseeing the supply chain, so they can see the data being collected along it to make sure it's proceeding smoothly.
Customer-Specific Supply Chains
A generic, one size fits all supply chain is quickly becoming a thing of the past. Supply chains are growing increasingly segmented for the sake of customers. In order for customer needs to be met more precisely than before, supply chain companies are recognizing that each supply chain should be uniquely geared to them. In practice, that means dealing with customers directly (a direct-to-customer approach). It also means setting up supply chains to be pliable enough to proactively respond to customer interests.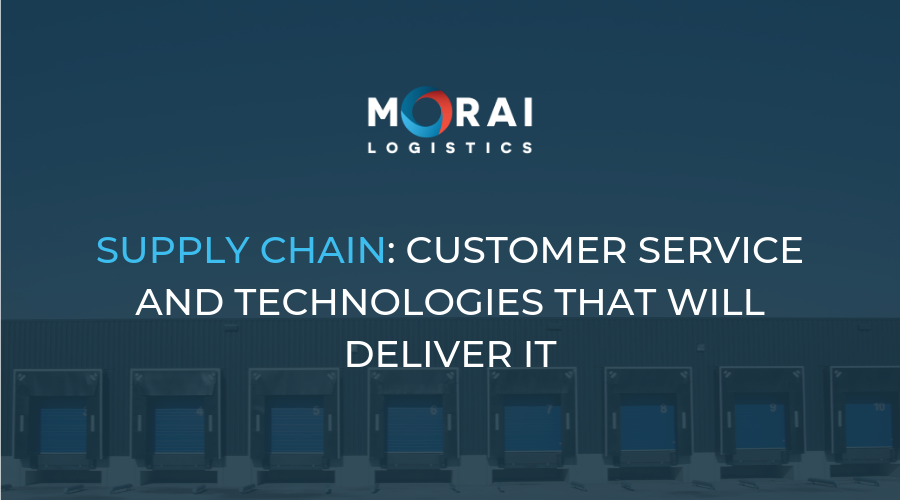 Despite all the talk about blockchain technology, one of the preeminent challenges supply chains still face is customer service, and there are several technologies that could be the key to addressing it.
Customer service is an ongoing priority in the supply chain industry. Customers, now more than ever, need a seamless experience across a supply chain. Customers want their orders delivered faster. They want them delivered more accurately. They demand transparency throughout the process. Moreover, they expect an ability to track their deliveries. And, in turn, they expect inventory to meet their demand. More than anything, customers expect an experience modified to their individual needs.
A 2018 Logility and APICS survey on supply chain priorities revealed that,
30% highlighted the need to respond to customer mandates for faster, more accurate and unique fulfillment as a top business priority moving forward
The industry is well aware of the importance of customer service and is making it a top priority to solve. For companies to address this issue, however, they'll need to adopt the precision, productivity, and granularity technology brings.
This week's article by Morai Logistics details the difficulties customer service presents supply chains and how various technologies can solve them.
Artificial Intelligence (AI)
The term "AI" is so prominent in so many industries that are dealing with or relying on technology that it's something of a buzzword at this point. But, there is a reason for this, it is providing unprecedented benefits to companies the world over. The supply chain industry is no exception. Through AI, companies will be able to optimize their chains from start to finish. Gaining access to analytics and forecasting that will be crucial to getting the most out of their operations. Thus, the faster and more accurate deliveries customers want can be achieved.
Automation
Automation achieves many of the same results AI does. By being able to automate many of the processes in a supply chain, it becomes more efficient. Operations in warehouses, involving data collection, and transportation, should all be automated. In turn, supply chains can become more transparent and reliable, on top of being faster and more cost-effective.
Mobile Applications
In the short-to-medium term, mobile applications might be the most useful technology this article covers.
A 2018 report highlighted by eMarketer stated,
Mobile devices and apps (27.9%) were cited as the technology that would deliver the most innovation benefits in five years.
Their are several reasons for this. Key among them is convenience. Everyone carries mobiles. As such, accessing these supply chain applications is simple, any time, any place. These applications enable supply chain managers the ability to get real-time updates and closely monitor their inventory and operations. Consequently, this brings a degree of granularity to the customer experience unlike what was achievable before. Supply chain managers can continually monitor the various activities that make up their chain and customize them to fit their clients' needs.
Inventory and Warehouse Management Softwares
Softwares that allow for the management of inventory and warehouses are tremendous tools for optimal customer service. They provide visibility, control, and tracking of inventory. Moreover, they assist in meeting customer demands, by tracking inventory levels and making sure they are in the desired range. Finally, like all the other technologies covered here, they improve the accuracy, speed, and reliability of deliveries.