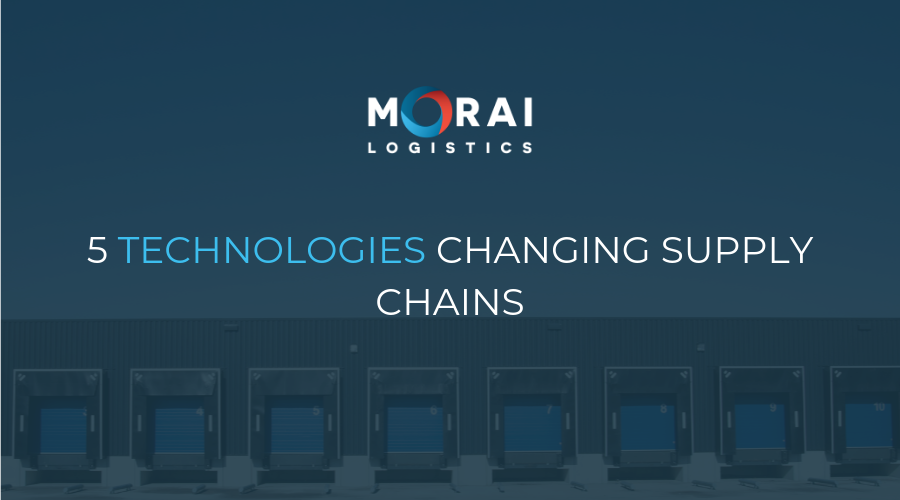 With advances in technology influencing supply chains in a large variety of ways, it's worth knowing just what those technologies are and how they are generating change. 
Business fields of all kinds are in the midst of a great transformation driven primarily by technology. As such, technological innovations are coming fast and heavy and companies are having to adapt to them at a rapid pace to keep up. It's no different for supply chain companies. Technological advancements are reshaping the way supply chains operate. With that being the case, it's critical that companies keep track of them in order to stay competitive.
A McKinsey article pointed this out, stating,
For all the effort that companies devote to improving the performance of their supply chains, relatively few have unlocked the full potential of digital technologies.
This week's article by Morai Logistics pinpoints 5 technologies that are having a significant impact on supply chains today.
Artificial Intelligence (AI)
AI is perhaps the most talked about technological innovation in supply chains and elsewhere. And for good reason. It is having an impact on supply chains in a variety of ways already and that impact is set to grow. It can be used for forecasting internally and externally.
This means AI can track the state of inventory, the health of machinery, have the latest information about weather patterns or conditions, and much more. Moreover, in a time when data and the insights that can be gleaned from it are paramount, AI can analyze that data and provide precise recommendations based off it.
The Internet of Things (IoT)
IoT is soon to be responsible for over a trillion dollars in spending annually around the world. In turn, as devices that can connect to the internet grow more developed, the need for them by businesses will also grow. With that said, in the world of supply chains, IoT is making its presence felt. It can link operations, assist the effectiveness of automated processes, and make real-time tracking of products easier.
Thus, whether it be live security cameras or real-time trackers on merchandise, IoT has a lot to offer supply chains. Through IoT, supply chains have the potential to be more transparent and encourage stronger relationships between businesses and clients.
Blockchain
Blockchain technology, with each passing year, becomes more inextricably linked to supply chains. There are several reasons for this. For one, blockchain meets the strong demand for transparency in supply chains. By being able to follow the product on its journey through the supply chain and validate its movement each step of the way, blockchain ensures clarity to the process.
Additionally, blockchain also affords supply chains security, as it has no central authority, has immutable data, and allows for real-time tracking. Finally, blockchain also helps drive down costs since it gets rid of middlemen and speeds up product movement.
Cloud
Cloud-based supply chains are proving to have a number of advantages over traditional supply chains. Firstly, they make supply chains more efficient by making the most out of automation and data, reducing waste. Second of all, clouds allow for seamless scalability, avoiding the headache of antiquated operational expansions. In addition to that, scalability also means supply chains become more cost-effective as they grow. Since the expansions themselves no longer add costs.
5G
The incredible increase in internet speed 5G is set to bring with it will enhance supply chains considerably. Consequentially, all the previous technologies mentioned here are dependent to some degree or another on the internet. Furthermore, in many cases, such as with real-time tracking and visibility or data collection, faster internet means better performance. Thus, rather simply, 5G will be a big leap forward for supply chain companies, as it will allow them to achieve many of the outcomes they want faster and more effectively.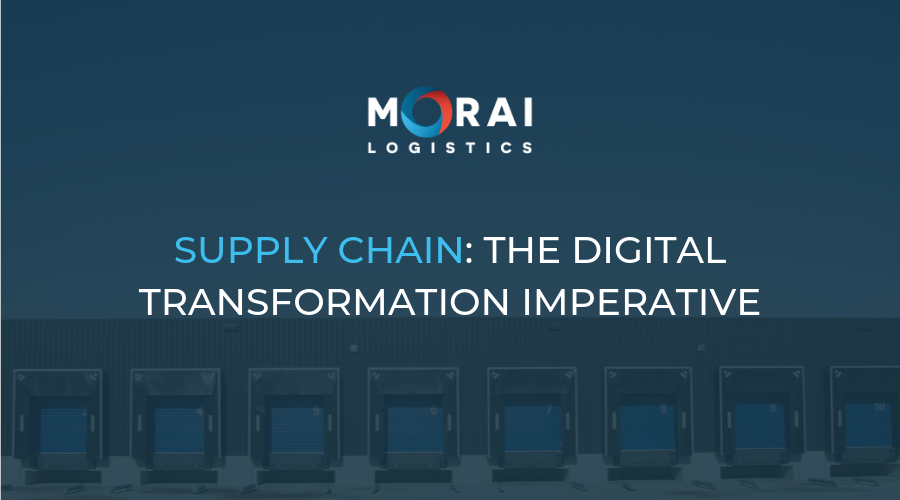 If supply chain companies are going to evolve to meet the demands of the market, digital transformation has to be central to that evolution. 
Now, more than ever, supply chains are being pushed to grow as a result of the needs of customers. And, no matter how well run a supply chain is, by itself it simply can't meet those needs. Not without the aid of technology. In turn, there's no greater way to technologically integrate and streamline an operation than digital transformation.
The numbers bear this out. A McKinsey study showed,
That, on average, companies that aggressively digitize their supply chains can expect to boost annual growth of earnings before interest and taxes by 3.2 percent—the largest increase from digitizing any business area—and annual revenue growth by 2.3 percent.
If they digitally integrate properly, supply chains should see improvements in the following areas, just to name a few:
Speed

Efficiency

Decision-making

Communication
This week's article by Morai Logistics underscores the importance of digital transformation for supply chains. Pointing to some of the most relevant areas of improvement digital tools will bring and how.
Speed
There are a multitude of reasons why digitization should improve the speed of a supply chain. Automation by itself should greatly enhance supply chain speed by conducting repetitive tasks like data collection without human error. Additionally, machine learning can greatly help with predictions that are central to supply chains running smoothly. 
These predictions can involve data within a company, such as the health of machinery so that it can be fixed or replaced before it disrupts operations. The predictions can also involve external data such as market demands, so inventory can be stocked accordingly or weather patterns, so the supply chain can adapt to them.    
Efficiency
Efficiency often goes and hand-in-hand with speed, with the added bonus of leading to more profitability due to less waste. Thus, for many of the same reasons speed is improved, efficiency is too—automation and machine learning. However, in addition to those reasons, digital integration drives efficiency also because it can bring with it artificial intelligence (AI) and robotics. 
AI, much in the vein of automation, can handle tasks that would otherwise be mundane, freeing up the workforce for more important matters. Robotics is useful in several domains, particularly warehouse management, as they can deal with the handling of the inventory. 
Decision-making
In order for a supply chain to perform optimally, the decisions that underpin it have to be precise yet flexible, accounting for customer demands and adaptable to any circumstance. The collection of data, the generation of analytics, and the subsequent insights they give can be integral to understanding a supply chain. 
Moreover, the earlier mentioned machine learning can go a long way in making decisions more informed. As they give suggestions to help with inventory management, scheduling, market fluctuations, and so on.
Communication
As a result of the incredible size of modern day supply chains—often stretching from one side of the globe to the other—it's critical that communication along them is excellent. Any gap can lead to a breakdown in the entire chain. One digital option to overcome this issue is blockchain technology.
Blockchain provides a database with an immutable and transparent digital record of the movement of products along supply chains. Where, in turn, each new piece of data has to be validated by every player in the supply chain. Consequently, there is a continual mutually agreed upon data trail of what is happening each step of the way. 
Clearly blockchain technology has major benefits for supply chains, but even with that being the case, there are some significant obstacles it still has to overcome.
Blockchain is growing rapidly. According to TechJury, the blockchain market is set to have made 20 billion dollars by 2024. More pertinently, 53% of respondents to a 2018 Statista study said they're using blockchain for their company's supply chain. As such, the futures of supply chains and blockchains are very much intertwined. Yet, like with any new technology that has to grow at an immense pace in order to keep up with market demands, blockchain remains on unsteady ground.
This week's article by Morai Logistics explores the most prominent hurdles blockchains have yet to overcome in the world of supply chains.
Novelty
The very fact that blockchains are such a new technology is their baseline barrier to any market. This includes the supply chain industry. Simply understanding the technology, how to talk about it, and how to use it to its fullest potential all have to be a part of an education process.
CoinDesk highlighted this in an article addressing blockchain limitations,
Blockchain technology involves an entirely new vocabulary. It has made cryptography more mainstream, but the highly specialized industry is chock-full of jargon.
Without acclimating each segment along supply chains to blockchain technology, it is unlikely be adopted by them. This is harder than it might seem. These segments are often disparate and will have different degrees of understanding and resistance—from those in warehouses to those driving trucks.
Security
Despite being known for the transparency they provide, blockchains aren't foolproof when it comes down to data security.  This is particularly true when a blockchain isn't large. Part of the strength of the technology is the size of its network. If, for example, there only a few actors along a chain, it's more likely that that blockchain will be susceptible to poor/bad data. Large scale adoption is crucial to overcome this.
Additionally, not all blockchain platforms are made equal. Technological advancements in machine learning and automation are not always used in supply chains. This means the data that is entered in the blockchain is more likely to suffer from human error. Blockchain needs to be part of a larger evolutionary process by supply chains, not adopted in a vacuum.
Efficiency
Building off the previous point, blockchains are not only less secure but, in turn, less efficient without a holistic approach to their implementation. This means there needs to be integration of blockchain data into the supply chain platform being used. Moreover, without some kind of automated operation to make sure the data is clean, secure, and reliable, it can be a slow form of record keeping—human data entry being more time-consuming.
Maturity
In many ways, the topic of maturity is just all the issues raised in this article combined. All of them come together to make potentially the biggest obstacle that blockchains need to clear. Blockchain is a technology for the future. In the present, it is very new, hurt by that newness, and stymied by efficiency and security concerns.
Kasey Panetta of Gartner writes,
Confusing future blockchain technology with the present-day generation. Current blockchain platform technology is limited in scope, and falls short of meeting the requirements of a global-scale distribution platform that can enable the programmable economy.
Thus, one of the things blockchains require the most is simply time. However, that isn't something they are receiving. As such, it is up to the countless blockchain projects in the world of supply chains to not rely on what they will be able to do down the line but rather respond to present-day pressures.