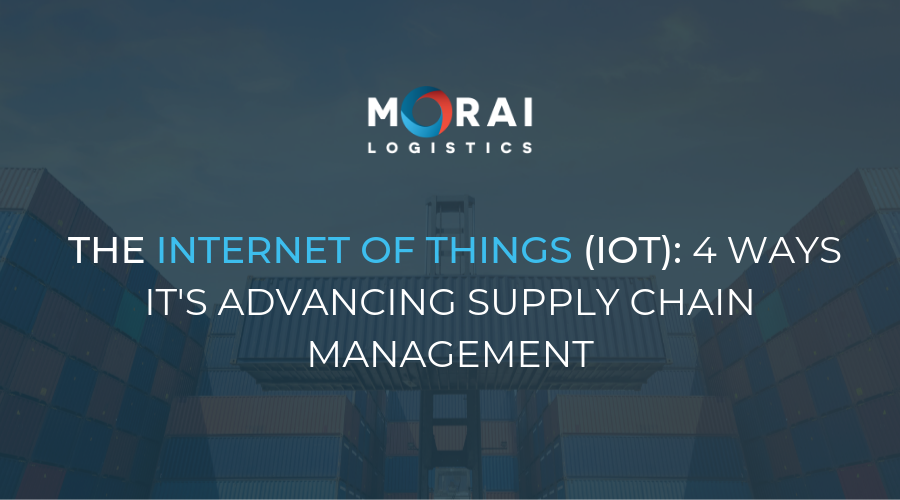 The growth of the internet of things (IoT) has enabled significant advances in supply chain management—here are 4 of the most notable advantages it has afforded managers.
The world of supply chain management touches upon technological innovations and vice versa. As such, it's no surprise that the internet of things is having such a notable impact upon supply chains. The growth in IoT has been nothing short of staggering and its applicability near-ubiquitous in terms of the multitude of fields it's operative in. With that being the case, it really is hard to overstate the size of the market that IoT has and is set to have.
The following summation by Tech Jury of where IoT is headed over the coming year really highlights this,
Morgan Stanley predicts the industrial IoT market size to reach $110 billion by 2020. According to Accenture, IIoT could add $14.2 trillion to the global economy by 2030. The top drivers of IIoT growth include improved operational efficiency, improved productivity, creation of new business opportunities, reduction in downtime, and optimization of asset utilization.
With that in mind, this week's article by Morai Logistics takes a look at the 4 most prominent ways in which the internet of things is benefitting supply chain management.
Makes Asset Monitoring Easier
One of the biggest things IoT allows for in supply chains is the monitoring of assets. By having monitoring devices like smart sensors that can be constantly connected to the internet, the state of a supply chain's asset can be be continually checked upon.  Specifically, these sensors can inform managers of the damage done to the packaging as well as the environment the asset is in—temperature, moisture level, etc. Such monitoring is critical to optimal supply chain management as it ensures the thing central to a chain—the product—is always being examined and thus is in good condition.
Improves Asset Tracking
Building upon asset monitoring is asset tracking. Using the same kinds of multipurpose IoT devices mentioned above, such as smart sensors, supply chain managers can not only track the condition of their assets but also see where they are. In turn, this means managers can overcome a number of obstacles they have. The most important of these being misplaced or lost assets. But more than that, it gives managers another view of their supply chain route. Consequently, these routes can be further optimized if needed.
Allows for Predictive Maintenance
Nothing hampers a supply chain quite like the breakdown of equipment. With just one cog in the supply chain out of order the whole things comes to a halt. With IoT such a circumstance can be avoided. Rather than reacting to equipment failure or running routine maintenance, managers can conduct maintenance with precision. With sensors on the equipment, they can know exactly when their machinery needs maintaining. As a result, managers can minimize inefficiencies and avoid supply chain collapse.
Boosts Supply Chain Transparency
The customer demand for transparency in supply chains is as high as its ever been. Nevertheless, given the complexity of supply chains, its not always easy to enact. However, this is where technology comes to the rescue. Namely, IoT. Managers can have the many links in their supply chains monitored, tracked, and examined. IoT devices like surveillance cameras and smart sensors can make following supply chains easier than ever. Consequently, IoT can help boost both customer satisfaction and supply chain integrity.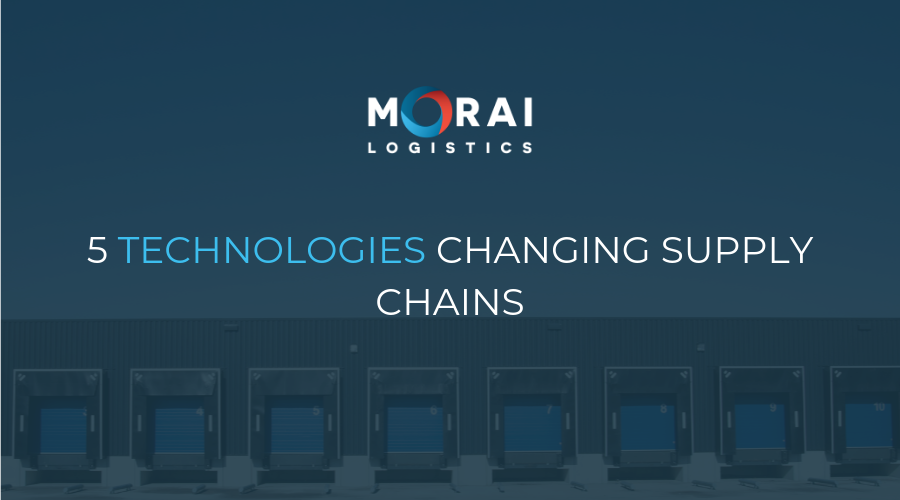 With advances in technology influencing supply chains in a large variety of ways, it's worth knowing just what those technologies are and how they are generating change. 
Business fields of all kinds are in the midst of a great transformation driven primarily by technology. As such, technological innovations are coming fast and heavy and companies are having to adapt to them at a rapid pace to keep up. It's no different for supply chain companies. Technological advancements are reshaping the way supply chains operate. With that being the case, it's critical that companies keep track of them in order to stay competitive.
A McKinsey article pointed this out, stating,
For all the effort that companies devote to improving the performance of their supply chains, relatively few have unlocked the full potential of digital technologies.
This week's article by Morai Logistics pinpoints 5 technologies that are having a significant impact on supply chains today.
Artificial Intelligence (AI)
AI is perhaps the most talked about technological innovation in supply chains and elsewhere. And for good reason. It is having an impact on supply chains in a variety of ways already and that impact is set to grow. It can be used for forecasting internally and externally.
This means AI can track the state of inventory, the health of machinery, have the latest information about weather patterns or conditions, and much more. Moreover, in a time when data and the insights that can be gleaned from it are paramount, AI can analyze that data and provide precise recommendations based off it.
The Internet of Things (IoT)
IoT is soon to be responsible for over a trillion dollars in spending annually around the world. In turn, as devices that can connect to the internet grow more developed, the need for them by businesses will also grow. With that said, in the world of supply chains, IoT is making its presence felt. It can link operations, assist the effectiveness of automated processes, and make real-time tracking of products easier.
Thus, whether it be live security cameras or real-time trackers on merchandise, IoT has a lot to offer supply chains. Through IoT, supply chains have the potential to be more transparent and encourage stronger relationships between businesses and clients.
Blockchain
Blockchain technology, with each passing year, becomes more inextricably linked to supply chains. There are several reasons for this. For one, blockchain meets the strong demand for transparency in supply chains. By being able to follow the product on its journey through the supply chain and validate its movement each step of the way, blockchain ensures clarity to the process.
Additionally, blockchain also affords supply chains security, as it has no central authority, has immutable data, and allows for real-time tracking. Finally, blockchain also helps drive down costs since it gets rid of middlemen and speeds up product movement.
Cloud
Cloud-based supply chains are proving to have a number of advantages over traditional supply chains. Firstly, they make supply chains more efficient by making the most out of automation and data, reducing waste. Second of all, clouds allow for seamless scalability, avoiding the headache of antiquated operational expansions. In addition to that, scalability also means supply chains become more cost-effective as they grow. Since the expansions themselves no longer add costs.
5G
The incredible increase in internet speed 5G is set to bring with it will enhance supply chains considerably. Consequentially, all the previous technologies mentioned here are dependent to some degree or another on the internet. Furthermore, in many cases, such as with real-time tracking and visibility or data collection, faster internet means better performance. Thus, rather simply, 5G will be a big leap forward for supply chain companies, as it will allow them to achieve many of the outcomes they want faster and more effectively.