Digital transformation has become a big buzzword lately, but it is nonetheless key to companies having well functioning supply chains going forward. 
There has been an almost overnight paradigm shift regarding attitudes towards digital transformation. It has gone from being a goal to achieve at some nebulous future date to something that is a matter of survival. Companies of all kinds have come to see the numerous potential benefits of digitizing their practices and are embracing it as a result. The same is true of supply chains. Perhaps even more so.
An article by McKinsey explains as much,
McKinsey research suggests that, on average, companies that aggressively digitize their supply chains can expect to boost annual growth of earnings before interest and taxes by 3.2 percent—the largest increase from digitizing any business area—and annual revenue growth by 2.3 percent.
This article by Morai Logistics covers the top 5 advantages supply chains that digitize their operations are set to experience.
Decision-Making
A critical component of a healthy supply chain is the framework in place that drives its decision-making. Through the technological advancement digital transformation brings with it, that framework evolves as well. Getting access to machine learning in particular means supply chain managers can have very accurate predictions at their disposal. Which in turn can help them be much more precise with their decision-making.
As the earlier mentioned McKinsey article outlines,
Machine-learning systems can provide supply-chain managers with recommendations for how to deal with particular situations, such as changing material planning and scheduling in response to new customer orders.
Automation
In turn, digital transformation also unlocks automation. Which is set to play an enormous role in boosting supply chain productivity and efficiency. It does this in several ways. This includes reducing manual errors, completing laborious tasks faster, and making data collection more reliable and accurate. Automation is central in making tedious, repetitive supply chain work faster and more accurate, while involving less waste.
Customer Experience
Moreover, digitization brings with it a significant improvement to the customer experience companies can give their clients. This is because it enables clients to have end-to-end engagement. They can track their orders throughout the shipment and delivery process. This gives customers the transparency that they're after and the peace of mind that comes with it.
Integrated Processes
Additionally, supply chains have gotten larger and more complex over the years. This is in large part due to the opportunities and costs globalization has brought with it. As such, it's more important than ever for the many parts that make up a supply chain not to be silo'd but rather be integrated into one system where they can all be followed. Digital transformation means being able to have a single data management platform where all the disparate parts of a supply chain can be kept track of. This also means less resources and time spent on keeping up that tracking.
Future Growth
Finally, it's important to keep in mind that digitization isn't just some checkmark or objective to reach and move on from. It's a mindset, culture, and infrastructure that allows for continued innovation and access to future technological advancements. It's a foundation from which all future development can be built upon.
Slack addressed this in a post last year,
 New technologies will continue to shake up customer expectations and processes. A digital business builds resilience by replacing rigid structures and inflexible processes with a workplace culture and infrastructure that can respond and adapt to new demands.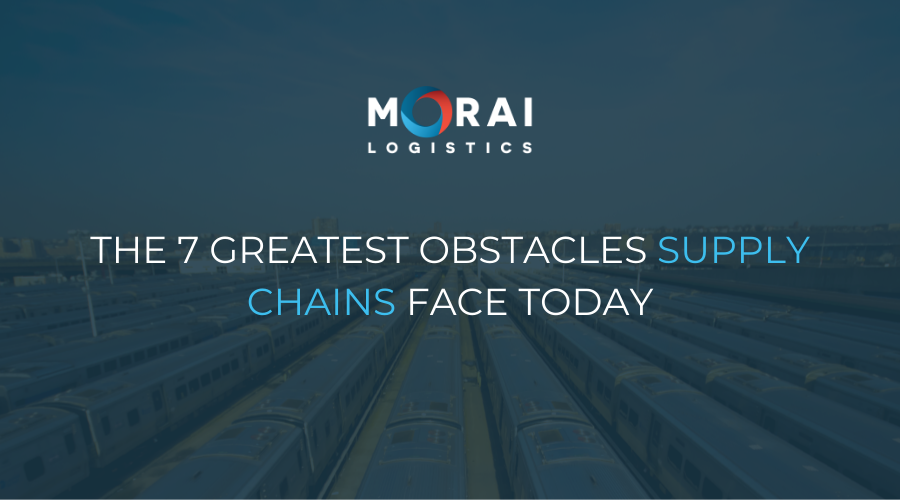 As supply chains continue to get larger, they also continue to get more complex and complicated, leading to a number of challenges that they have to overcome.
Today's supply chains are facing a whole host of new demands and hurdles. Supply chains are larger than ever. Not only that, they're more sophisticated than ever before as well. While both of these things have a number of upsides, numerous obstacles arise as a result of them. Growth and progress come with difficulty, after all.
Blume Global highlights some of the ways modern supply chains have to evolve to the new demands placed upon them,
The modern supply chain must evolve to meet new demands and supply chain challenges, and supply chain managers need to plan ahead to keep everything flowing smoothly. A combination of consumer expectations, more routes to market, international complexities and other factors creates significant challenges throughout the supply chain network.
This article by Morai Logistics covers the 7 biggest challenges supply chains are currently facing.
Technology
With the rapid advancements in technology pertaining to supply chains, not integrating them is a considerable liability. Whether it be artificial intelligence, machine learning, automation, or some other innovation, they are all critical to running an optimal supply chain. More broadly speaking, that's why digital transformation is such a fundamental part of the modern day supply chain.
Cybersecurity
With that being said, taking your supply chain digital also brings about further risk. It opens up your operations to the threat of hacking and other cybersecurity vulnerabilities. These can slow down down, disrupt, or halt the running of a supply chain. Thus, it's of the utmost importance that, when digitizing, companies also secure their new technologies. This includes vetting their partners and vendors.
Forecasting
Given the previously mentioned increased size and complexity of the modern day supply chain, forecasting is more important than ever. As such, companies have to be as precise as possible with their supplies to meet customer demands.
The Houston Chronicle explains,
Proper forecasting helps ensure you have enough supply on hand to satisfy demand. An overestimation of demand leads to bloated inventory and high costs. Underestimating demand means many valued customers won't get the products they want.
Overseeing Inventory
Tying into forecasting, is the need for the management of inventory. In order to have the adequate amount of supplies on hand to satisfy demand, companies need to be able to closely track their inventory. With that being the case, having proper count, visibility, and quality assurance of inventory is critical in today's market. In order to meet these requirements, companies need to invest in the proper inventory management software and technology.
Market Expansion
Companies looking to grow will have a harder time than ever in today's market. A company that expands its supply chain to new regions has to contend with a variety of issues. This includes new policies, cultural impediments, governmental incentives and disincentives, political instability, weather, and more. Without covering all these bases, a company is destined for failure.
Customer Service
Due to the all technological advancements mentioned earlier, customers are more particular in their demands than ever before. They want their orders delivered faster, with greater care, and for less. And it's up to companies to cater their supply chains to those demands. In turn, however, through the utilization of technology such demands are more feasible than ever too.
Globalization
Finally, in many ways, globalization's central to many of the obstacles outlined here. The market's gotten larger, more interconnected, and complex. With that comes uncertainty, confusion, and externalities that are hard to prepare or mitigate for. Thus, companies have to account for these factors when constructing their supply chain strategies.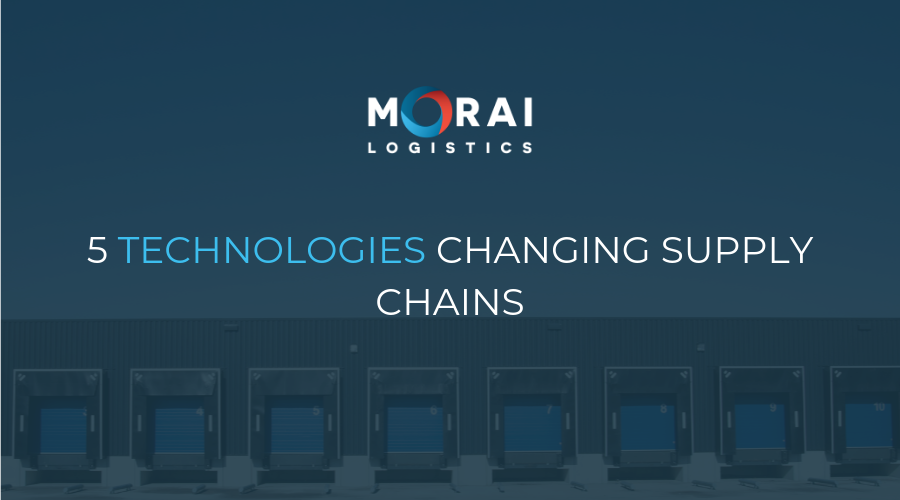 With advances in technology influencing supply chains in a large variety of ways, it's worth knowing just what those technologies are and how they are generating change. 
Business fields of all kinds are in the midst of a great transformation driven primarily by technology. As such, technological innovations are coming fast and heavy and companies are having to adapt to them at a rapid pace to keep up. It's no different for supply chain companies. Technological advancements are reshaping the way supply chains operate. With that being the case, it's critical that companies keep track of them in order to stay competitive.
A McKinsey article pointed this out, stating,
For all the effort that companies devote to improving the performance of their supply chains, relatively few have unlocked the full potential of digital technologies.
This week's article by Morai Logistics pinpoints 5 technologies that are having a significant impact on supply chains today.
Artificial Intelligence (AI)
AI is perhaps the most talked about technological innovation in supply chains and elsewhere. And for good reason. It is having an impact on supply chains in a variety of ways already and that impact is set to grow. It can be used for forecasting internally and externally.
This means AI can track the state of inventory, the health of machinery, have the latest information about weather patterns or conditions, and much more. Moreover, in a time when data and the insights that can be gleaned from it are paramount, AI can analyze that data and provide precise recommendations based off it.
The Internet of Things (IoT)
IoT is soon to be responsible for over a trillion dollars in spending annually around the world. In turn, as devices that can connect to the internet grow more developed, the need for them by businesses will also grow. With that said, in the world of supply chains, IoT is making its presence felt. It can link operations, assist the effectiveness of automated processes, and make real-time tracking of products easier.
Thus, whether it be live security cameras or real-time trackers on merchandise, IoT has a lot to offer supply chains. Through IoT, supply chains have the potential to be more transparent and encourage stronger relationships between businesses and clients.
Blockchain
Blockchain technology, with each passing year, becomes more inextricably linked to supply chains. There are several reasons for this. For one, blockchain meets the strong demand for transparency in supply chains. By being able to follow the product on its journey through the supply chain and validate its movement each step of the way, blockchain ensures clarity to the process.
Additionally, blockchain also affords supply chains security, as it has no central authority, has immutable data, and allows for real-time tracking. Finally, blockchain also helps drive down costs since it gets rid of middlemen and speeds up product movement.
Cloud
Cloud-based supply chains are proving to have a number of advantages over traditional supply chains. Firstly, they make supply chains more efficient by making the most out of automation and data, reducing waste. Second of all, clouds allow for seamless scalability, avoiding the headache of antiquated operational expansions. In addition to that, scalability also means supply chains become more cost-effective as they grow. Since the expansions themselves no longer add costs.
5G
The incredible increase in internet speed 5G is set to bring with it will enhance supply chains considerably. Consequentially, all the previous technologies mentioned here are dependent to some degree or another on the internet. Furthermore, in many cases, such as with real-time tracking and visibility or data collection, faster internet means better performance. Thus, rather simply, 5G will be a big leap forward for supply chain companies, as it will allow them to achieve many of the outcomes they want faster and more effectively.