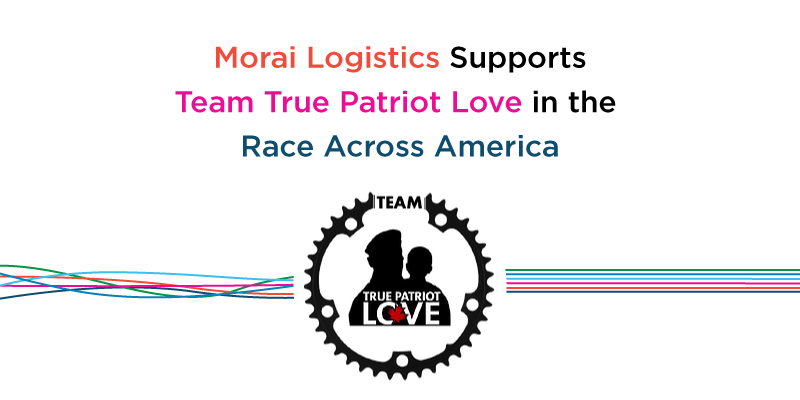 Team True Patriot Love, the only 8 rider Canadian Cyclist Team is Racing Across America for Canadian Veterans with the support of Morai Logistics.
It's official! Race Across America (RAAM) has begun. Morai Logistics is proud to announce its contribution as the Presenting Sponsor for Team True Patriot Love (#TeamTPL). Their dedication to helping their fellow Canadians and the ordeals they'll be going through are an inspiration for the rest of us.
Some of the world's greatest ultra-distance cyclists have gathered in Oceanside, California to compete in a punishing race across thousands of kilometers. Among those participating is Team True Patriot Love (Team TPL). They are the only Canadian 8-rider team who are committed to setting a new speed record for the race. Their first priority however, is to raise awareness and support for Canadian veterans and their families.
Racing for Canadian Veterans and Their Families
Team TPL's goal of completing the race in record time is ambitious. But its their dedication to their fellow Canadians that's truly admirable. They have decided to dedicate their ride in support of the True Patriot Love Foundation.
The charity they represent honours the sacrifices of members of the Canadian Armed Forces, veterans and their families. They do this by funding programs and research aimed at family health and support, physical health and rehabilitation, mental health, and well-being. Over the last 8 years, True Patriot Love has raised more than $15.1 million. The money has gone to support military charities and research across Canada according to interviews with the team. Team TPL has managed to raise over $110,000 (as of today) of its $200,000 goal so far. The race begins this coming Saturday.
Canada is celebrating its 150th anniversary of confederation this year. While many of us will be marking the occasion with fire works, Team TPL will honouring it by competing in the RAAM. In doing so, they'll be raising money for Canadian veterans and their families. Like those veterans, Team TPL will be enduring harsh conditions and grueling physical hardship for a better tomorrow for their fellow Canadians.
RAAM — A Race Like No Other
Dubbed, "the toughest test of endurance in the world" by Outside magazine, RAAM was started in 1982 by four individuals. They raced from the Santa Monica Pier in Los Angeles to the Empire State Building in NYC and ended up inspiring other to do the same. Since then, teams of 2, 4 and 8 people have gathered annually to compete against each other.
This year's RAAM will have teams compete not just against each other, but also against harsh terrain and the elements. The record Team TPL will need to beat is 6 days, 2 hours and 21 minutes if want to achieve their goal. It won't be easy.
"The Race Across America (RAAM) is a bicycle race like no other. Unlike its more famous cousin, the Tour de France, cyclists don't race in stages spread across several weeks. RAAM is decidedly less glamorous and far more savage. Once the starting gun goes off in Oceanside, California, the clock does not stop until you cross the finish line in Annapolis, Maryland, some 4800+ kms later" writes Amy Synder in her book, Hell on Two Wheels.
Other difficulties the racers will face are:
The race being 24hr non-stop racing over multiple days
Climbing more than 50,000+ vertical metres taking on the mountain ranges of Sierra Nevada, The Rockies and The Appalachians
Temperature swings from 55+ degrees Celsius across the desert to -5 atop mountain passes
Morai Logistics is Cheering from Afar!
The entire Morai Logistics team is excited to watch the race from our office cheering Team True Patriot Love from afar. Our President, Kelli Saunders will be greeting the boys along with many other friends and family members to congratulate the them on their successful completion of the race!
If you liked this blog post, why not subscribe to our blog? If you're interested in what we do as a 3rd party logistics provider, don't hesitate to check out our services (as expressed above, we are very pro finding you the lowest total cost!). We're also in the twittersphere, so give us a follow to get the latest logistics and supply chain news.