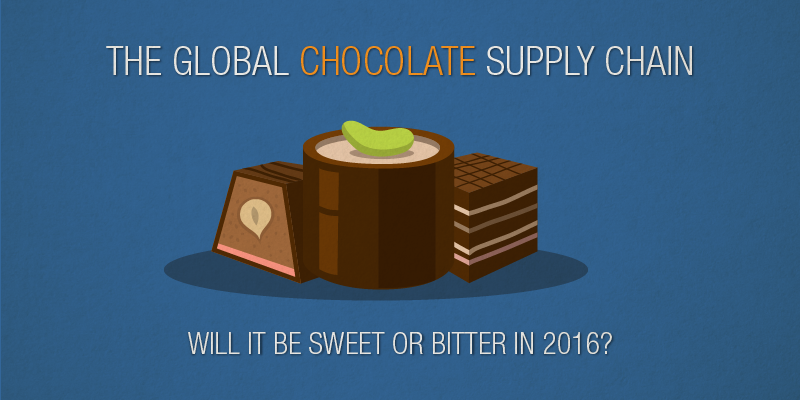 There was an article in the Wall Street Journal last week about everyone's favorite treat. Candy makers Mars Inc., Hershey Co., Modelez International Inc. (maker of Cadbury), and other big food companies are sharing private data on cocoa farming practices and crop yields despite being competitors in an effort to help cocoa farmers see greater yields.
The reason for this is that the surging demand for chocolate is far outpacing the supply available, so they are trying different pilot programs to address the problem. The shortage of cocoa isn't a new issue. In 2014, a Slate article citing a report in Bloomberg Pursuits, quoted that by the year 2020 there could be a gap of 1 million metric tons between how much cocoa the global population wants and how much farmers can produce. It also surmised that by 2030, that gap would double in size.
There are several factors that are attributed to the gap between demand and supply:
Global chocolate consumption has grown steadily since the 1990s, with overall consumption predicted to hit 8.5 million tons in 2020.
Consumers in China and India are eating more chocolate, creating a potential two billion more chocoholics according to several articles.
Global demand for chocolate rose 0.6% to a record 7.1 million tons in 2015, led by a 5.9% jump in Asia.
Dark chocolate, which requires more cocoa to produce than other forms of chocolate, has become more popular according to this Vice article.
As of last September, Ghana's cocoa production fell by 18 percent from the year before. Production is expected to be down again in part thanks to an El Niño that has put Africa into one of its worst droughts in 30 years.
The strength of the dollar may also be attributed to cocoa's success over the past five years writes this article on CNBC.
Sweet Logistics
The plan to address the gaps in supply revolve around enabling farmers to grow greater yields in increasingly difficult growing conditions. To this end, Mars Inc., Hershey's, and Mondelez International, have been sending agriculture experts abroad to teach farmers how to space young trees at planting, prune them, and apply fertilizer. Mondelez alone has promised $400 million by 2022 towards this project.
Hershey's and Mars have sent agronomists to cocoa-producing countries to teach farmers how to graft a new cocoa plant to an existing under producing plant. "There is often a tech element involved, too. Hershey's supplied farmers in Ghana, the world's second-largest cocoa producer, with weather and marketing information by text message, and those who followed the advice produced 46 percent more cocoa" writes Vice.
Time will tell if the efforts will be enough to accommodate the growing demand from the millions of future chocoholics around the world. 2016 isn't a very encouraging year for the chocolate industry as many of the same problems plaguing it have carried over into the new year. However, the efforts by the companies involved look like they may yield the needed results in the long term thereby likely preventing any sort of future "chocopocalypse".
That's it for us this week! If you liked this blog post, why not subscribe to our blog? If you're interested in what we do as a 3rd party logistics provider, don't hesitate to check out our services (as expressed above, we are very pro finding you the lowest total cost!). We're also in the twittersphere, so give us a follow to get the latest logistics and supply chain news!