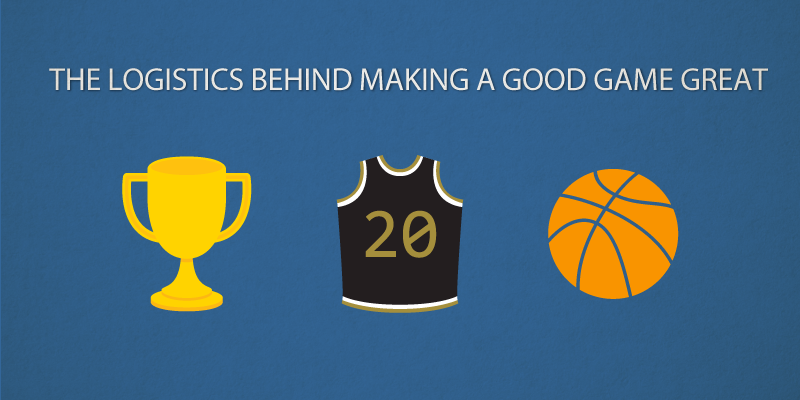 "Before the high-profile athletes and rabid fans arrive at a major professional sports event, superstar logisticians and planners perform their own feats of greatness to ensure the big game goes off without a hitch" -writes this InboundLogistics post.
Last night the Toronto Raptors faced off against the Cleveland Cavalier, and emerged victorious with 103-99 score. Those in attendance were treated to stylish swag, as the game was also the third annual Drake Night for the Toronto Raptors.
As of September 2013, Canadian music artist Drake (Aubrey Drake Graham) became the Toronto's Raptors' official "global ambassador". His responsibilities have been to rebrand, create buzz, and even help design jerseys and merchandise. In his role as global ambassador for the team, Drake has even created a new logo and new colors for the team.
His help with branding was no small feat either, as Raptor's brand value rose from $52 million in 2013 to an estimated $97 million as of January of this year according to Forbes.
A professional sporting event is not just about selling a game to fans, but about delivering an experience. There are many moving parts behind the scenes to ensure those attending the event enjoy as positive an experience as possible. Having clothing designed, delivered, and ready for the big game is only one area wherein logistics is important in professional sporting events.
For larger and well known international events, ensuring the logistics of an event means that careful planning is done several years before the event itself.
The 2014 Sochi Winter Olympics for example, was announced and planned seven years prior to the event, which was a smart move as there were:
over 5,500 athletes and team members who attended.
over 350 paralympic athletes and team members who attended.
over 25,000 volunteers who helped out with the Olympic games.
over 12,000 media representatives from all over the world broadcasting the games to an expected 2.1 billion television viewers.
Transport and Sporting Events
Without athletes, you cannot have a sporting event. Without a venue, you cannot have your sporting event. Without an audience, you cannot have a sporting event. It is for these three key considerations that transport services for a sporting event is so critical.
SEL, a company specializing in sports and events logistics, writes:
"Managing the transport services for a sporting event involves not only arranging transfers for athletes and equipment, but also providing for all that is closely connected with it, from catering to the most advanced kinds of fuel. Moreover, covering world championships means coping with various countries and languages, long distances, and customs and domestic rules that differ from one nation to another".
Fun and Games For The Next Generation of Logisticians
Like other areas of logistics, sports and event logistics are quickly growing fields. Some schools are already offering programs specializing in these fields with courses in Event Planning and Logistics, Behind the Scenes in Events, Sports and Event Marketing.
That's it for us this week! If you liked this blog post, why not subscribe to our blog? If you're interested in what we do as a 3rd party logistics provider, don't hesitate to check out our services (as expressed above, we are very pro finding you the lowest total cost!). We're also in the twittersphere, so give us a follow to get the latest logistics and supply chain news!