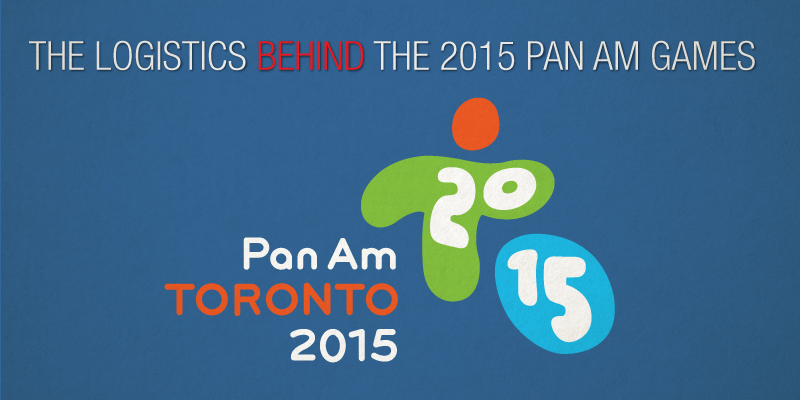 With over 10,000 athletes from 41 different nations competing in 36 different sports, the 2015 Pan Am Games (TO2015) which are set to take place in Toronto, are looking to be a big win for Canada this summer.
Although the Pan Am Games is impressive in its own right as a major international sporting event, it is also something of a minor logistics marvel.
Aside from the numbers mentioned earlier, the organizers of this year's event need to also take into account that over 250,000 visitors and media personal will be attending the event. More than 30 venues in and around the city of Toronto will host the main event with an additional be 13 non-competition venues and 15 training sites for the athletes. Because of the major logistics demand this will entail, the 2015 Pan Am Games teamed up with Schenker of Canada, an international logistics company.
DB Schenker has pledged to provide 6,968 square metres (75,000 square feet) of warehouse space, warehouse operations (including staff and equipment), freight transportation and freight distribution operations, venue and Athletes' Village logistics operations, as well as customs clearance and freight forwarding according to an earlier press release.
In fact, DB Schenker has estimated that 2015 Pan Am Games will require twice the number of products used during the Vancouver 2010 Olympic and Paralympic Winter Games.
A Fully Stocked Event
In a bit of creative and proud self-promotion, DB Schenker posted a list of the items they'd be providing for the event–back in 2013. The intent being to market themselves as the official logistics support for the event. Here is the highlights of that list:
1,000,000 items with 5,000 stock-keeping units (SKUs) to keep track of them in the warehouse
6,250 folding tables (stretched end to end would run the entire length of the Pan Am equestrian cross-country course)
22,500 folding chairs (the equivalent of 12 fully loaded 16-metre tractor trailers)
7,500 metres (25,000 feet) of barrier tape (almost 14 times the height of the CN Tower)
7,600 beds and mattresses
950 pairs of track spikes
920 swimsuits
700 wheelchairs
400 bicycles
250 boats (sailing, canoe/kayak, rowing)
The company also committed to picking up the equipment and luggage of the participating athletes from the Toronto Pearson International Airport and transport to and from the event.
Events such as the 2015 Pan Am Games are about the coming together of different people from different nations in the spirit of friendly competition. But these events can only come to be if there's a strong, organized, and well planned logistics structure behind it. Ian Troop, chief executive officer of TO2015, had this to say on the matter, "A great logistics team means our athletes, officials, volunteers and staff can perform with ease and confidence when the world is watching in 2015″.
The Pan Am Games will be held between July 10th and 26th, with the Parapan Am Games between August 7th and 15th.
That's it for us this week! If you liked this blog post, why not subscribe to our blog? If you're interested in what we do as a 3rd party logistics provider, don't hesitate to check out our services (as expressed above, we are very pro finding you the lowest total cost!). We're also in the twittersphere, so give us a follow to get the latest logistics and supply chain news!