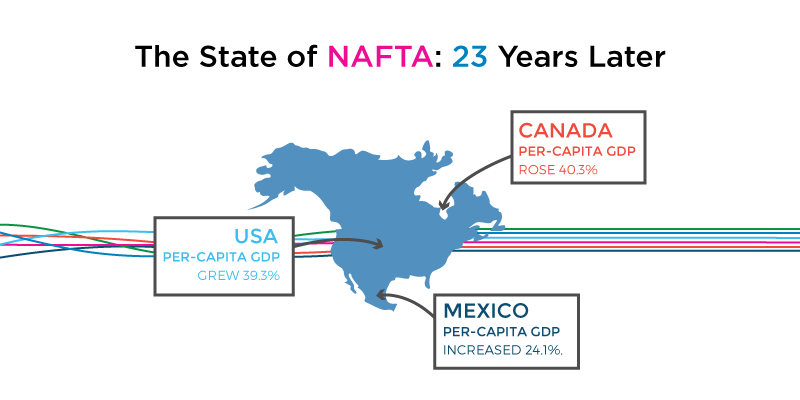 The current structure of the North America Free Trade Agreement (NAFTA) is set to change later this year. The U.S led negotiations with Canada and Mexico will determine how NAFTA will look, or if it will even continue past next year.
It's been 23 years since the treaty was signed. In that time, it's built up quite the legacy. Let's looks at how this historic treaty has shaped North American jobs and trade.
NAFTA's future might be uncertain, but its importance in global politics, economics and world trade cannot be understated. The treaty has reshaped the political economic landscape of Canada, the U.S. and Mexico by tripling regional trade and cross-border investment. That's not to say it isn't without its critics. However, the world will be very different if NAFTA were to be replaced.
This is why this week, we thought we'd focus on re-exploring NAFTA. Check out our infographic below for some fast facts!
How Has NAFTA Affected North American Logistics & Supply Chain?
That's it for us this week! If you liked this blog post, why not subscribe to our blog? If you're interested in what we do as a 3rd party logistics provider, don't hesitate to check out our services (as expressed above, we are very pro finding you the lowest total cost!). We're also in the twittersphere, so give us a follow to get the latest logistics and supply chain news.